Mid-June, a group of some 30 Dutch and Belgian farmers, contractors and dealers visited the Väderstad factory in Väderstad Sweden on the invitation of Homburg Holland. Homburg is the importer of several brands including Väderstad, Ag Leader, Bogballe, Garford and Stanhay for Belgium and The Netherlands.
While the group was visiting the stone quarry where all developments and machines are thoroughly being tested, Future Farming spoke to senior vice president sales and marketing Mattias Hovnert about Väderstad's vision and future.
Text continues below image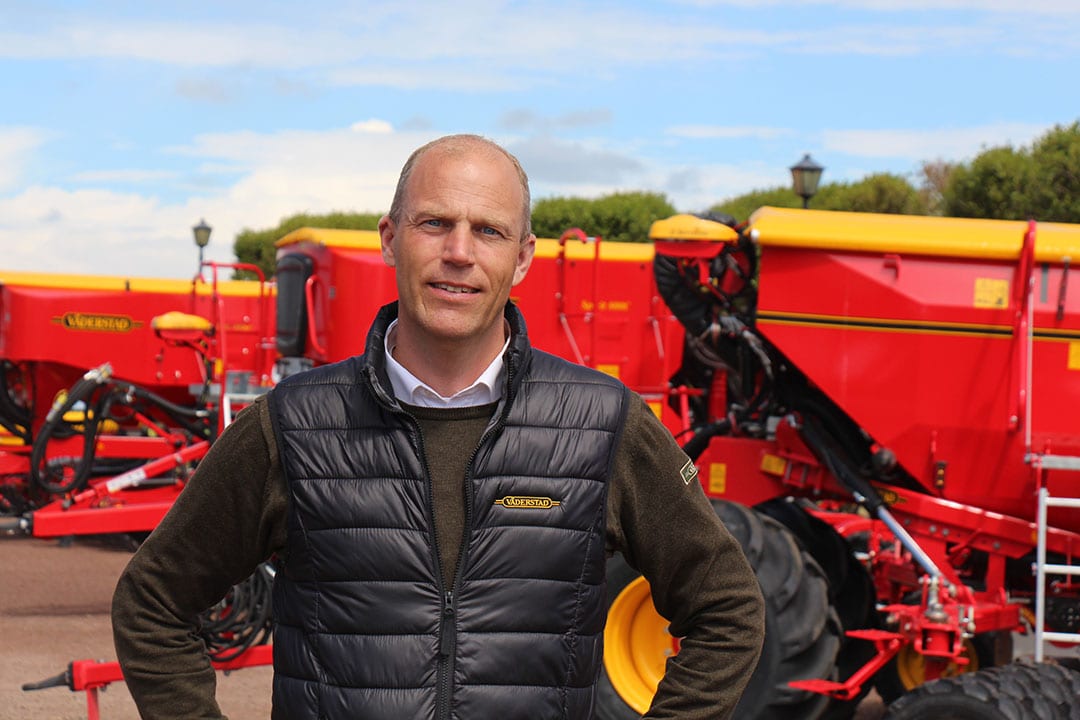 In 2021, Väderstad achieved a record annual turnover of € 420 million, up 24% from € 340 million in 2020 and partly because of the acquisition of the AAJV company in the USA. Organic growth was 21% and net earnings amounted to € 40 million. Hovnert says Väderstad is annually investing 6 to 10% of its turnover in research and development. In 2021, the R&D expenses amounted to € 25 million and for this year, € 35 million is planned.
We aim to develop machines that can help farmers achieve long term soil health
What will the future of tillage, drilling and planting look like? What's Väderstad's vision towards the future of farming?
"Agronomy always has been our priority when it comes to tillage, drilling and planting and it always will be. In fact, it will become even more important because of new regulations such as the European Green Deal but also because of the ongoing war in the Ukraine. We aim to develop machines that can help farmers achieve long term soil health. Cover crops and intercropping systems for instance are part of that strategy and it's up to us to develop equipment to not only seed those crops but also till them.
We see that more shallow tillage and cultivation is required to, so to say, 'renovate the field'. It took our former CEO Crister Stark four years to optimise the design and production process of our CrossCutter discs but now they provide a very, very efficient way of working at only 3 to 4 cm deep. That's why we refer to the CrossCutter as Crister's machine.
Machines will have to be able to deal with even more crop residues in future and we are planning to launch more innovations to coop with that, both in drilling and planting."
"I believe that the future of tillage, drilling and planting will be coupled with (even) more digitalisation involving more data for decision making on the right timing, depth, speed and the correct dosing rate of drilling. Based on data, the settings will be done more and more automated and remotely to assist the driver/operator of the combination or autonomous tractor in the field. You will see a lot of different solutions in this area from Väderstad in the coming years."
Text continues below image
Will farmers still be ploughing or will we see ploughs in museums only in future?
"We see that farmers try to limit ploughing but of course it will still be done in the future. It's a means of tillage that is related to tradition and sometimes to regulations as well. Winter ploughing, so ploughing before the winter, isn't the best way in terms on agronomy. Especially for leakage of nitrogen but also here in Sweden we see fewer heavy winters and less periods of severe frost. Väderstad hasn't manufactured ploughs nor will we in the future."
You are involved in the German Nexat concept. Why and how are you involved?
"Initially we started supplying Carrier (disc cultivator) and Tempo (seed drill) components to Kalverkamp/Nexat, but now the Väderstad team is developing solutions together with the Nexat team. I like the principle they've come up with because with the gantry concept, they have a solution for the whole farming operation (related to growing grain). Crister Stark motivated our involvement like this: 'For a long-term climate neutral, resource saving agriculture, a rethinking must take place, both agriculturally and technologically, in harmony with nature.'
On the other hand, I think controlled traffic farming, CTF, is tricky because of the size and weight of the machinery and its effects on soil compaction. It's also not that easy to perform every operation from 24 m wide tramlines."
Text continues below image
Will Väderstad expand its portfolio to harrows and hoeing machines like your competitors did?
Hovnert starts with a PR answer: "We want to be a professional partner for farmers and contractors in our key areas of tillage, drilling and planting. Not only with the best machines but also with the best service and spare parts. We don't have any hoeing machine in our portfolio today but we are following the trend and are looking into different solutions. There are no acquisitions planned as such. The acquisitions we have done so far (2006: SeedHawk, Canada and 2021: AAJV, USA) were to gain access to those markets. If the right company comes along, we will certainly consider to do further acquisitions. And we will react to market developments and needs such as row crops being planted at wider distances.
A good example also is the cooperation with our importer Homburg who has developed a 12-row 75 cm row width tractor mounted Tempo TPV seed drill for Belgian customers to match their 12-row headers. Until then, 10 rows were the maximum."
Text continues below image
Farmers have to learn to trust autonomous vehicles
What's Väderstad's view on the autonomous concepts by Horsch, Krone & Lemken and Amazone's stake in Dutch start-up AgXeed?
"We are of course closely following the developments on autonomous vehicles and I think we should take autonomy in steps. We will always put the farmer and contractor first. They have to deal with complex seasonal patterns for which self-adjusting machines based on data collection and processing can be a great help. Machines will become smarter but the tractor driver or operator still needs to check the quality of the work because it's about the agronomy, not about autonomy (yet). Besides, farmers have to learn to trust autonomous vehicles and then of course there's safety and security issues that need to be solved. Väderstad nonetheless is looking at different autonomous solutions for the future but we currently do not plan to develop our own field robot or autonomous vehicle."
Text continues below image