Digital agriculture and harvesting technologies used to gradually made their appearance on farms. An innovative tool here, a new machine there, yet another advanced smartphone app, and so on.
What happens if you create a state-of-the-art farm, where an array of cutting-edge smart farming and digital technologies are introduced and put to use at the same time?
Well, Case IH did that in September 2021, launching the Fazenda Conectada (Connected Farm) in Água Boa city, Mato Grosso state, Brazil, the main producing region in the country.
"We chose this region, which is already highly productive, to show that it is possible to increase results using digital farming technologies", says Rodrigo Alandia, Marketing Director for Latin America at Case IH.
Where did the idea of ​​creating Fazenda Conectada come from?
"Case IH assumed the responsibility of leading advances in Digital Agriculture, which led to the creation of the ​​Fazenda Conectada. The agricultural process is made up of millions of small steps. Each rural producer has his own reality and needs. We feel it is our duty to educate farmers and prepare them for the digital future, which has partially already arrived. Different crops and different farms require different solutions. With the Connected Farm we were able to create a situation where it is possible to show all our current solutions, at each stage, on a large scale, in a region that is typical for Brazilian agriculture. It is a long-term project. We want to show the evolution of farming – what is possible with digital agriculture – and deliver concrete results in terms of productivity, efficiency and sustainability."
Text continues below image
What distinguishes the Connected Farm from a technology perspective?
"The Connected Farm puts together the most modern in digital agriculture, forming a complete and connected ecosystem with 4G at 700 MHz, with all of Cace IH's advanced solutions available to Brazilian producers, connecting machines, services, people and results. The 3,000 hectares area has complete digital agriculture solutions for pre-planting, seeding, treatments, harvesting and post-harvesting."
What are the innovations in terms of planting?
"During the pre-planting stage areas are mapped with the DroneXplorer, defining management zones and identifying physical data and soil compaction with the SoilXplorer. Then, corrections are being made using Puma, Magnum or Steiger tractors with subsoilers that will decompress the soil according to the depth indicated by SoilXplorer. This depth will be automatically controlled using DepthControl, which is embedded on the tractor. This increases productivity and lowers fuel consumption.
Once the area is ready, our Easy Riser or Fast Riser planters enter. They are equipped with planting implements to guarantee excellent distribution and depth uniformity line by line. This process assures plant stand and lines as planned, as it also has automatic line-cutting to avoid seed overlaps.
While the planting is being done, tractors are sending data remotely and in real time. So, AFS Connect Centers are monitoring tractors' performance to enhance the machines' availability. In that sense, we get greater productivity during the operation and less downtime.
In the end, the farmer gets an adequate plant stand at the right depth to achieve an efficient plant development that will guarantee higher production."
Text continues below video
What about monitoring and/or spraying?
"Monitoring is carried out through the DroneXplorer and spraying is done with Patriot sprayers. Our sprayers send data in real time – that allows for droplets to hit targets accurately, preventing losses due to drift or evaporation, reducing costs.
Among the application technologies, we highlight the AIM Command Flex, or application with nozzle-to-nozzle flow and pressure control. This technology allows us to control the droplet size with extreme precision, even with variations in driving speed. Controlling droplet sizes favours an excellent application.
Patriot sprayers also have an on-board weather station. With that information, the system controls the droplet size to achieve maximum efficiency.
Other key tools are the autopilot, automatic section cutting, and sensors for automatic boom height control. Additionally, Case IH motorization guarantees applications are made at the lowest fuel consumption.
Top productivity is the result of the correct application of phytosanitary products on the target, properly controlling weeds, pest insects and diseases. The Patriot sprayer´s embedded technologies accomplish applications with the best performance."
And what about harvesting?
"Harvesting is done with our Axial-Flow Series 250 Automation combine. It is equipped with an intelligent automatic adjustment system, with four harvesting modes that provide more simplicity in operation, with up to 15% more productivity.
Through artificial intelligence, the 250 Automation combine is self-regulated and finds the optimal work mode for each situation. Actually, it automatically controls almost 90% of operations and performs up to 1,800 interventions daily on the machine, something that an operator would not be able to do.
The result is an increase in grain quality, less waste, reduced fuel consumption and, above all, increased productivity."
Text continues below image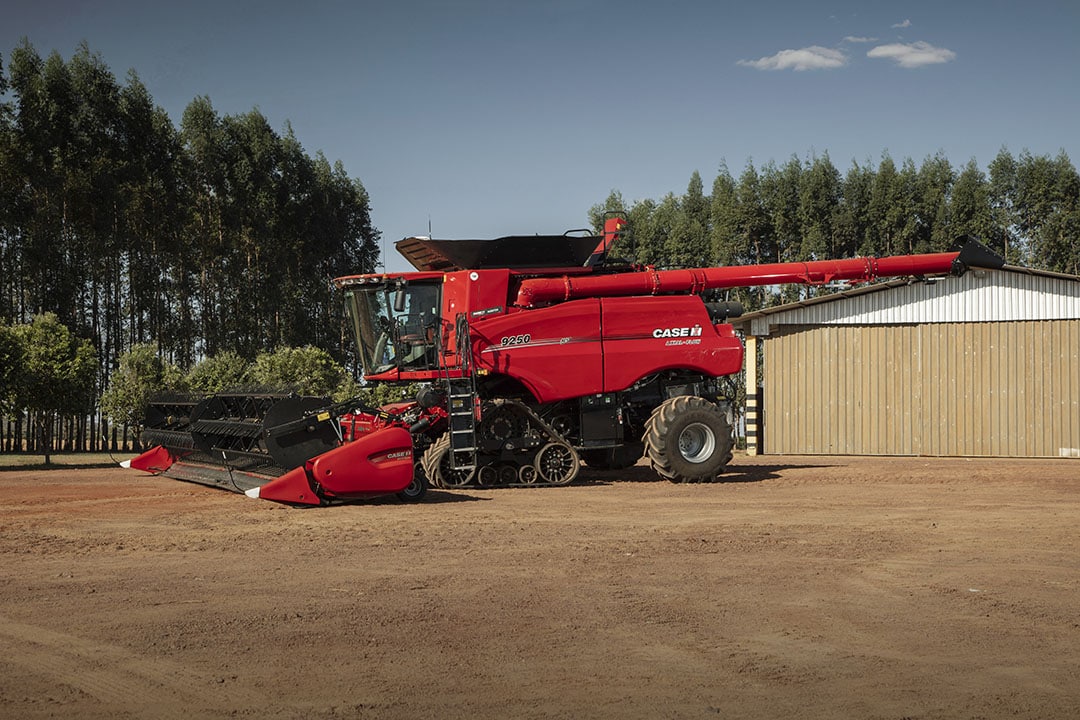 Are there already comparative results?
"Yes. At the Connected Farm, we have a team with highly prestigious partners, such as Unicamp (State University of Campinas), who are already working on several KPIs, so we can show how Digital Agriculture increases productivity, efficiency and sustainability. The results will be published shortly."
What about typical challenges such as (lack of) connectivity and employee training?
"At Case IH, we have invested resources and time in connectivity and have hired professionals to help make alle fields 'connected'.  Since 2018, we have been involved with other companies in the areas of technology, telecommunications and agricultural machinery in ConectarAgro, which, in 2020, became a non-profit association.
In general, we see that operators are adapting quite easily because all the technology in Case IH machines is designed to support the operator, increase safety and comfort.
Nevertheless, getting enough skilled staff is a challenge, especially in some regions of the country. We have invested in a new training platform that will be relaunched soon. And we have launched more projects to get people excited about agricultural training, focusing on new technologies."
And for managers?
"For managers, connectivity and digital echnology bring countless advantages, mainly related to data management, agronomic improvements, increasing productivity, efficiency and business sustainability.
For instance, with connected Case IH machines it is possible to carry out maintenance remotely from anywhere. In addition, the agricultural manager can monitor the fleet, send and receive data, information and maps, in real time, to the operators. All this makes it possible to increase the availability of machines, ensuring an even faster return on investment."