The system as Schenk devised it three years ago has now been developed into a research project Freshwater Farmers. The arable farm is now also a demonstration farm; great strides are being made through the collaboration with various partners. As an example, Schenk mentions the collaboration with Pipelife, a company that invests in climate-adaptive agriculture and horticulture and has done a lot of work this winter at the arable farmer of seed potatoes and onions in the region Oostpolder.
Last winter, the participant in the National Experimental Garden for Precision Agriculture (NPPL) expanded the drainage system from 8 to 14 ha, 'tap sections' were created for drip irrigation and the regulation of the water level on one of the plots was automated. A nutrient catcher is on its way.
Text continues below picture
Keep soil moist
Compound drainage, according to Schenk, is no more than connecting the drains to a main pipe that leads to a controllable pit. The drains are at 80 cm and 1.10 m. By introducing fresh water into the land via the drains, the salt water is kept underneath. This system is already of value, but especially if the water board does not flush the ditches in times of extreme drought and the EC can rise to 5 or more. Schenk: "The main goal is to achieve maximum yield with minimal input. By giving the necessary amount of water at the right time, I can control the tuber formation and shorten the growing season."
Dutch farmer Schenk makes it his mission to alert policymakers to regulatory bottlenecks
According to Schenk, other advantages of keeping the soil moist are that the soil does not lose its sponge function and retains moisture better or buffers it during extreme rainfall. In addition, roots absorb trace elements better if they are offered.
The intention is that excess drain water is 'saved' in an underground storage facility. "With 800 mm per year we do not have a water shortage, it is a logistical problem. It must be available when you need it." At the moment, an above-ground reservoir is filled with groundwater (EC 1.7), which it pumps up from a depth of 27 m. The realization of underground storage of drain water is imminent. The second objective for this year is to use drip irrigation to provide nutrients (fertigation).
Text continues below picture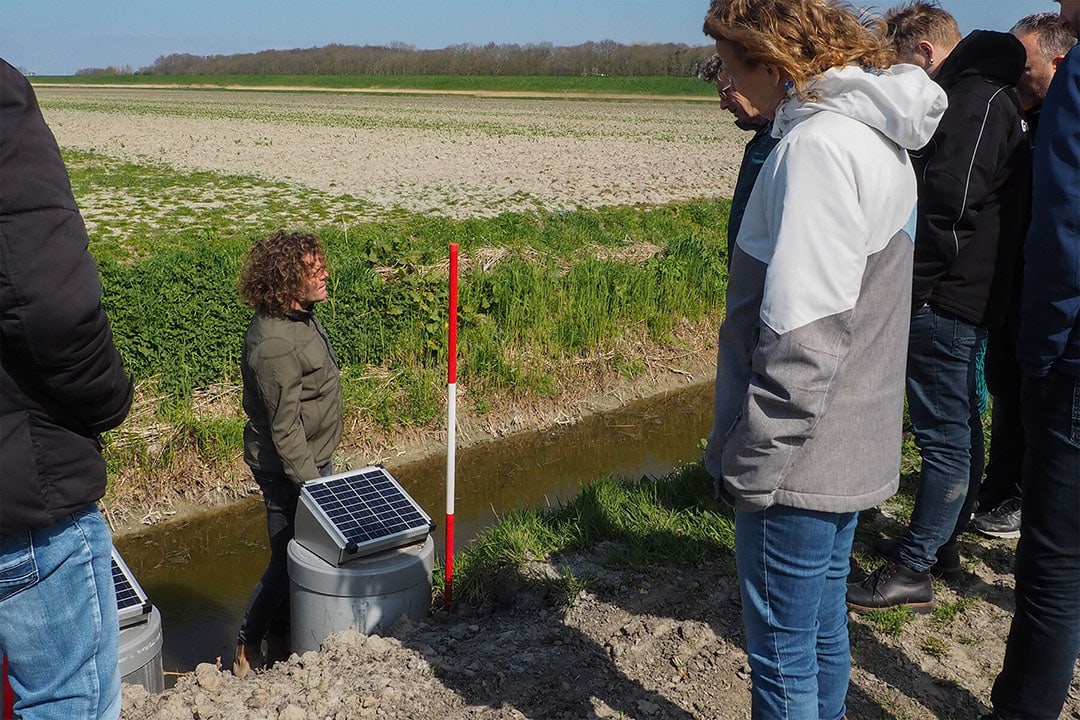 Send on data
Last year, the arable farmer gained positive experience with Irriwatch as a forecasting model. This tool, which works on the basis of satellite images, also provides advice. He also uses soil moisture sensors. Incidentally, he still finds 'feeling' the most reliable. Schenk will use ultrasonic sensors this year to check whether the groundwater level is being achieved as he sets it.
Reuse of drain water subject to rules
Schenk made it clear last Tuesday at a meeting of Dutch municipalities and a viewing afternoon for secondary vocational education teachers that there are rules that need to be broken down regarding the introduction of drain water into the ground. In the past, the arable farmer had his doubts about the ban on using ditch water via drains to keep the soil moist. "By placing a gate in the dam, we stopped water from elsewhere and we could assume that our ditch water was safe. That is no longer tolerated." Now he faces a new challenge. "I want a permit to store the drain water underground, but for that I would have to install a cleaning filter filled with carbon, sand or ozone, which will cost at least € 100,000. So I have to make it as clean as drinking water, while analyzes show that the drain water does not contain any harmful substances."
Nutrient catcher
At the request of the water board, a partner in the project, farmer Schenk is already installing a nutrient catcher. He himself does not believe in the usefulness. "What matters to them is that the nitrogen from the drain water is bound and discharged through the air. But the groundwater itself also contains nitrogen. Moreover, if I use that groundwater for my crop again, it will benefit and make a difference in my donation. I could provide 40% N of the crop requirement with water", says a pragmatic Schenk. Besides wanting to be an exemplary company for sustainable growers, he makes it his mission to alert policymakers to regulatory bottlenecks. Schenk: "It is important to show what we do as entrepreneurs and to keep in touch."