GPS-automated tractor control, prescription mapping of fields, precision planting technology, internet-enabled soil and water probes – all of these and other innovations have allowed farmers to have a much better understanding of their specific crop production, and to get closer and closer to applying only what's needed. As prices for inputs like fertilizer are now skyrocketing, new technologies that help further refine application are very welcome.
SoilReader real-time soil analysis technology
Please be introduced to the visible and near-infrared spectrometry (VNIRS) real-time soil analysis technology called SoilReader, a 'soil digitizer' based in Winnipeg, Canada. It will hit the market by the end of 2023.
It will be able to be integrated with any variable rate application platform, which is important to President Erik Eising and his team. "We have consciously decided to remain 'platform agnostic'," he says. "We want to integrate with any and all OEM precision ag platforms so that as many farmers benefit from our technology as possible."
Just to review, VNIR spectroscopy employs wavelengths in the visible and NIR range to identify patterns and use comparison, calibrated references to offer details analysis of soil properties. It is used in many industries for analysis, including pharmaceuticals, materials, food products, crop quality agricultural products and much more. It is accurate, reliable, quick, non-destructive and very cost-effective compared to other types of analysis.
Text continues below image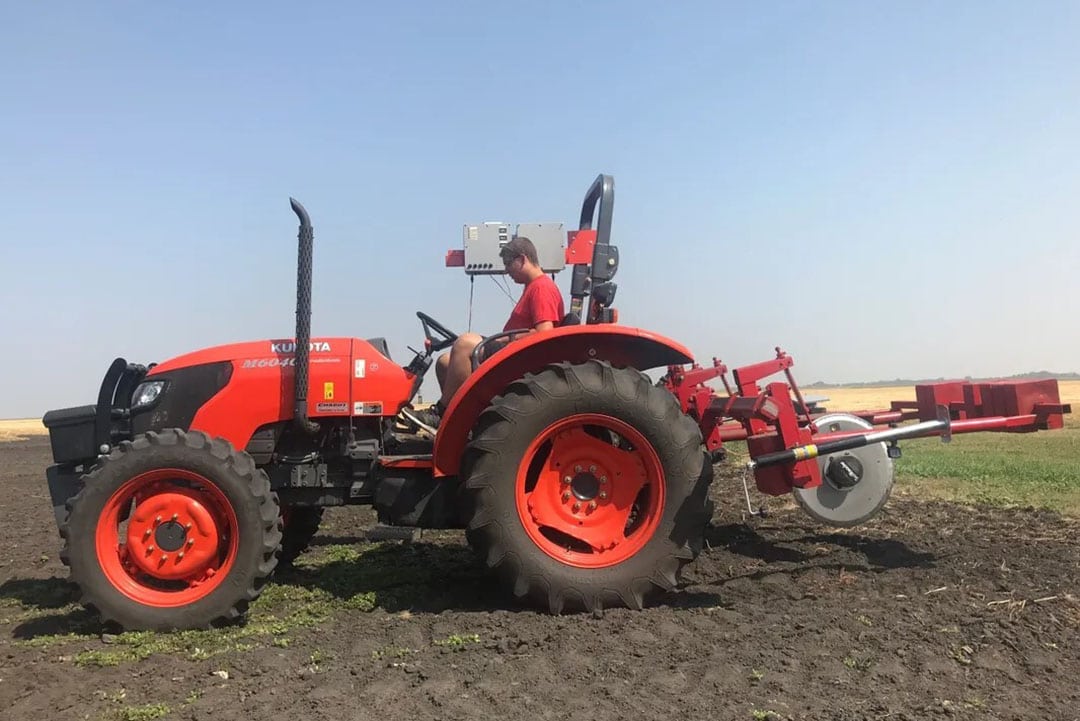 Meshing real-time with VNIR
Real-time detection of soil nutrients, moisture and more is already available using various probe systems on the market. In addition, machines that do VNIR analysis of a range of parameters in soil samples in the lab have also has been around for a few years, offered by companies such as US-based Avantes. SoilReader combines both.
It is the brainchild of Eising, a Canadian with a farming background who immigrated from the Netherlands. "I was always interested in soil analysis," he says. "I used to dig trenches and look at soil profiles during my Bachelor's degree and I liked to talk about innovative technologies with different groups. A professor said to me, you have a knack of bringing in consultants, farmers, companies and get them going on an objective."
"I started farming in Canada from 1980 and into the 1990s and in the late 90s, I renewed my interests in science-based innovative technologies. In the early 2000s, I got introduced to Dr. Phil Williams, who was inducted into Canadian Agriculture Hall of Fame last year in recognition of his global VNIRS pioneering work and leading the world's first VNIRS practical application as rapid analytical method. This took place in the early 70's. He did this in close collaboration with Karl Norris, who had introduced and pioneered the development of VNIRS. I wanted to know more about the VNIRS science and Williams became my mentor. I focused on understanding the science of sample presentation to the spectrometer and impact on calibration development."
By 2005, Eising had become a member of a science group that was using VNIRS for slurry manure analysis. This lead eight years later to commercialization by a large OEM.
Text continues below image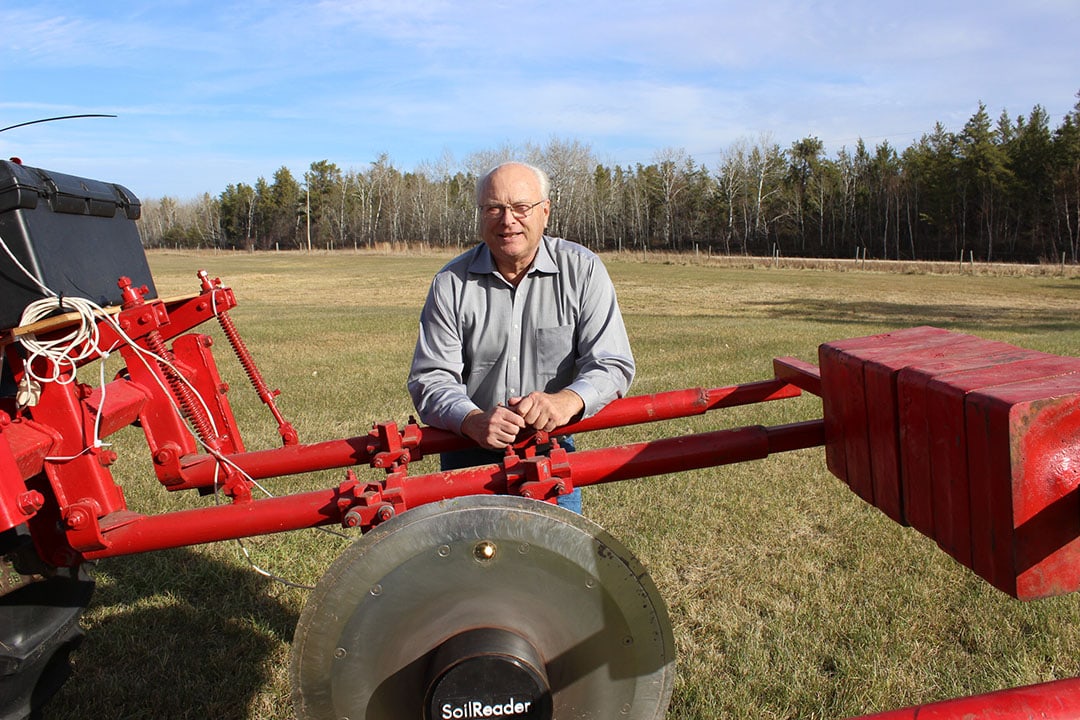 Applying VNIRS in real time to soil
Eising then thought about applying VNIRS in real time to soil. "I researched papers and patents," he says. "Having our system patented was the objective, because then we can go to investors and commercialize. It was a culmination of knowledge, spectroscopy design, agronomy, soil analytics, soil science, spectrometer engineering, software engineering, hardware engineering, calibration development and so on, looking at how a spectrometer could analyze soil."
One day in 2013 after having used John Shenk's mini portable spectrometer with flexible fibre to examine soil profiles, Eising was having breakfast. "I had a Blackberry smart phone and I was looking at how it's so thin but there's a light in there, and you need to have a light to have VNIR work in order to view the soil underground," he says. "This started the development of coulter-embedded spectrometer with side-facing window."
Eising and his colleagues applied for a US patent and it was granted in late 2017. They then raised capital and found a contractor for the software development. They continued to finalize the design and do rigorous testing.
We wanted a design that did not require farmers to do in-field calibrations
Design of the SoilReader
The design of the SoilReader follows fundamental principles, which enables highly-efficient calibration at low cost. "Ease of calibration complexity was incorporated from the get-go," says Eising. "We wanted a design that did not require farmers to do in-field calibrations."
Text continues below image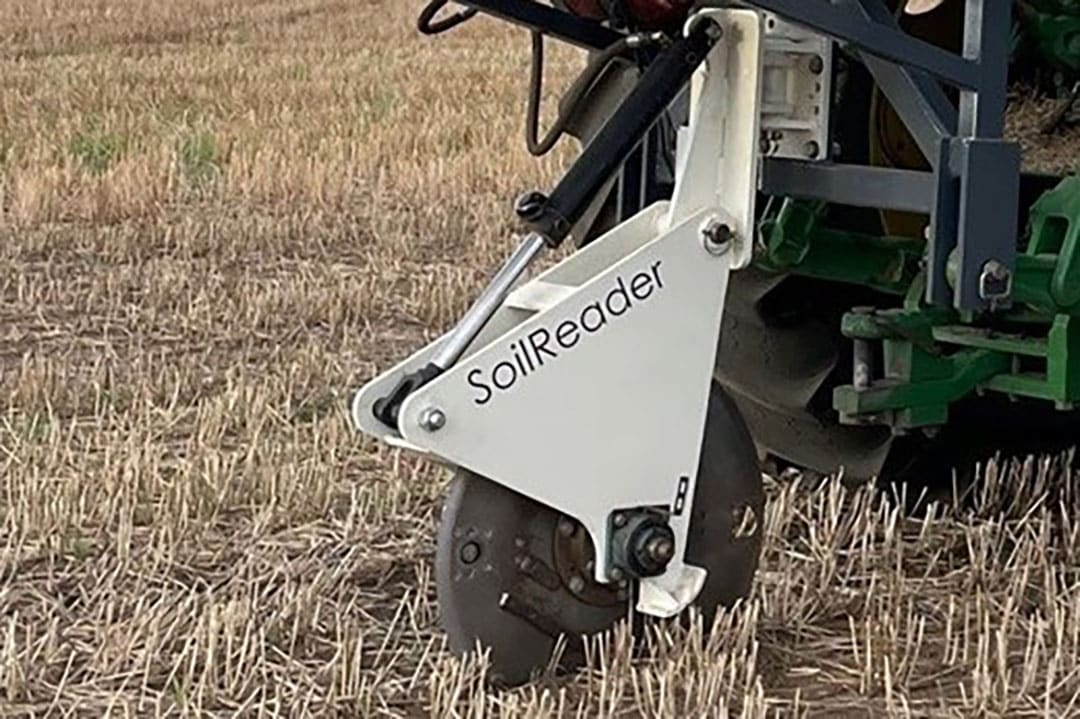 In 2019, they presented SoilReader at the famous European farming exhibition, AgriTechnica. Eising met Craig Dennis, an Australian farmer and experienced ag tech developer. Dennis joined the team and during the pandemic, proceeded to do prototype building and testing in his home country. (At the same time, the team has filed another three patents across Canada, EU and the US, and eight more are pending.)
While conducting the R&D program in Australia, Dennis had one machine operated on a 12-meter width and at 16 kph. "This generated 340 active GPS sights per hectare, with 5 depths and 15 constituents, which is approximately 25,500 analyzes per hectare and at 140 analysis a second," he says. "This is amazingly accurate and reliable data in real time. SoilReader is working on more constituents to be added to ones we currently offer. Crop yield modelling work and carbon sequestration is showing great potential moving forward with our current technology."
Dr. Asim Biswas, professor at the Ontario Agriculture College Research Chair in Soils and Precision Agriculture at the University of Guelph in Ontario specializing in digital soil sensing and mapping, is doing the final calibration development. "We have a very diverse team to make sure the data analysis is as accurate as possible," says Eising. "Mr. Dale Thompson from Calgary is our business advisor."
Dennis explains that "the data is all digitized with a time stamp and you can analyze the field in different ways. As we add to the algorithm to make it deeper and stronger, you will be about to analyze data from gathered months or even years before in new ways very quickly and simply. The system is impressive in its current form, and we are very proud and excited about that, and about the capabilities that can be enabled in the future."
Text continues below image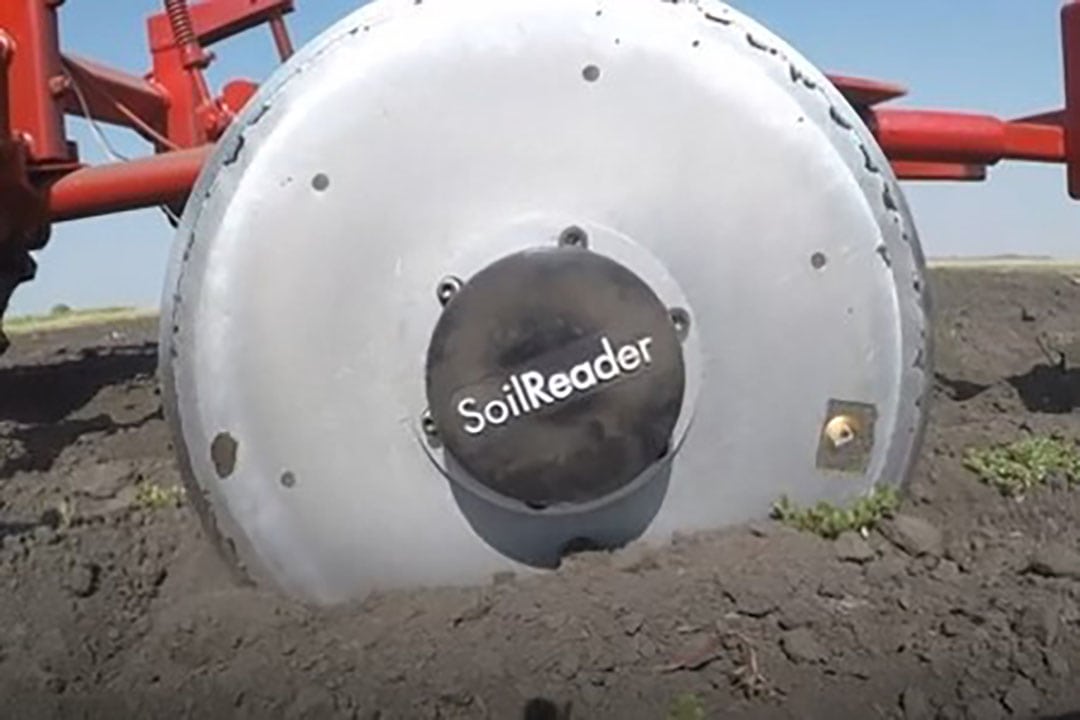 SoilReader team keen to start helping as many farmers as possible
Eising says the SoilReader team is keen to start helping as many farmers as possible. "We will be back at AgriTechnica, and we have a global reach with strong North America, Europe and Australia connections," he says. "We are getting close to taking orders. We are looking forward to the day when many farmers will use SoilReader and see a really big difference to profitability and sustainability."
Text continues below image