The technology will be mainly applied in strip spraying in row crops. Movement of the nozzle line will happen as little as possible but as much as necessary, the company says. The new innovation for sprayers is expected to limit the use of consumption of crop protection agents to a minimum.
With row-specific nozzle positioning, the nozzle is guided precisely over the row by active control, using a camera. Pesticides are only applied to a specific part of the area and the amount of drift is automatically reduced.
Suitable for row crops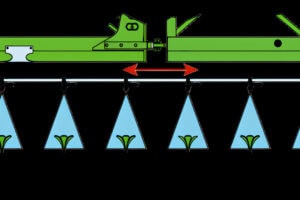 The new system is suitable for row crops, such as vegetable cultivation. The first adjustment is made manually before application. The nozzles are simply positioned above the rows. During application, a flexibly movable boom and sensors take over this task and ensure precise distribution of the crop protection agents. The technology can also be used with a GPS device via an ISOBUS operating terminal and software.
The system enables band treatment in row crops with large working widths and offers an ideal complement to mechanical weed control between rows. It is currently undergoing final testing, says Herbert Dammann.
Considerable savings
According to the company, nozzles are actively controlled above the row. Sensors and movable booms ensure precise application. A second line is not required. Different row spacings are possible. The boom can be manually adjusted to different row spacings before application.
During the spraying, the system ensures the band spray nozzles operate exactly above the row, by active steering. The technology can detect via sensors where and at what intervals liquid is to be applied.
The row-specific nozzle positioning system uses special nozzles, that are used for band spraying. They differ in their spray cone. Unlike other nozzles, they reduce liquid through an acute angle and apply it precisely. The company emphasises that this makes it possible to work in a particularly environmentally friendly and low-loss manner.
The new technology can be used in a conventional liquid system. The aim is also to retrofit on other equipment, for example on existing machines that are already in use. Dammann expects there is a considerable savings potential. "The envisaged trial runs will show how high the percentage effect will be", the company says.