The gloves are able to perform an analysis in a matter of a few minutes. The results are sent to a smartphone. The gloves are made of synthetic rubber and are equipped with sensors. They can detect four different classes of chemicals, including some of the most used in crops such as coffee, grains and cereals.
Three electrodes
The gloves are made of nitrile, because this material is less porous than latex. Each glove is equipped with three electrodes, one in the index finger, one in the middle finger and one in the ring finger.
Only water is needed for the electrochemical detection process. A few drops of water are sufficient to start the process, after which the plant or food is touched with each finger of the glove.
The data that is gathered is instantly being processed by the software, and results are available within minutes. According to the researchers, the detection gloves can also be used tot analyze fruit juice, by simply dipping the fingers into the liquid.
Text continues below image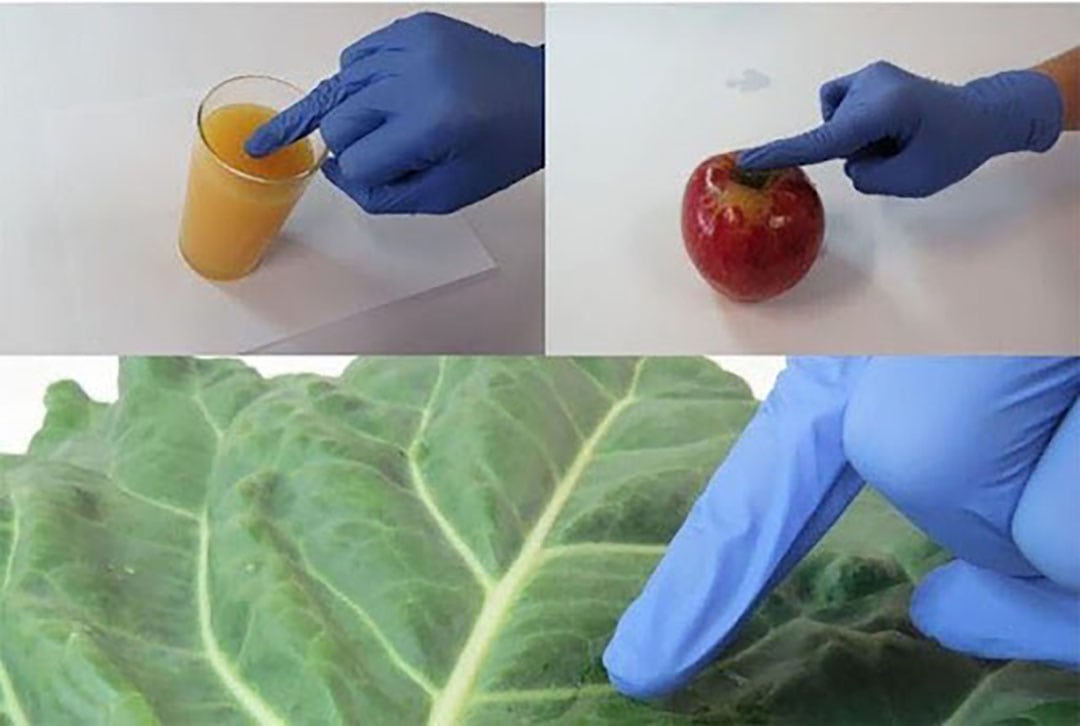 Pesticides from four categories
This system can identify pesticides from four categories such as carbamates, phenylamides, bipyridinium compounds and organophosphates. That means triazines, substituted glycine, triazole, strobilurin and dinitroaniline, which cannot be detected using traditional methods, are also detectable.
Text continues below video
Applications
The innovative product, which is already going through the patent application process with the National Institute of Industrial Property (Inpi), is probably unique in the market for detecting agrochemicals in food products.
The solution could be useful for health professionals and food safety control agencies, and can be applied in the control of food imports. Even end users could use it to check their food for residues..
Despite its advanced technology, the glove is cheap. The sensors used cost less than US$ 0.1. The most expensive item in the product is the nitrile glove, which has seen a huge increase in price due to the growth in demand in the pandemic.