Grain quality measurement is not something the average person thinks about daily, but it's an integral part of our lives – and now new technology using artificial intelligence and machine learning is about to be commercialized that will make it faster and much more efficient.
Without being able to identify high-quality grain, we would not be able to enjoy the myriad of safe food products available to us on a daily basis.
Mycotoxin level important aspect of grain quality measurement
Grain for livestock feed must also be tested in terms of its quality, with limits that must not be exceeded for mycotoxin levels, for example. Too much mycotoxin can cause ill effects to animal health, as it can to human health. So although mycotoxin level is just one aspect of grain quality, it's an important one.
In wheat, corn and other grains, mycotoxins are produced from very common fungal disease pathogens such as fusarium.
Farmers obviously do their best to minimize pathogen growth, using management practices such as rotation, removal of diseased crop debris and targeted applications of approved fungicides after spore thresholds or diseased plant thresholds have been met – and weather for spraying is favourable. However, these pathogens are hard to control and mycotoxin in grain is common.
Text continues below image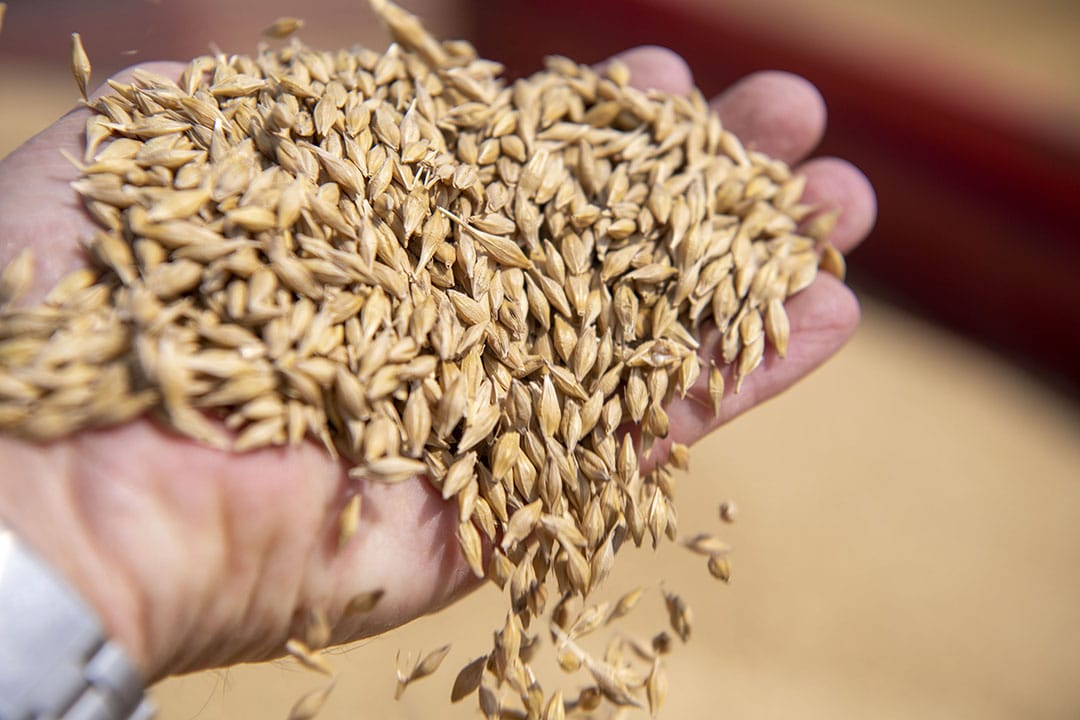 Traditional grain quality measurement technologies
Grain quality measurement is done through a variety of tests. Some are initial tests at the grain depot and some are more complex, done at labs.
In Canada for example, there are dozens of analytical tests for grains, including mycotoxin content, presence of genetically-modified grain, glyphosate content and much more. Just for wheat and other cereals, there are dozens of tests done by the Canadian Grain Commission, including 'Speck count,' determined using a system developed by RAR Software Systems of Winnipeg, Manitoba.
Tests for mycotoxins such as DON, Zearalenone, Aflatoxin, Ochratoxin, T2/HT2 and Fumonisin are done through inserting mycotoxin test strips (previously exposed to grain) into a reader device, applying a chemical and waiting for results. Each sample must be done individually.
New real-time grain quality measurement technology
However, Ontario-based Savormetrics has developed new real-time grain quality analysis technology. It incorporates computer vision sensors, with the sensor data being analyzed and correlated to quality levels using AI and machine learning software.
The company has previously marketed the 'Big Zapper,' a real-time food quality analysis tool where various biochemical and biophysical quality metrics are measured and analyzed, also using advanced AI algorithms. "These systems are being used internationally by growers, distributors and processors," says Savormetrics CEO Harjeet Bajaj.
The fact that many go to sleep hungry and here we are wasting food due to spoilage and out-of-spec product just didn't sit well with me
In terms of how the idea came about for this technology, Bajaj says "I couldn't believe that the industry was losing so much inventory. The financial impact and the concomitant positive impact by providing a meaning solution were obvious. The fact that many go to sleep hungry and here we are wasting food due to spoilage and out-of-spec product just didn't sit well with me. One of my areas of expertise is in AI, and I saw an obvious role for AI to help with solving this industry and environmental problem."
Sensors detect biophysical and biochemical features
The system's sensors can also detect biophysical and biochemical features that are analyzed and correlated by the AI framework to predict shelf-life, best time to harvest and to monitor ripening processes for grains and other crops. "Our tools," says Bajaj, "help organizations to reduce the amount of lost inventory/product due to it being spoiled or out of specification."
Bajaj has been working on the grain testing technology for five years and has a provisional patent. It is about to hit the market.
Portable grain quality measuring device use
In terms of how the Savormetrics portable grain quality measuring device is actually employed, Bajaj says it is very simple. "An operator loads samples into the device – or if on a conveyor, the samples pass under the sensors – then the operator simply presses a button on the screen, the system captures features and our AI framework provides the output. All of this happens in real-time. It is literally a push of a button."
Through the Canadian Agricultural Partnership funding progrm, under the AgriScience Program of the Canadian Ministry of Agriculture and Agri-Food, Savormetrics has received $1.1 million for R&D.
"That funding helped us tremendously," says Bajaj. "Our system for grains is ready for commercialization shortly."