Steketee, a Lemken brand, expands the application possibilities for common hoeing implements. The parallel sliding frame "EC-Steer" by Steketee offers farmers a simple option for upgrading their existing hoeing implements.
IC Light camera control
The sliding frame is controlled by means of the "IC-Light" camera control. The IC-Light system contains three key components: The camera, the terminal including job computer and the parallel sliding frame. Together they form a precise automatical steering system for your EC-Weeder or EC-Steer to create space to grow for your crops.
The system takes over the steering of the hoeing machine in the rows without any crop damage, says Steketee.
Camera imagery processed into steering signals
The high-resolution camera makes images of the crop rows and sends this data to the terminal. It detects between 1 and 5 crop rows eighter in green hues or in the RGB-colour spectrum. The touch-screen terminal is integrated in the job computer, which processes the camera-images to precise steering signals.
The parallel sliding frame transfers the steering signal from the terminal to the EC-Weeder hydraulically. The hoeing machine is than steered between the rows independently from the tractor movements.
Text continues below image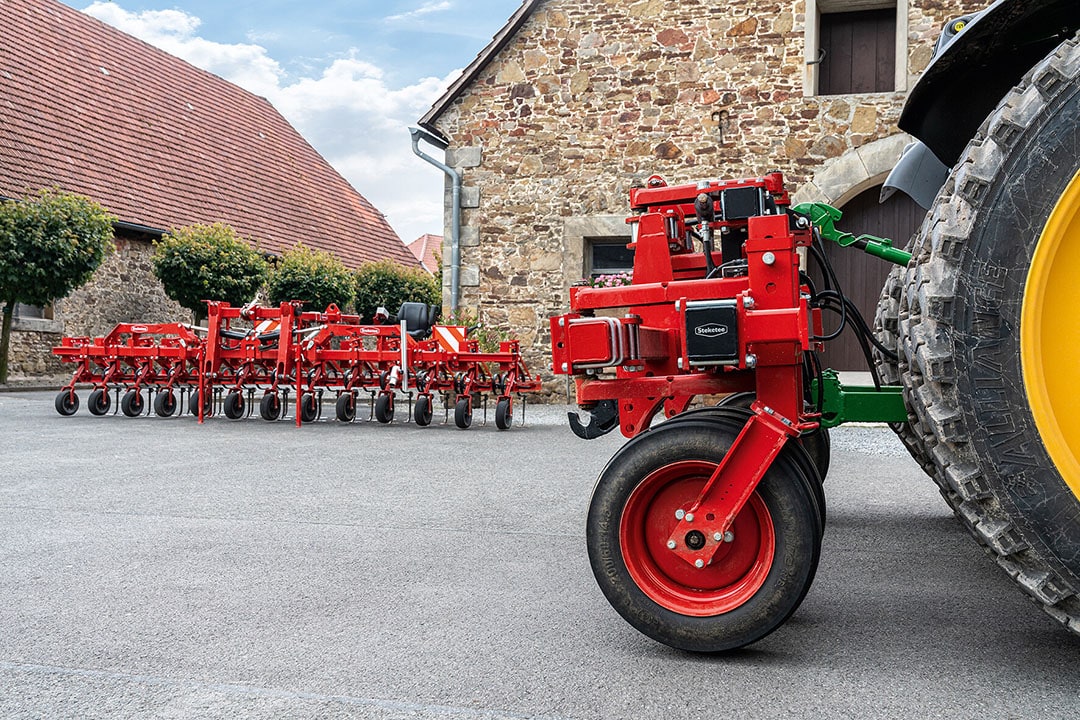 Smooth and precise control
With the linkage stabilisers "detached" from the tractor, the steering frame enables smooth and precise control of the hoeing machine, so that no lateral movements are transmitted between the tractor and the steering frame.
The parallel steering frame is available as an integral part of standard Steketee machines and as a stand-alone unit for attachment to other hoeing implements:
The EC-Steer 7 is suitable for hoeing machines with a weight of up to 2,500 kilograms and a working width of up to six metres. The open three-point linkage offers the advantage that the camera can be placed directly centrally on the steering frame and thus covers a very large field of vision.
For larger hoeing machines up to a working width of nine metres and a weight of 4,000 kg, Steketee offers the EC-Steer 9 with its reinforced frame construction.