With the integration of the innovative SprayKit, farmers can now experience improved efficiency and substantial chemical savings during hoeing and row spraying. This combination of features opens new possibilities for precision farming.
Lemken's SprayHub front tank can now be enhanced with the SprayKit, a nozzle holder per hoe element that allows adjustable height and working angle for row spraying during hoeing. By combining both applications, users can save up to 60 percent of chemicals.
Automatic section control
For the upcoming season, the SprayHub and SprayKit can be equipped with new features, including an electric nozzle switching via ISOBUS. This enables GPS and Section Control-based row-by-row on/off switching. Additionally, a SprayKit is available for liquid fertilizer injection with the precision seed drill Azurit.
To facilitate this, the SprayHub front tank is equipped with its own flow control, agitator, and cleaning system, all controlled via Isobus and operated through the 'iQblue spray-software. The SprayHub has a tank capacity of 1,100 or 1,500 liters and comes with a rinse water tank, hand wash tank, and filling sieve. An additional rinsing nozzle is available for dissolving powder or granulated products, and a CTS connection for contactless filling and rinsing can be acquired.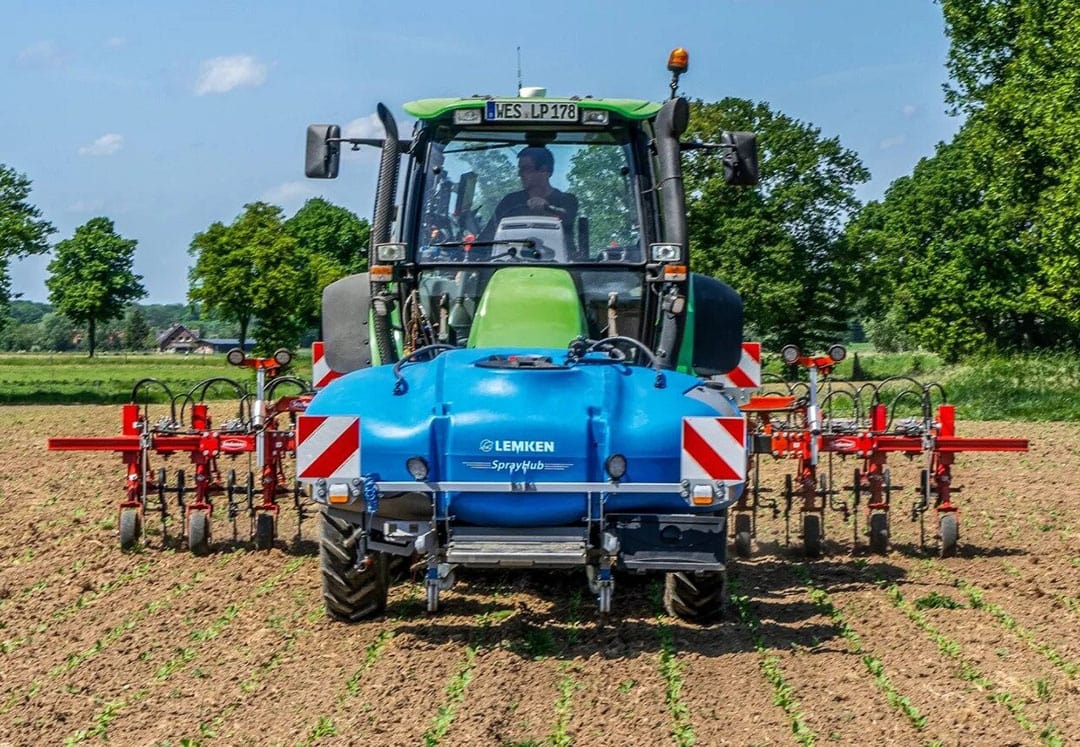 Weeding and spraying up to 28 rows.
Depending on the configuration, the SprayHub can be combined with the EC-Weeder hoeing machine for row spraying of up to 28 rows. Now, two nozzles per row can be used, enabling the application of pesticides under the leaves. Moreover, the SprayHub can be used for the application of liquid fertilizers via goosefoot knives in the immediate vicinity of the plant. For precision seeding applications, the SprayKit for Lemken's Azurit can be used for up to eight rows for manure injection via the double disc coulters.