LYRO has recently raised AUS $1.5 million (US $1.04 million) in funding from international and domestic investors, including Artesian/Boab AI, AgFunder and Japan's Toyo Kanetsu. "We're looking to scale up operations to reach farmers across Australia, helping them meet the labour shortages which threaten to stop their precious crops making it to the supermarket shelves", LYRO Robotics co-founder Dr Juxi Leitner points out.
Packing speed doubled
Mr Adams expects LYRO to be going live with its local customers to pack sweet potatoes in the Bundaberg region at the end of September. "We are ready for our commercial launch. We have been doing a lot of research and development in the past year. Our packing speed has probably doubled."
The produce packer delivers consistent high-quality packing for fresh produce, such as avocados, zucchini, ginger, cassava, sweet potatoes and punnets of packed fruit. It can deliver over 1000 picks per hour, depending on produce. "No sweet potato or zucchini is the same", Mr Adams emphasises. "They come in all shapes and sizes. The unique thing about our technology is that it can recognise this and pack them as a human would do."
Robotic modular design
The robotic modular design of the Brisbane based company updates over time to improve its pick and pack performance. Its design can adapt to specific industry needs. LYRO robots are now also sorting pineapples, and can soon perform grading and remove defects.
With the LYRO packing robot, a conveyor belt feeds items into the box shaped machine. Cameras scan the produce and the robot's computer vision detects what the items are and how they should be picked. Various grippers can be used to pick up the produce and place into a box. LYRO can retrofit its robotic packer into existing packing lines. "We try to do everything within the existing operation", Mr Adams says.
Packing is an important part of the harvest, he explains. "During transport, if products from a farm in Bundaberg have to be delivered in Melbourne for example, they can't be bouncing against other fruit in the box. The products would get bruised. It's got be nicely and tightly packed. Our robots can easily pack a 10 kg box of zucchinis, ready for shipping."
A robot can pack for 12 hours or longer, without a break, and always deliver 1,000 picks per hour
The robots can pack as fast a human, but have their advantages over human packers, Mr Adams points out. "A robot can pack for 12 hours or longer, without a break, and always deliver 1,000 picks per hour. It will never stop for a smoke or lunch, and never gets tired at the end of the day. With some tasks, like counting sweet potatoes that go in a box or sorting pineapple tops, humans are susceptible to errors. But they are important jobs."
Text continues below image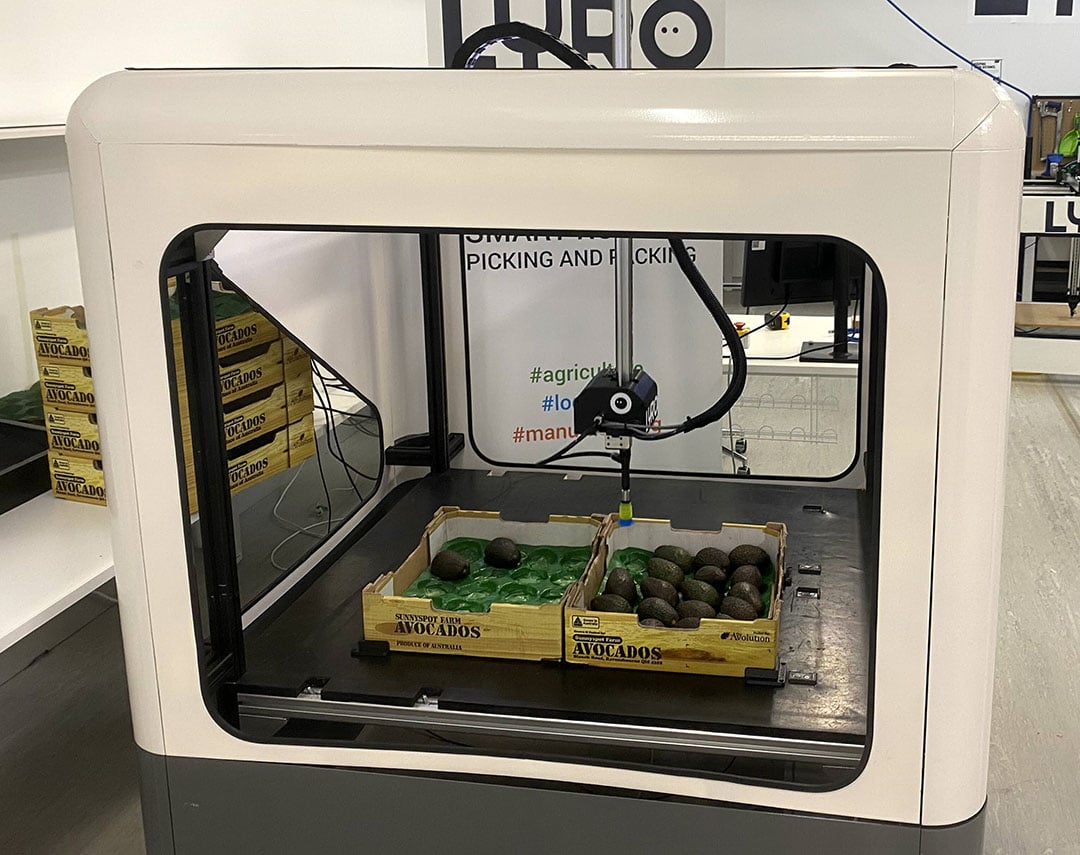 Sorting pineapple tops
The sorting of pineapple tops offers great benefits to farmers. "Planting and harvesting pineapples of the same size increase yield and reduce the number of passes farmers have to do", Mr Adams says. "If they are the same size, they are going to grow at the same rate. The bigger pineapples are then not taking nutrients from the smaller ones. But for humans, sorting is a terrible job to do."
Robotic-packing as-a-service
The company now will offer robotic-packing as-a-service for Queensland farmers, with pricing based on the quantity of produce packed, thus helping to reduce the capital cost for of adopting automation.
Even if growers can get workers to start at 6 in the morning, there might be 20 that start and only 4 that are left after lunch
The daily lease rate of a LYRO packing robot is comparable to the rate of a human worker. "And they are available", Mr Adams says. "The number of unfilled jobs is a problem at the moment in Australia. Farms in this country have around 30,000 vacancies. And even if growers can get workers to start at 6 in the morning, there might be 20 that start and only 4 that are left after lunch. I have heard a lot of terrible stories about the quality of labour that actually shows up."
Growers would typically rent the robot(s) for three months of the year, during harvest. "During the harvesting season, it can give them a guaranteed packing solution", Mr Adams explains. "But in the future, we expect packing operations to become more centralised. Smaller or medium size growers will send their products more and more to a central packhouse. We like that idea. It gives us an opportunity to build customised packing operations, fully automated and robotic. And I expect eventually those operations will integrate with automated trucks, that will take the produce out and we will see a largely autonomous supply chain."