According to Taranis, AcreForward provides ag retailers with better understanding of what's happening in every acre, plus new ways to unlock more opportunities.
The Israeli company says AcreForward provides unprecedented leaf-level insights into growers' crops at higher frequency throughout the season and captures opportunities in every acre, including new insights into soil health and carbon sequestration.
AcreForward's new tools, service plans and resources is to help advisors deliver high-quality expertise across more fields, engage growers with valuable insights, and get the most out of their Taranis service in the next growing season.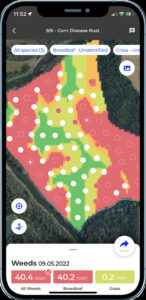 More scouting flight missions throughout the season
Taranis' 2023 service plans is to ensure that customers receive maximum value, with more scouting flight missions throughout the season, delivered at predefined time slots. With more data, advisors can gain deeper agronomic understanding of every acre, allowing for precise recommendations and timely intervention.
Taranis' Insight Dashboard is to give ag advisors a new way to see the full story of each field and every grower as the season unfolds. A new Field Timeline tool provides insights and trends in a single view, presenting stand counts, weed pressure, disease detection, insect pressure, and field health, along with NDVI and precipitation levels.
"With this data easily accessible and correlated, advisors can accelerate their decision-making, having a better understanding of how inputs, hybrids, and other variables come together for the best possible outcome for growers," Taranis states.
Carbon monitoring and estimation service
For the 2023 growing season, Taranis also makes sustainability and soil health insights readily available to ag retailers and growers through a carbon monitoring and estimation service. New insights, including trends in stocks of soil organic matter, are to help advisors provide growers with easier access to subsidies and support the adoption of sustainable farming practices.
"Crop intelligence is set to become a standard part of farming practices," said Bar Veinstein, Taranis' CEO. "With the introduction of AcreForward, we are accelerating this future, making leaf-level data and actionable insights consistently available and easily accessible for advisors and their growers, while supporting the shift to autonomous agriculture and plant-level management."
'Beyond scouting'
Mike DiPaola, Taranis' Chief Commercial Officer, said: "We understand how field insights can come together to tell a powerful story, both in-season and for the next season. AcreForward is pushing the boundaries beyond any technology and service available to ag retailers today. This is beyond scouting. It is about understanding what the acre is telling you and fostering collaboration with your growers so that they can be successful."
AcreForward is part of Taranis' crop intelligence offering and will be used by US ag retailers across 15 states and in over 3 million acres in the coming growing season.