Meanwhile RootWave's own tests show that their patented high-frequency weed control uses just a fifth of the energy verses herbicides, on a per hectare basis. According to Rootwave Volta compares even better against other alternative weed control methods, meaning it offers a unique combination of high control and low energy use.
Text continues below video
Commercial version of Volta
The Warwickshire based company plans to release a commercial version of Volta in the UK and Europe for fruit crops and broad acre row crops in the coming years.
Chief Executive Officer Andrew Diprose said: "In independent tests Volta provides better weed control in fewer treatments with no impact on crop or soil. We have a system that can provide low-cost weed control that helps nature restore biodiversity.
"Electricity provides full control of weeds by boiling them from the root upwards. This is an advantage over other alternative methods that cut or burn the weed above the surface, leaving the roots."
Up to 100% control with electric weeding
The trials of RootWave Volta were conducted in commercial maize and sugar beet crops in Warwickshire and Norfolk this summer (2022). The machine delivered up to 100% control, averaged 99% control across one sugar beet trial site, and outperformed herbicides in all cases.
Text continues below graph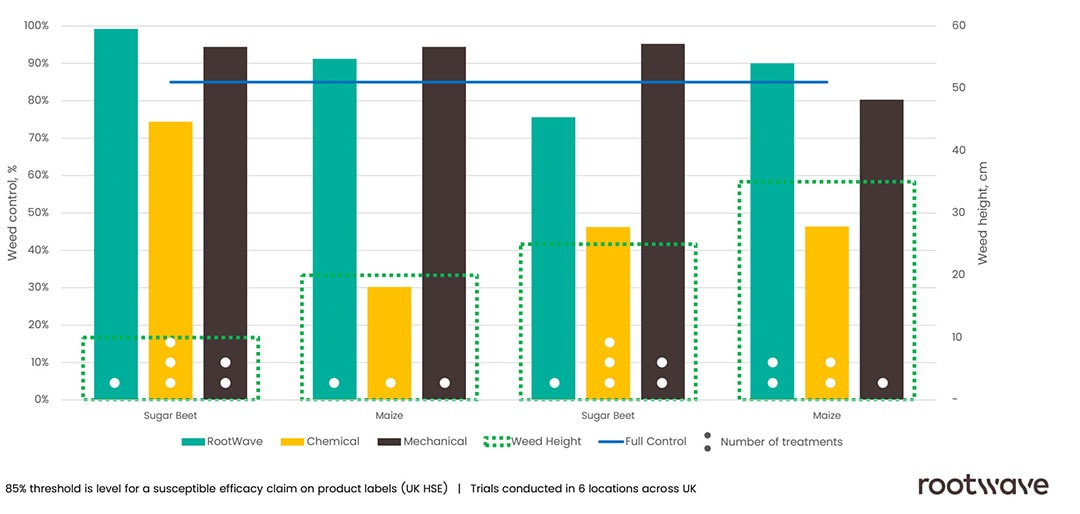 In equivalent herbicides trials, products must deliver 85% control to be able to claim weeds as 'susceptible' on the label. In all trials over the summer Volta bettered the control delivered by herbicides – in one case by over 60 percentage points.
We asked Jimmy Phillips, RootWave's Communications & Customer Marketing Manager what the effect on troublesome weeds with rhizomes like couch grass is.
"We don't have any specific field trial data on couch grass with Volta, however as electricity treats deep into the root we would anticipate good results. Our handheld product RootWave Pro is very popular with contractors for treating Japanese Knotweed."
Crop damage with electric weeding
According to Phillips, the company also looked at damage done to the crop with Rootwave and how that compares to chemical weed control: "In all Volta trials in sugar beet and maize there was no evidence of phytotoxic effects associated with any application rate or forward speeds. We also assessed for effects on non-target organisms, and there we no effects associated with any applications of Volta."
Full control and low energy use
RootWave's Volta machine is powered by a traditional diesel tractor, with the generator running from the front PTO. The technology is also compatible with green energy sources and autonomous systems, such as driverless tractors and carbon-free fuels.
In the company's own tests, effective weed control was delivered from just 50 megajoules (MJ) of energy per hectare (recorded range 50-98Mj/Ha) – by comparison herbicides use over 500Mj/Ha, when taking into account the production and distribution of the chemicals. Other alternative weed control methods range from 800Mj/Ha to over 8,000.
The company has patented the use of high frequency electricity at over 18 kilohertz (kHz) for weed control on the grounds that it is fundamentally safer than DC or standard 50 hertz (Hz).
Text continues below graph
Founder and Head of Research Rob Diprose said: "Our technology is cutting edge. The concept of driving electricity around a circuit that includes the weed, the ground, and then the return is relatively simple. However, we do things differently. We use waveforms that are intrinsically safer, and we use control systems that allow us to manage every joule of energy that flows through the system in real time. Our ability to control energy in this way means we can provide truly targeted treatment and deliver the most effective and efficient weed control available."
RootWave launched the handheld weeder RootWave Pro in 2017 and has sold nearly 150 units across Europe. Volta will be released for fruit, and broad acre row crops in the coming years.