The prototype is made for the front linkage of a tractor and works four potato ridges wide. The basic principle behind it is that the Colorado potato beetle instinctively drops down and stops moving to elude its attackers. The machine is therefore equipped with eight hydraulically driven rotors with plastic flaps, two per potato ridge that rotate in opposite directions. They stroke along the potato foliage with considerable force and tap the beetles and larvae loose from the plant. These fall, as is the intention, into containers that move along under the foliage.
Text continues underneath the video
Colorado potato beetles destroyed afterwards
The height of the rotors is adjusted with a spindle. Height and width of the collection bins can also be adjusted, so that the user can place them in the optimal position for his cultivation method and the current status of the crop.
Every so often, the bins fold up to tip their 'harvest' into a collection bin. Useful insects can escape from there; Colorado potato beetles mostly stay in their place and can be destroyed afterwards.
Text continues underneath image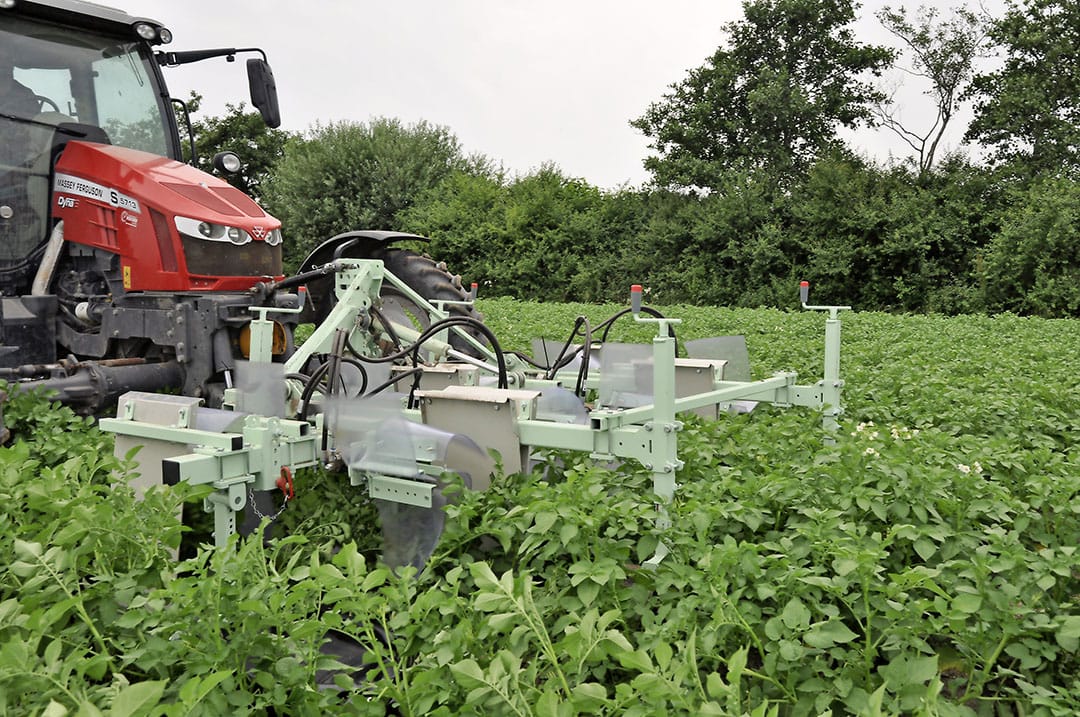 Foliage withstands the beating
Dutch inventor Joris van der Kamp and constructors from Fieldworkers developed the prototype in close consultation with Dutch potato growers. The results are promising, say the growers where the machine has been tested. One of them used the Colorado Beetle Catcher on the same field twice in the beginning of July 2021 on two consecutive days.
The damage to the foliage is not too bad, and much less than the damage the beetles would do. The organic potato grower estimates that both times he removed 50-60% of the beetles and larvae, so altogether three quarters or more.
However, inventor Van der Kamp doesn't want to give overly optimistic estimates and would be happy with a 60 to 70% removal rate.
Text continues underneath image
Adaptable
Because of its adjustability, the Catcher can be used at various stages of growth, but it seems to work best when the foliage is connected within the row but the rows themselves are still separate from each other.
With the machine in the front linkage it is possible to use a second implement simultaneously behind the tractor, for example for ridging or hoeing. But the team has already made progress with other types that fit into the rear linkage. The aim is to have several commercial end versions on the market in early 2022.