Developed by Exxact Robotics, a subsidiary of the large, French Exel Industries Group, it is set to be employed on a wide range of its sprayer brands including Agrifac, Berthoud, Evrard, Hardi, Technoma and the USA-built Apache.
The system combines high resolution, embedded cameras and sensors with artificial intelligence algorithms, which are integrated into the company's existing sprayers. "It is designed to optimise inputs with high precision, ultra-localised spray applications – accurate to the individual nozzle level," explains the company.
Reduce the use of pesticides and fertilisers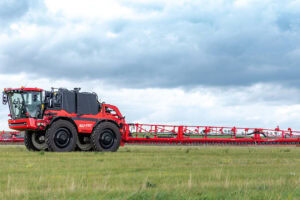 Capable of working day or night and up to speeds of 25km/h, the technology has been developed from spot spraying systems that have been working in the field for the past five years, says the firm.
This latest technology is designed to detect and treat weeds, diseases, pests and nutrient requirements, in real time, in growing crops. The highly targeted applications, says the firm, are an effective way to help farmers reduce the use of pesticides and fertilisers.
Pressure on pesticide use has increased since the Kyoto agreement in 1997, says Yves Belegaud, CEO of the Exel Industries Group. "Since then we have had the COP21 in Paris in 2015 leading to the Green Deal and Farm to Fork in the EU. The goal is to reduce the use of pesticides by 50% and fertilisers by 20% by 2030 – it will be the law in the EU," he adds.
Exxact Robotics
To meet these challenges Exel Industries Group has established Exxact Robotics to create this new technology for its brands. Using targeted applications, compared with average spraying, says the company, can bring huge herbicides savings of:
Green on brown herbicides: 80%
Green on green herbicides: 40%
Fungicides: 25%
Insecticides: 20%
Nitrogen: 20%
Identify weeds and deliver targeted herbicide applications
Starting in 2022, the 3S Spot Spray Sensor will initially be used to identify weeds and deliver targeted herbicide applications, followed by nutrients in 2024 and fungicides in 2025 followed by insecticides in 2026.
The boom-mounted sensor system will be offered in two levels of sensitivity:
Low density – one sensor mounted at 3m spacings for high precision on most spray systems
High density – on sensor mounted at 1m intervals for optimum precision and better management of shadows and in row crops.
Agrifac sprayers
The system will first be offered on Agrifac sprayers and then rolled out across the Exel Industries Group's other brands. Agrifac has, so far, spearheaded the Group's moves into precision applications first launching a range of systems and the collective name of 'Need Farming' in 2018.
This saw the introduction of a range of technology to boost precision and optimise applications. Top of the technology tree came AiCPlus, its first camera-based identification and spot treatment system.
To achieve the required single nozzle accuracy this uses Pulse Width Modulation (PWM) to enable the system to vary and apply the right dose for the target, while maintaining the correct droplet size for the product.
Accompanying these systems came a range of new sensors and software to implement control down to a resolution of a single nozzle.