Manufacturer: Ecorobotix
Implement: Ara
Weeding tools: Chemical, 156 spray nozzles
Pricing: € 105.000 ($115.055 according to the exchange rate of 05-04-2023)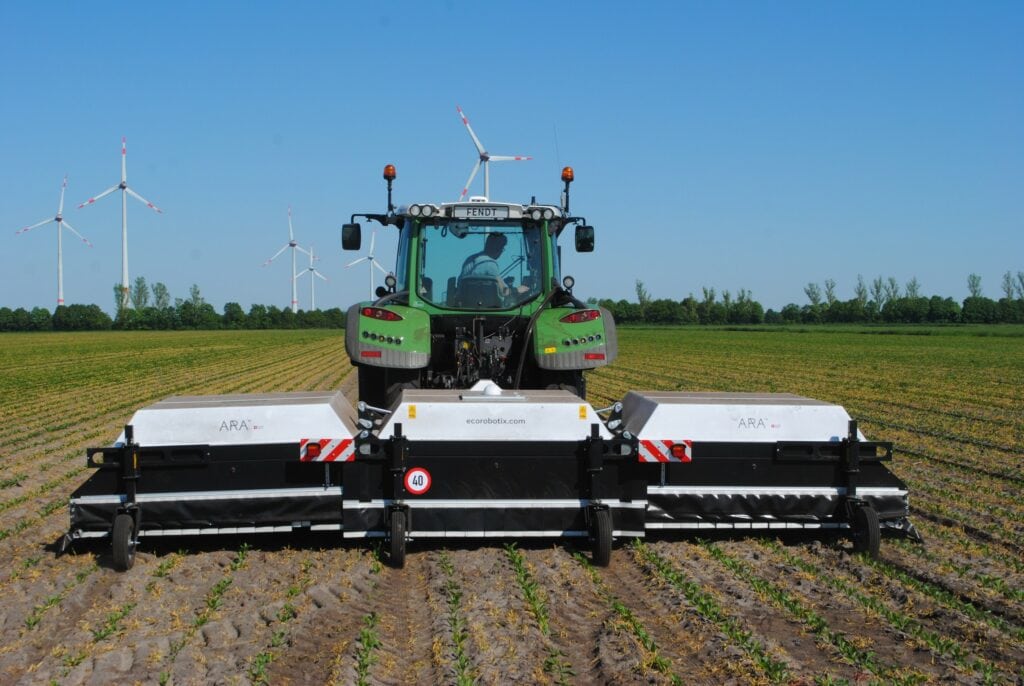 The Ecorobotix Ara has a working width of 6 m divided in 3 units of 3 m each. Across that working width, 156 spray nozzles are fitted. These provide a 'resolution' of 6 by 6 cm for weed elimination. With this, you can choose to use selective herbicide such as Starane in Onions to target both the weeds between and in the rows. If you use non-selective herbicides such as glyphosate, then the Ara allows you to set a safety margin next to the outer parts of the crop ranging from 2 to 4 cm.
Workings speeds of up to 7.2 km/h are possible resulting into a capacity between 3 and 4 hectares per hour depending on the size of the headlands compared to the size of the field. The Ara is not only available for weeding in arable crops and for tackling volunteer plants in arable crops, it is also suitable for selective treatment of docks (Rumex) and thistles in pastures.
Specifications
Manufacturer:
Ecorobotix (Switzerland)
Implement:
Ara
Weeding tools:
Chemical, 156 spray nozzles
Working width:
6.0 m
Capacity (max driving speed):
3-4 ha/h (7.2 km/h)
Weeds … close to plants:
2 – 4 cm
Energy source:
PTO
Energy consumption:
2 hp
Suitable for (crops):
Butter beans, chicory, lettuce, oil seed rape, onions, spinach and sugar beets. Volunteer potatoes in chicory, onions and sugar beet
Suitable for (row/bed widths):
Any
Suitable for (weeds):
Arable: all, pasture: docks and thistles
Weed sizes it detects:
Any
Cameras capture weeding result:
No
Cameras capture crop status:
No
Usable day and night:
Yes
Pricing:
Investment: € 105.000 ($115.055 according to the exchange rate of 05-04-2023)
Per algorithm/weed: €20-€50/ha or annual amount
Availability:
Primarily Europe