Robot: RoamIO-HCT
Task(s): Multipurpose like weeding, spraying, gathering data
Development start: 2019
Pricing: Starts at $80,000 (€75,920 according to the exchange rate of 01-11-2023).
Manufacturer: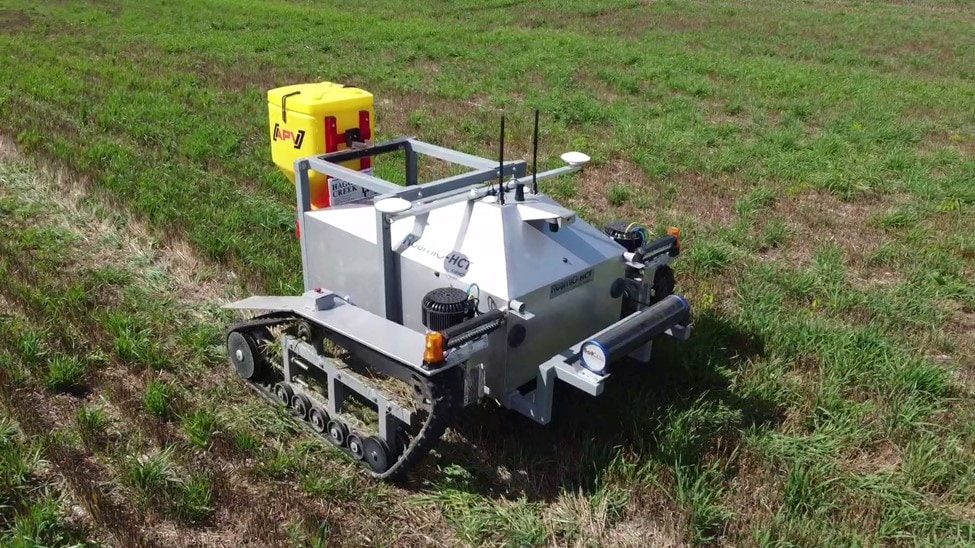 Description
RoamIO-HCT is a compact and light ( 450 kg) robot on tracks. Automates standard horticultural farming implements that are compatible with 2" hitch receivers to assist the farmer during numerous stages of farming such as autonomous seeding, weeding, mowing, cultivating, sampling soil, and gathering data. It has a top speed of 8.5 kph. In capacity good for up to 10 ha/hr for datalogging and 1.9 ha/hr mechanical weeding. Multiple RoamIOs can be operated at the same time from one tablet, and all RoamIOs can be teleoperated through the cloud. It also features a virtual assistant
Drive train type
Geared brushless motors per track, uses skid steering.
Characteristics
48VDC and 12VDC output, field-configurable relay switches, optional motorized lift for implements.
Navigation system
The robot is controlled using a tablet computer. Users can set inputs for a path planning algorithm like: boundaries, obstacles (if any), start point, end point and heading. In order to detect obstacles, uses triple redundancy – a LiDAR, 2 SONARs, and a camera that runs artificial intelligence algorithms to detect 30+ different "objects". RoamiO-HCT has 2 flood-lights to illuminate the surrounding area in low-visibility conditions.
Specifications
| | |
| --- | --- |
| Name robot | RoamIO-HCT |
| Dimensions | 1.6 x 1.7 x 1.27 meters (L x W x H). The track width is 15cm, and 1.51 meters center to center. |
| Turning radius | Capable of rotating on the spot, depending on the implement being automated. |
| Weight | 450 kg |
| Energy source | Fully electric powered by lithium batteries, with optional diesel/ petrol generator to increase range. |
| Energy stock/range | Up to 9 hours on a single charge |
| Driveline | Geared brushless motors per track, uses skid steering. |
| Output capacity | Task dependent. Top speed 8.5 kph. eg. up to 10 ha/hr for datalogging and 1.9 ha/hr mechanical weeding. |
| Navigation system | Using a tablet computer users can set inputs for a path planning algorithm. A LiDAR, 2 SONARs, and a camera that runs artificial intelligence algorithms to detect 30+ different "objects". |
| Pricing | Starts at $80,000 (€75,920 according to the exchange rate of 01-11-2023). |
| Availability (countries) | USA and Canada trough regional dealers |
| Units operational (total end 2023)   | 1 (according to 2022 information) |