The case IH Optum AFS Connect range contains three models, with rated power outputs of 250hp, 270hp and 300hp. They all feature the Case IH CVXDrive continuously-variable transmission.
The new cab is equipped with the Multicontroller armrest and its multi-function lever, a larger AFS Pro 1200 touchscreen monitor with greater functionality, and A-pillar tablet instrumentation for engine/transmission information read-outs.
Case IH AFS Connect telematics package now standard
The new tractors are now equipped as standard with the Case IH AFS Connect telematics package, for instant-two-way data transfer between tractor and online management portal, real-time machine monitoring and much more.
The all-new Multicontroller armrest incorporates a new Multicontroller lever with configurable buttons. Via the new, larger AFS Pro 1200 monitor at the armrest's front, key controls on the Multicontroller and armrest can be customised to suit operator preference and the job in hand, including the function buttons and remote valve paddle switches.
Text continues underneath image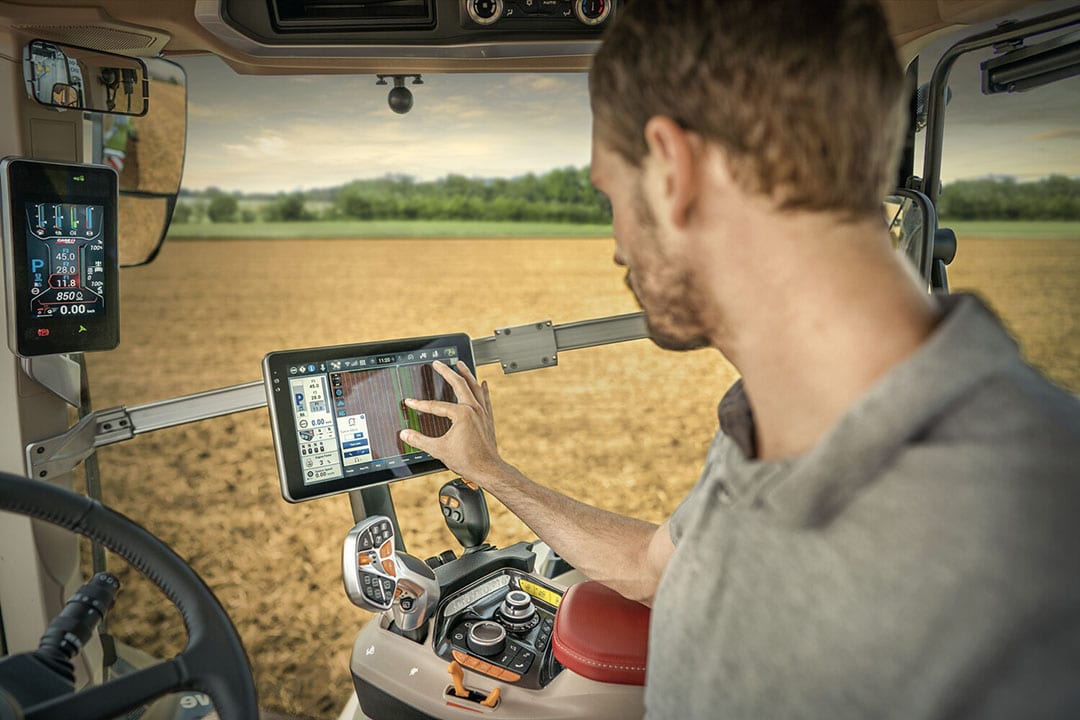 ISOBUS-compatible touchscreen monitor
The new ISOBUS-compatible AFS Pro 1200 touchscreen monitor has a high-resolution screen that not only allows the operator to monitor all primary tractor functions, but can also show front and rear camera feeds and is the key control gateway to operating and optimising the engine, the CVXDrive transmission and the tractor's hydraulics and PTO.
There are also short-cut keys and a new encoder turn-and-press dial on the new armrest, as established on the Magnum AFS Connect models.
Text continues underneath image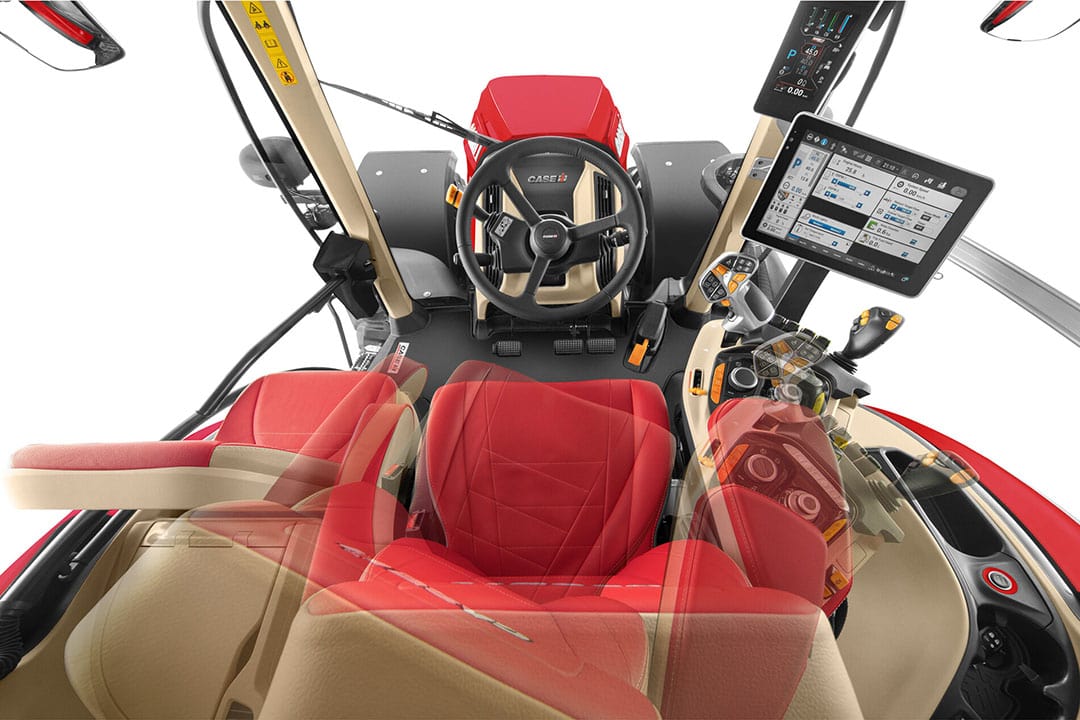 AccuGuide automated steering system
Via the AFS Pro 1200 terminal, users can manage the tractor's AccuGuide automated steering system and – for the first time in this Case IH tractor class – full AFS Connect telematics capabilities. According to Case IH, with this system of wireless two-way data transfer between the tractor and the AFS Connect online management portal, tractor owners and farm managers have complete control over farm, fleet and data management.
Tractor performance and implement operating data are sent to the online portal for access by the tractor owner/manager. Users can also monitor real-time information such as the location of their tractors, their fuel levels and other key management and performance data.
In this way it is possible to, for example, deliver diesel to a tractor as required, improve machine logistics or see if a job has been completed. As data transfer is possible both ways, job instructions, application maps and other data can also be sent remotely to the tractor from the farm office PC, using the 'Farm' tab in the AFS Connect web portal.
Farmers and – with permission – dealers can use AFS Connect Display Viewing to view the AFS screen display in real time as the driver is seeing it. For farmers/managers, this allows operating data to be checked and, if required, suggestions for adjustments to be made.
Text continues underneath image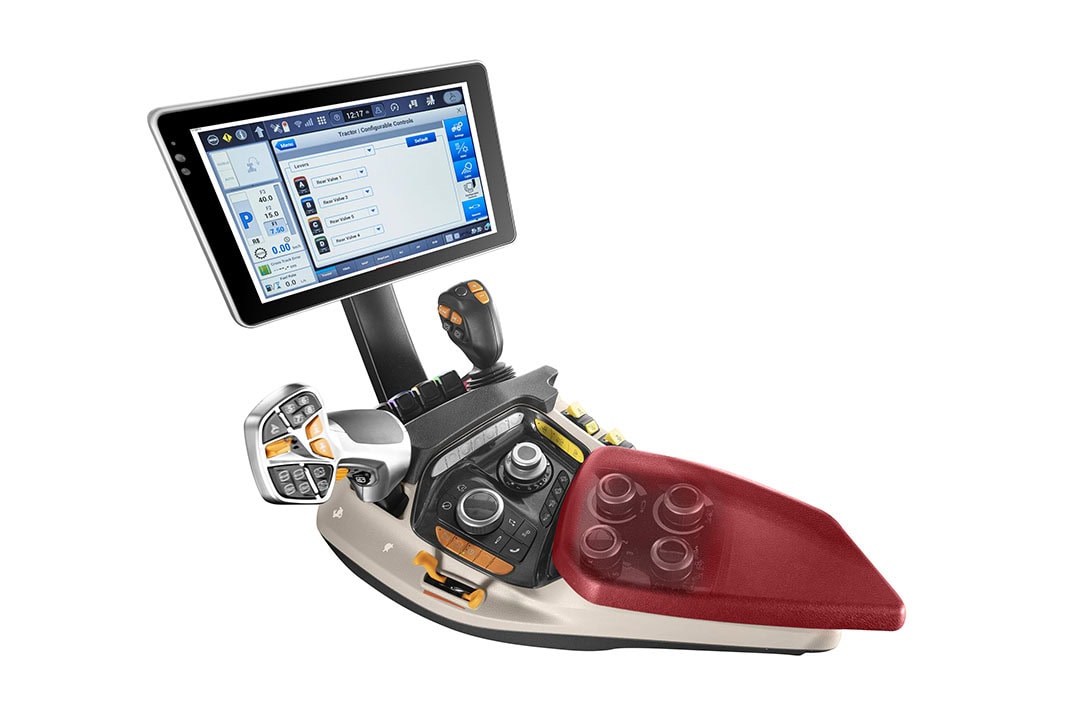 Remote service access
Owners can choose to allow their Case IH dealer to remotely monitor their tractor's AFS Pro 1200 terminal screen via AFS Connect, if they so wish. Potential advantages include dealer notification of early warning signs of a tractor fault or issue, remote service access, and the opportunity to provide operating advice based on machine data.
Under this AFS Connect Support PRO package, firmware over the air capability means dealers can wirelessly update the operating firmware of Optum AFS Connect tractors.
The new AFS Pro 1200 terminal has a larger touchscreen than the former AFS Pro 700 unit and incorporates more configurable settings, including a camera feed for front and rear cameras as specified. Many functions can be operated either via the touchscreen or via a new turn-and-press encoder dial on the armrest, for the same personalised operation.