It was only in July 2019 that Rantizo, a new company in Iowa, USA, was granted the first approval for drone spraying in the state. This was closely followed by permissions from other US states.
Today applications by UAVs are permitted across most of the country, resulting in a massive increase in drone spraying applications. It resulted in an enormous growth in sales and service providers. In the USA aerial spraying and conventional applications by custom operators (contractors) are common, and this is reflected in how the drone application market seems to be developing.
Text continues underneath image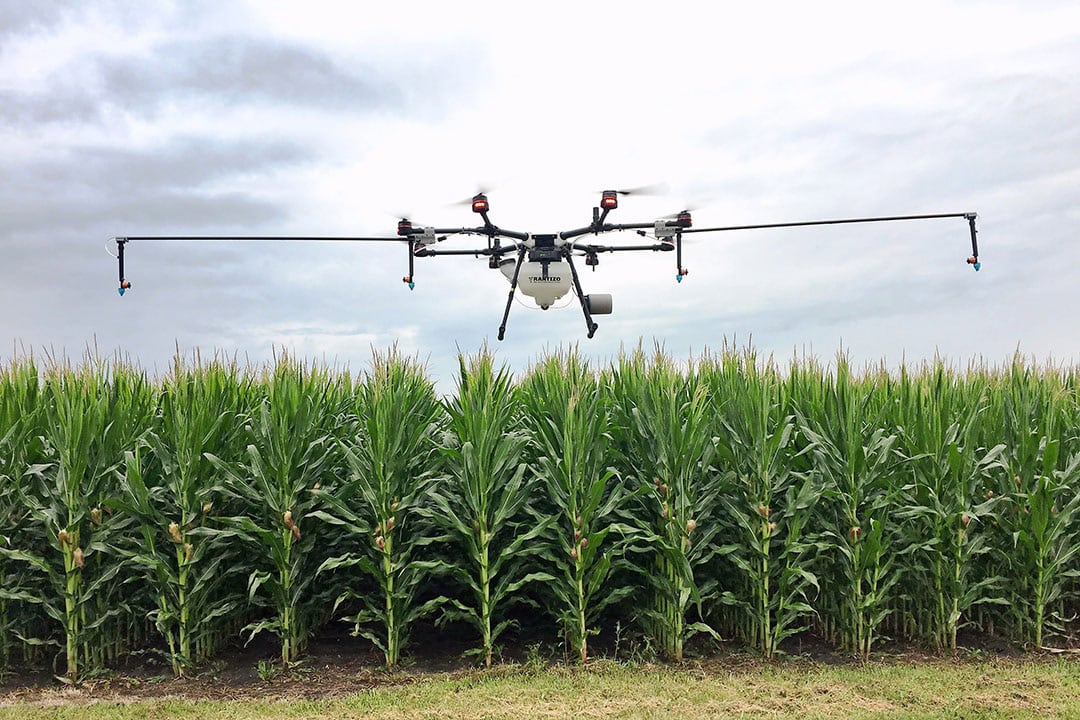 Drones most suited to spot spraying
Drones are most suited to spot spraying or applications on small areas. While farmers do buy and operate drones, it's questionable whether the investment in time and money required for operator training and qualifications is cost effective. It is much easier and, probably cheaper, to call in a custom operator.
Market growth is clearly moving to this model, pioneered by a number of companies such as Rantizo, Leading Edge Aerial Technologies, Hylio and HSE-UAV. These specialists offer the full service – sales, training, service and back-up as well as, in many instances, custom applications themselves, or through their own agents.
This also appears to be becoming common in countries with larger area farms and advanced agricultural businesses. In other less developed farming countries, such as China, drones have enabled operators to move from spraying manually, with back-pack applicators straight to drones.
Drone spraying taking off in Asia Pacific region
Sales and the use of spray drones is increasing fast in the Asia Pacific region. Often with the help of subsidies and other support, smaller farmers are being encouraged to make the switch to improve productivity and increase operator safety.
All aerial spray applications, including from drones, are banned in all EU countries and the UK – except in exceptional circumstances. Many other countries across the world have also still to introduce regulations and continue to prohibit their use.
Text continues underneath image
Specialist spraying
With the ability to apply targeted applications autonomously and with pin-point accuracy, drones are ideal for vines, fruit, specialist row-crops and orchards. They also offer the huge benefit of being able to operate over difficult terrain which can be hard to access with conventional tractors and equipment.
Commercial co-operations
Plant protection product manufacturers are working closely with drone spray applicators. Bayer, for example, announced a strategic partnership with XAG in Japan in 2019 and has also formed a strategic partnership with Rantizo in the USA. Syngenta is working in partnerships in China and has appointed a Safe Use Training Ambassador in Liaoning province, who trained 3,000 farmers in 2019.
Back in 2017 Dow AgroSciences signed a memorandum of understanding with DJI in China, to test its product applications by drone. In 2019 Adama in Tel-Aviv announced a joint feasibility study with its fellow Israeli firm Tactical Robotics, looking into spray applications from its giant Ag-Cormorant drone. Meanwhile, in Japan, Sumitomo Chemical Co has invested in Nile Works Co. Ltd, one of the country's leading spray drone manufacturers.