According to machine manufacturer Sulky, the wind that is generated when spreading fertilizer at a higher driving speed has a negative effect on the spreading pattern. Sulky, therefore, devised 'Speed Control' which corrects this automatically.
The French manufacturer Sulky developed a new technique for their fertilizer spreaders in which the setting of the spreading pattern automatically corrects the increasing wind at a higher driving speed. According to Sulky, the influence of driving wind on the spreading pattern increases the faster you drive, for example at 10 to 20 kilometers per hour. This is especially the case with large spreading widths, like 33 or even 50 meters wide. Practically speaking, this means that the fertilizer granules that are spread farthest away to the sides fly less far at a higher driving speed.
Text continues underneath image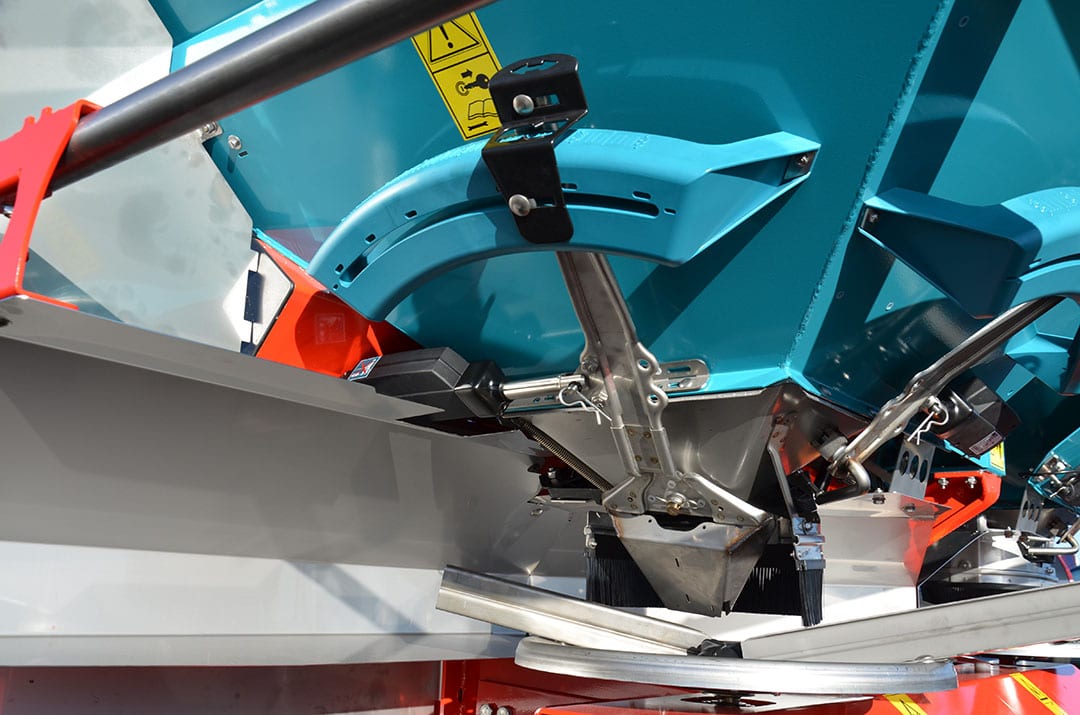 Center of the spreading disc
Sulky solves the influence of wind with a new feature called 'Speed Control', which will be available next fall on the X40 and X50 fertilizer spreaders. These fertilizer spreaders have adjustable outlet openings that determine the point of drop of the fertilizer on the spreading disc. Sulky also uses this technique to spread site-specific with twelve sections. With Speed Control, the fertilizer granules are thrown into the center of the spreading disc as the driving speed increases. The blade then gives more force to the grain so that it is spread further away. By doing this, the 'narrow working width', resulting from an increase in wind, is fully automatically compensated by 'widening' the spreading pattern.
Earlier, Sulky won a silver innovation prize with Speed Control during an online edition of the French agricultural fair Sima.
With an app
As a driver, there is little extra work involved in this new function. The spreader already works with an application on the smartphone, in which you enter things such as specific weight, grain size, working width, and the grain mix used. The Speed Control function adjusts the spread pattern setting based on the tractor ground speed signal. The function does not take into account wind direction and force.
SpeedControl is available on the Sulky X40+ Econov and X50+ Econov. Those who want such a model with this new technology will pay an additional cost of about 1950 euro  (2280 US dollar). The first spreaders with this technology are expected in early 2022.