Robot: OMNIPOWER 3200
Task(s): Seeding, spreading, and spraying
Development start: 2017
Pricing: —-
Manufacturer: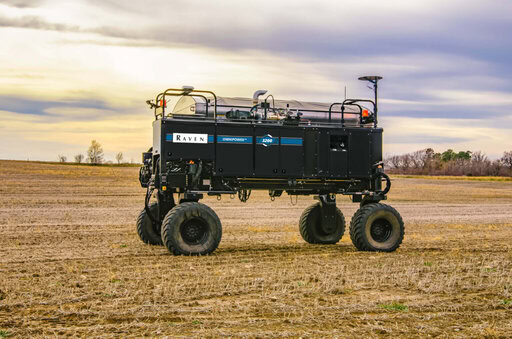 Description
OMNiPOWER 3200 is the latest model of Raven Industries' OMNiPOWER technology, formerly known as Dot. The powered-up autonomous power platform's U-shaped design attaches to interchangeable implements, such as a seeder, spreader, and sprayer. Enhancements to the platform include increased horsepower (200 HP compared to the original platform's 173 HP), upgraded Cummins QSB4.5 Stage 5 Final engine, and Viper 4+ UT Display.
Drive train type
Diesel engine, hydrostatic drive
Characteristics
Engine HP 200; 40 gpm hydraulics, 15,876 kg carrying capacity, 12V power generation for auxiliary devices, onboard ISOBUS compliant computer for remote viewing, rate controller, and monitoring
Navigation system
The robot uses RTK GPS for staying within geofenced field boundary. It has 2 control systems. Primary is the GCS Tablet operating Raven Proprietary software, web based, to plan out missions on the tablet. The missions include driving direction (compass heading), swath width, travel speed, turning radius and the treatment or non-treatment of "headland" areas, as well as start and stop point. The completed mission plan is wirelessly transmitted to the OMNiPOWER for completion. Operation then proceeds autonomously.
The machine has onboard cameras for operator viewing, as well as a non-contact perception system consisting of cameras and radar sensors. The robot operator has a high range remote with e-stop as a secondary control for the robot.
The OMNiPOWER 3200 automatically stops under the following conditions:
a) e-stop is pressed
b) safety fence is tripped
c) loss of RTK GPS
d) loss of data communications on either the GCS tablet or the OMNi itself
e) loss of contact with the high range remote
f) a specific error code related to the machine operation, such as but not limited to: excessive wheel slippage, off track physical location, certain engine monitoring conditions, certain implement conditions, safe operation. A light beacon offers a visual warning that OMNiPOWER is about to move, and a horn sounds multiple times prior to movement.
Specifications
Name robot
OMNIPOWER 3200
Dimensions
– Narrow mode: 6.1 m (20 ft.) x 3.84m (12.5 ft.) x 4.42 m (14.5 ft.)
– Wide mode: 4.7 m (15.4 ft.) x 5.94 m (19.5 ft.) x 4.42 m (14.5 ft.)
Turning radius
9.144 m / 30 feet
Weight
8,609 kg
Energy source
Diesel engine
Energy stock/range
110 gallons / approximately 12 hours of run time
Driveline
Diesel engine, hydrostatic drive
Output capacity
Depends on width of implement and desired ground speed. When spreading fertilizer, the maximum capacity is approximately 121 acres per hour.
Navigation system
The robot uses RTK GPS to stay within a geofenced field boundary.
Pricing
—–
Availability (countries)
US/Canada
Units operational (total end 2022)  
Raven will have dozens of autonomous machines running at the end of the year.