Robot: Tom v4
Task(s): Per Plant crop count, weed detection and data visualisation. Treatment map export for targeted herbicide and variable rate nutrient applications.
Development start: Unknown
Pricing: As a service, £150/Ha – 3 surveys included
– Green on brown map for targeted glyphosate application
– Variable rate nitrogen application maps using plant counts and biomass assessments – Broadleaf weed maps for targeted herbicide application (autumn and spring)
Manufacturer: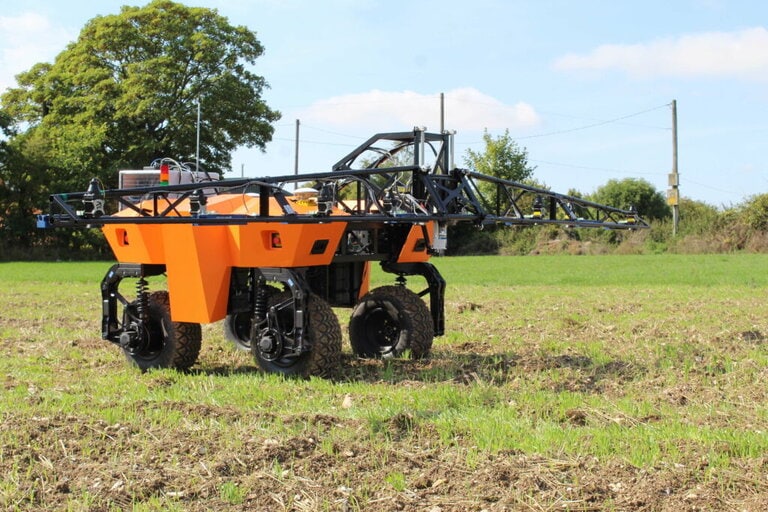 Description
Small Robot Co uses robotics and AI to make farming more efficient, sustainable and
profitable. Our Tom robot autonomously maps the entire field, collecting Per Plant data at
field scale. It builds a detailed picture of crop health and weed density. Our AI models then
create treatment maps to advise farmers on the best action to take.
– Build a detailed Per Plant picture of crop health
– Assess weed density information for no spray decisions and reduced herbicide use
– Know exactly how much nutrients crop plant needs to optimise fertiliser application
Drive train type
Electric
Characteristics
Tom uses 4 (1.56 kwh) rechargeable batteries. It has a Swiftnav GPS system with 2 GNSS
receivers. Other features are: 6m camera coverage, 8 x 6 megapixel cameras, a ground
sample distance (GSD) of 0.28cm/px, data storage capacity of 4TB (removable drive), 1.5
m/s forward speed, 4 wheel drive and a static ground pressure of <31kPa.
Navigation system
Tom uses 2 GNSS receivers to provide RTK position with a 1cm accuracy.
Specifications
Name robot
Tom v4
Dimensions
Track width: 1.04m
Wheelbase : 0.95m
Robot length: 1.55m
Robot width: 1.54m
Robot height: 1.3m
Boom deployed width: 5.56m
Turning radius
0.74m/2.43ft.
Weight
350.6 kg
Energy source
Electricity/batteries
Energy stock/range
Four hours on a battery charge. Farmers can swap batteries to continue operation.
Driveline
Undisclosed
Output capacity
2.2 ha/hour
Navigation system
Uses 2 GNSS receivers to provide RTK position with a 1cm accuracy.
Pricing
£150/Ha – 3 surveys included
– Green on brown map for targeted glyphosate application
– Variable rate nitrogen application maps using plant counts and biomass assessments
– Broadleaf weed maps for targeted herbicide application (autumn and spring)
Availability (countries)
UK
Units operational (total end 2022)
Undisclosed