Future Farming's Peter Hill wins award with article about drones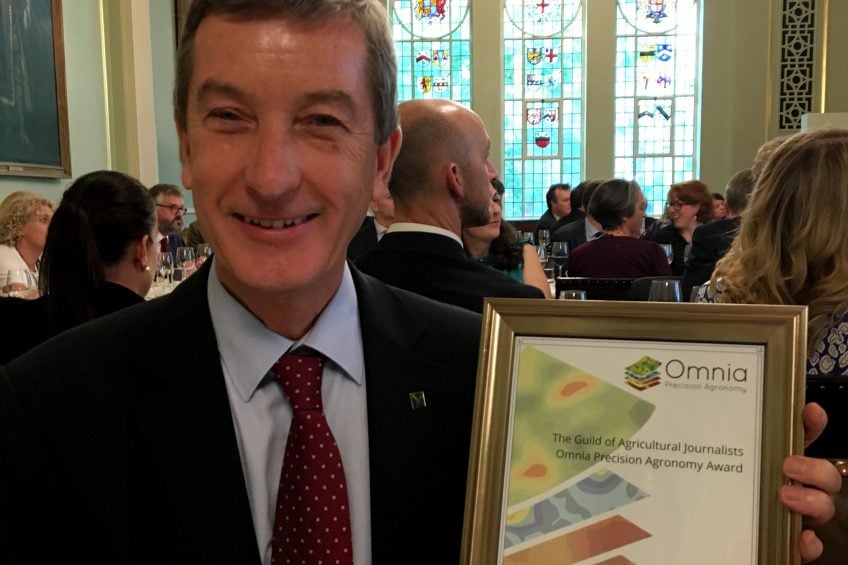 Peter Hill, machinery writer for Future Farming, has been awarded with the 2018 Omnia Precision Agronomy Award for an article published in Future Farming.
This was the second year of the Hutchinsons Omnia Award – sponsored by Hutchinson's – and again it drew strong field of entries. First presented at the Guild's 2017 Harvest Lunch, the Omnia Precision Farming Award recognises excellence in the reporting of precision farming technology.
Drones replacing manual crop care
Peter wrote his winning article about drones rising to the challenge of replacing manual crop care. The article was published in Future Farming No. 2 of 2018. The article, called Drone spraying and spreading becoming reality, can also be found here.
Judges described the piece as: "a thoroughly researched round-up of drone developments, both in the UK and overseas, full of information and well written for its international farming audience."
Particular interest in precision farming technology
Peter Hill has a long career in agricultural journalism. During his career he has worked as an editor on monthly and weekly titles in the United Kingdom, and for more than 20 years has written as a freelance contributor on developments in tractors and machinery, their on-farm application, and the global machinery manufacturing and distribution industry, for publications in the UK, Australia and North America. Having reported on the UK's first commercial yield mapping application and most subsequent developments, he has a particular interest in precision farming technology.