Exhibitors will show future-oriented developments in seed varieties, cultivation methods, technologies and agricultural inputs that will enable visitors to adopt increasingly individual sustainable strategies for their farms.
Demonstrations
Among the top attractions are the well-organised demonstrations. The three most interesting are a practical comparison of mineral fertiliser spreaders and N sensors, a comparison of plant protection sprayers, and mechanical weed control technology.
Over 70 pieces of farm equipment will be demonstrating a variety of crop production techniques, including the new live demonstrations on 'lifting, loading and filling'.
Text continues below image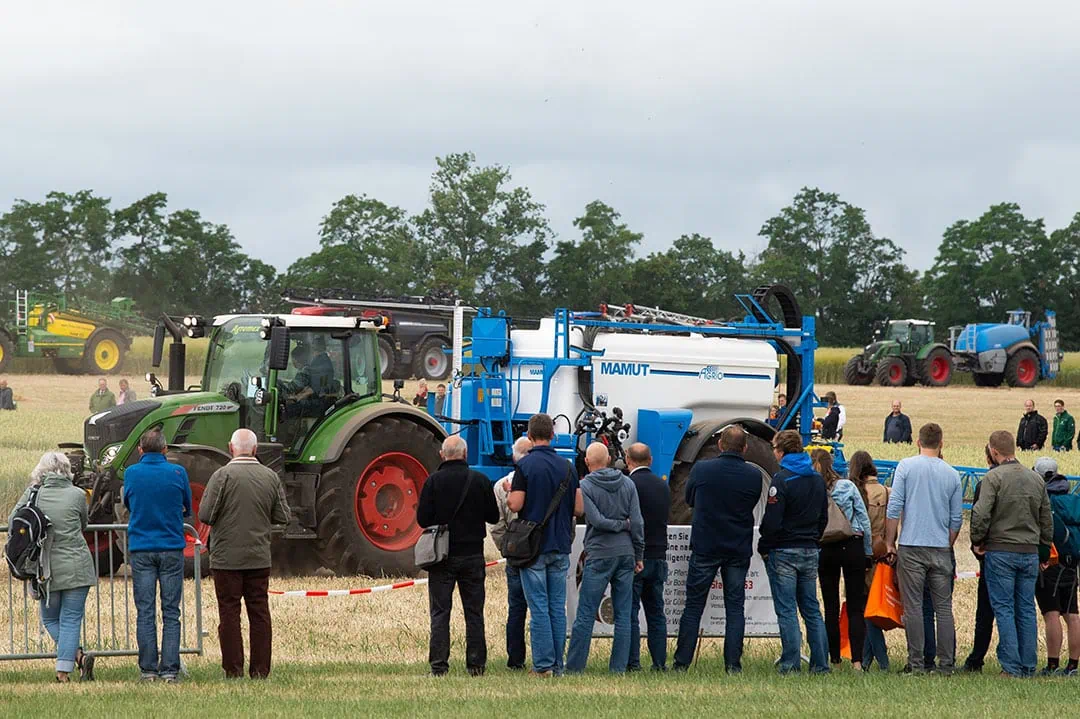 The DLG-Feldtage machinery demonstrations also cover mechanical weed control, shallow tillage, sprayer as well as mineral fertilizer spreader comparisons and take place on the adjacent fields surrounding the trade fair.
The more than 200 demonstrations over three days are an important highlight for farmers visiting DLG-Feldtage that presents crop production products – on stands and in trial plots – from 370 exhibitors from 16 countries.
Text continues below image
Field Robot Event 2022
Robots from 13 competing international student teams will perform tasks like weed recognition among real crops. This year, live online simulation is added as a judging criterion.
Navigating curved maize rows with headland turns, weed and rubbish recognition with mapping and removal, as well as mastering a self-selected specialism, are the tasks autonomous robots must solve at the DLG Feldtage venue, and again online in simulation on www.dlg-connect. Organized by the University of Hohenheim and Wageningen University with the focus on presenting pioneering robotics, FRE is hosted for the fifth time at DLG Feldtage.
"Long before being turned into hardware, an autonomous robot goes through numerous simulations with much fine tuning of the algorithms along the way to make it work as intended in the field, " says Prof. Hans W. Griepentrog, Director, Department of Technology in crop production, University of Hohenheim, Germany.
Alternate demonstrations in the field and online
"Last year's contest was held exclusively in a simulated environment that we created for contestants. We concluded that this important simulation work can successfully be presented to both the jury and spectators online and hence are including it into the contest, which now consists of alternate demonstrations in the field and online," comments Prof. Griepentrog.
Offering real-life farming situations like the presence of obstacles and weeds, the simulation environment produces high-quality lighting, shadows and textures, making it both realistic and entertaining to watch. The 3D robotic simulator "ROS / Gazebo" – also used in the NASA space robotics challenge – offers the simulated environment in which the field robots and their algorithms can compete.
Sensors, algorithms and actuators for precision tasks
A spectator highlight, the freestyle task, which was previously optional, presents visionary concepts for field applications such as harvesting or targeted spraying, offering benefits like soil protection.
Equipped with sensors such as cameras and lidar sensors as well as algorithms and actuators, each robot has been designed by the teams to meet the challenge of making intelligent sense of the data on the day, resulting in optimal decisions. Determining in real time what is weed or where the headland ends is complex, while removing weeds requires accurate software control of the actuators that operate the tool.
With many months of prior development work, the field robots will perform in public and an academic and technical jury will be judging against criteria like complexity, performance and agricultural usefulness.
Large demonstration area
Held in English and German with competing university teams from engineering, industrial design, and agricultural departments located in Germany, Italy, the Netherlands, Romania and Slovenia, the Field Robot Event 2022 will be held in a large demonstration area at the Kirschgartshausen experimental farm with the simulation task held on www.dlg-connect.com in a free-to-attend format.