In a single crop intelligence system, Arable combines in-field weather, forecasts, and plant and soil data with advanced modeling and machine learning to deliver actionable insights regarding irrigation, crop protection, fertilisation, labour efficiency, breeding and sustainability.
In-field sensing and communication device
Arable's Mark 3 is an in-field sensing and communication device that measures the weather, plant, soil and irrigation flow all in one crop intelligence system. The Mark 3 sensor technology to deliver real-time insights into how a crop is responding to its environment and identify plant stress before it becomes visibleto the human eye.
Its 22 narrow-band spectrometer enables users to diagnose plant stress from causes such as nutrient deficiencies, water stress and disease. Also, the new thermal sensor reads canopy temperature to within one degree Celsius, which, when combined with other crop and weather data provided by the Mark 3, makes it possible to know when the crop is stressed due to a lack of water.
Built-in 5MP camera
The Mark 3 builds on the Mark 2 with new features that include a built-in 5MP camera, an integrated solar array and an optional ultrasonic wind anemometer. The in-field sensing system is combined with a user-friendly software suite and an easy-to-integrate API. Arable says the device has no moving parts, no openings to clean and fewer parts to break down, ensuring reliable, consistent and maintenance-free operation.
The Mark 3 comes equipped with a high-powered antenna that is able to connect at a range 7 times greater than that of a typical cell phone. Additionally, with 5 times the battery capacity and 2 times the charging power of the Mark 2, the Mark 3 can operate for up to two months without sunlight, making it optimal for regions that experience long periods of low solar activity.
Arable says planned feature expansions include wireless connectivity via long-range Bluetooth 5.2, new communication options to enable connectivity in the most remote locations and edge machine learning to enable data and image analysis in real time.
Text continues below image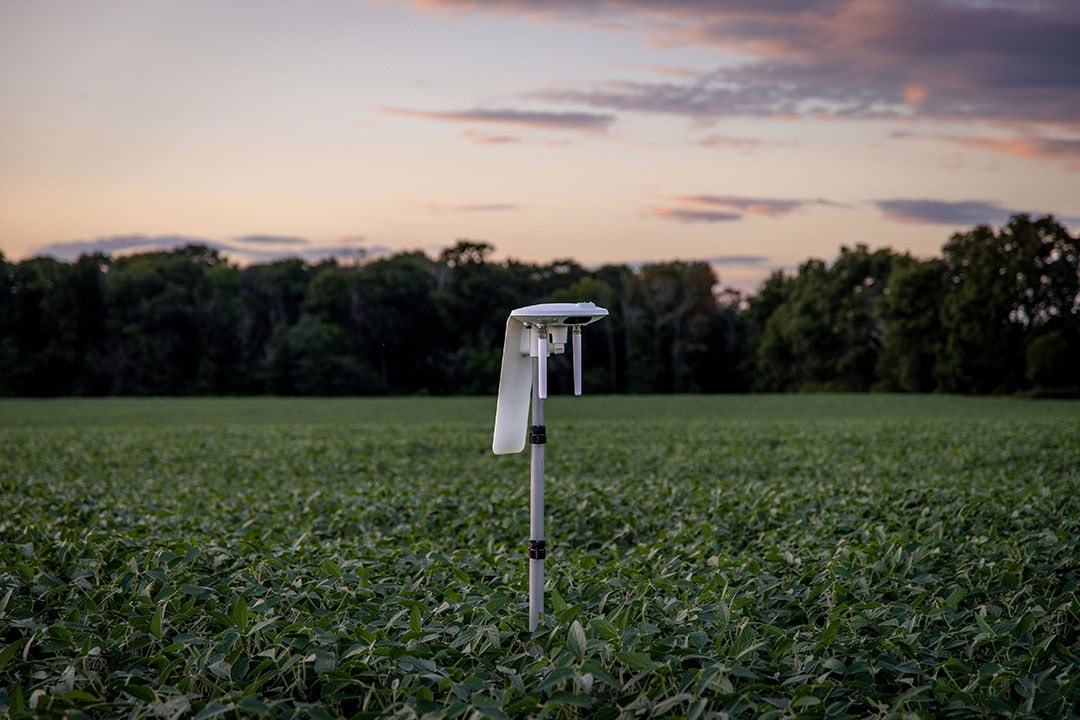 Daily high-resolution image of the crop with Arable Vision
Using the Mark 3's new integrated 5MP camera, Arable Vision provides a daily high-resolution image of the crop and puts that image in context of what was happening in the field environment before, during and after the image was taken. Users are able to tag, share and add notes to the images.
According to Arable, a real-time view of the crop allows for fewer trips to the field, rapid identification of issues that compromise yield and quality, optimised timing of field work, as well as continuous phenotyping.
Having a continuous visual record of the crop through the season provides the ability to better assess what drove outcomes at the end of the season. These records can be used to support other needs for verification in insurance, carbon programs, traceability and the food supply chain.
Arable is now accepting pre-orders for the Mark 3 device, with availability beginning early 2023.