German dealer delivers gps-technology ready to go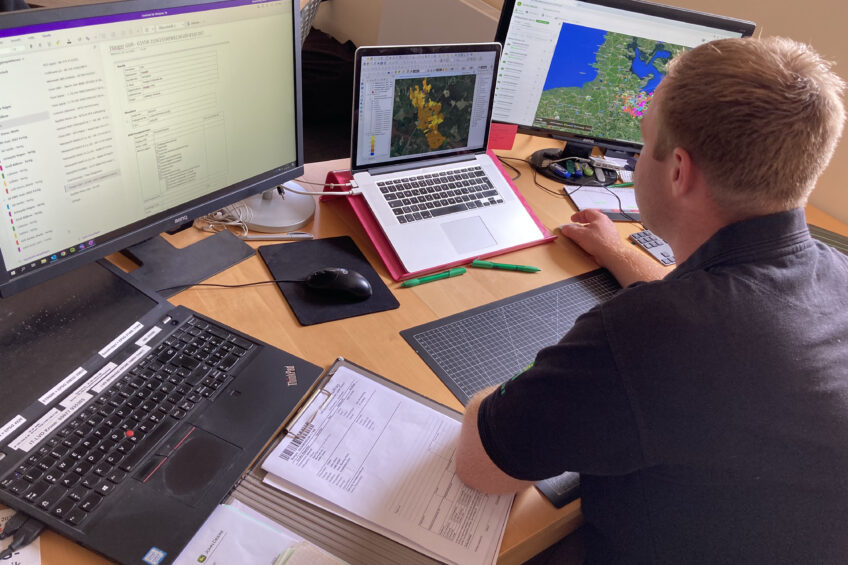 Getting the most out of your gps-technology is not that evident. The features and possibilities are almost endless and that can result in inefficient use and even frustrations. German dealer organisation LVD Krone therefor completely sets up the gps hard- and software for its customers.
Getting started with gps technology or gearing up to autosteer, documentation or variable rate application should be plug and play but we all know that for beginners and even for advanced users it can turn out as plug and pray. Is it because the technology is too complex or too user unfriendly, or because the features and possibilities are overwhelming? I guess that depends on who you ask but according to the large German dealer organisation LVD Krone, it's because the technology offers so many possibilities. Late 2020, the John Deere dealer therefor started an initiative called 'Übergabe Inspektion'. The concept, that translates to handover inspection, is well-known with tractors and machinery but not for gps technology. LVD Krone believes to be the first to offer it in Germany. It's currently in use at 5 of its locations and will be rolled out to more of the 18 locations in total.
If there's prior knowledge of specific machines that will be used in combination with the tractor, then Borcherding and his colleagues are keen on hooking up the machine for a check.
Up to 85% of new tractors has gps
To put the situation a bit more in perspective, it is good to realise that on average, an increasing number of new tractors in Germany is equipped with gps. "85 to 90 percent of the new tractors with 100 hp or more we sell are autosteer ready", says Florian Straten. He is a customer service advisor and AMS specialist at LVD Krone's location in Spelle (Germany). "That percentage has gone up since the new John Deere 6R series leaves the factory autosteer ready as standard. 80 to 85 percent of the number of new tractors is now equipped with gps/autosteer. That used to be 75 to 80 percent earlier this year but it's rapidly increasing."
The initiative to support customers on getting a head start with their gps system, originates from the location in Sülfeld, Northen Germany. Straten's colleague and fellow AMS specialist Aaron Borcherding in fact is the man behind it. In total, LVD Krone currently employs 11 AMS specialists supporting farmers with gps related technology and data.
Import field data as well
The whole process starts as soon as a notification of a tractor or machinery sale involving gps comes in. Borcherding than collects the relevant information and data and sets up a Microsoft OneNote note with detailed information about the gps system. This includes John Deere AMS components and activations, serial numbers, implement automation information, software versions, user names and passwords as well as the associated gps correction signal(s). If the customer isn't using MyJohnDeere, Stellar Support or the John Deere Operations Centre yet, then Borcherding also sets up those. This includes setting up the customer's farm or contracting company in the John Deere Operations Centre. Included in the service also is the transfer of so-called 'Kundenstammdaten' to the new gps system. Kundenstammdaten are field names, field borders, AB-lines, obstacles to avoid or POI's et cetera. Customers therefor get an e-mail with instructions to provide these data in Esri Shape format, farm management system format or from an existing tractor terminal. These data are then imported into the gps system of the tractor or machine by the dealer and, if required, also in the Operations Centre. Customers can also choose to skip this option but few do. Borcherding experienced that the import of obstacles can be particularly valuable as these often are places to avoid (automatically) during harvest with combine and forage harvesters.
Aaron Borcherding: "Customers are surprised and pleased about our service. I'm sure it saves them and/or their operators time and money and they get a head start for getting most out of the technology right away."
If there's prior knowledge of specific machines that will be used in combination with the tractor, then Borcherding and his colleagues are keen on checking the Isobus compatibility in the AEF Isobus Database. "Then again, we are used to issues when it comes to Isobus compatibility of different machines and software versions. Some customers struggle for instance with toggling the display to see the machine and/or application map. We therefor try to secure compatibility by physically hooking up the machine to the tractor before use."
Customers instantly ready to start
The whole process takes the AMS specialists some 30 to 90 minutes per tractor or machine and customers are not separately billed for this service. The costs are accounted for by the AMS service contract. A one-year AMS service contract is included with every new tractor/machine since 2014. After one year, the contract can be continued for € 350 per machine per year. The dealer sees that 95 to 98 percent of the contracts are continued after the initial year. And since we're talking percentages, in 70 to 80 percent of the cases, LVD Krone technicians already use remote display access to remotely connect to the display in the customer's cab to help in case of questions or problems.
Although the LVD Krone specialists do not know how much time customers save through their service, farmers and contractors are really enthusiastic about it. Aaron Borcherding: "They are surprised and pleased about it and it adds to an optimal customer experience. I'm sure it saves them and/or their operators time and money and they get a head start for getting most out of the technology right away. If it weren't for that, I'm sure there'd be customers who get frustrated or annoyed and for that reason stop using the technology." After 7 to 14 days, customers are invited for an update training as by then, the initial experiences and questions have come up.
Since March this year, Borcherding's job has gotten slightly easier as John Deere introduced Data Sync Setup. This enables wireless synchronisation of a lot of data including field borders and AB-lines between different tractors and machines. Just take a customer's tractor to the dealer workshop, park it close to the new tractor and in less than 20 minutes all data are synchronised.
If a client's tractor happens to be in the workshop, then John Deere Data Sync Setup can be used to share data wirelessly between the existing and the new tractor of that client.