"Data is the new oil in economies". The credits for this statement in 2006 go to Clive Humby, who predicted that data would become very important in businesses. Since then, data indeed has boosted many economies.
Examples of smart data use to optimise production processes have become evident. Alongside, new business models emerged, also in AgriFood. Many digital technologies have been developed and marketed in the past 15 years in agricultural value chains. The tools and services are offered to farmers that give them information and services to optimize crop production and animal husbandry, but also to make other business with the data.
Restraints for adoption of data-driven farming
Unfortunately, the adoption of the technologies is slower than expected, at least this can be concluded for The Netherlands from experiences in the National Field Lab Precision Agriculture (NPPL). Interest in precision farming is high, but there are hurdles and restraints for adoption of data-driven farming. And this is not limited to Dutch farming only, when considering neighboring countries with similar farm types.
The big question is what is slowing down farm adoption of full data-driven farming approaches. Reasons mentioned by farmers in NPPL for being reluctant in buying and implementing digital technologies are many. They mention difficulty of use, poor interoperability of data, uncertainty on quality of data and/or advisory models, high investment costs in relation to 'promised' returns, and concerns on data ownership/ sovereignty/ vendor lock ins.
The latter is fair; the technologies are often based on a different business model perspective than the one known to farmers. And a large part of the technologies do not pay off for small and medium size farms. The slow adoption is unfortunate, since data-driven precision farming will contribute to more sustainable farming.
Data-driven farming is a logical next step
Digital, or data-driven farming is a logical next step in farming development. The introduction of Global Navigation Satellite systems (GNSS), Geographical Information Systems (GIS), telematics and on top of that easy access to optical satellite and other data since 2000 have paved the way for mature, data-driven precision farming.
These technologies are nowadays widely adopted as the foundation for precision agriculture. Manufactures started selling machines prepared for variable rate applications around 2010. And today, we see autonomous field robots with advanced sensors and precision implements coming to market.
Text continues below image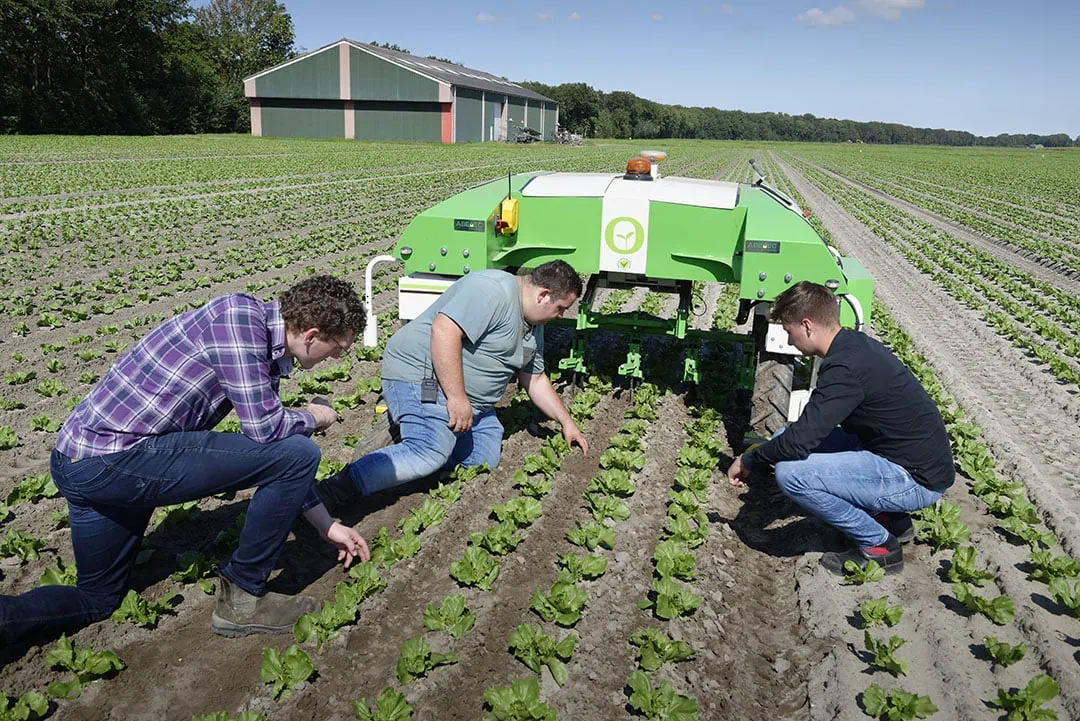 Nearly all ingredients for the final step, full data-driven precision agriculture, seems to be there. And these components allow for mapping of farm fields, monitoring of spatial and temporal variation in the crops, soils and climate, and making data-driven and science based decisions on strategic, tactical and operational management, including fleet management.
Looking beyond the farm level, they allow data sharing for accounting to authorities, value chain partners and society (read 'license to produce'), for benchmarking, and for generation of new knowledge. All this can already be seen on pioneering farms.
Farm data space key in full data-driven farming approach
Key in a full data-driven farming approach is the farm data space. This is the digital space where all relevant data of a farm come together, can be used and can be shared with other parties. This all under the control of the farmer. Other terms are farm data wallets or safes. They require a tailored-to-the-farming-business data infrastructure and data platform software.
Current farm data spaces are still immature and not set to the farmer's need and possibilities, certainly when looking at small and medium size farms. They are generally offered to work with data management software developed for large size farms (> 1.000 ha).
Besides, small and medium farms cannot afford a full time ICT expert to handle the data, or may lack required skills and time to do so themselves. This results in a large number of farms around the world not handling the data, generated on or about their farms, in the way they would like. And certainly not in the way required to produce in a more sustainable way. Thus, missing out on the economic and societal benefits the data could bring. Main problems: Interoperability of data from different tools is often poor, and the farmers do not have sovereignty over their data.
Improve the data position of farmers
Awareness of this constraint is now well recognized in The Netherlands, and has led to a public private consortium that aims to improve the data position of farmers by shaping the farm data space. This Precision Agriculture 4.0 (PA 4.0) consortium analyzed the situation and proposed solutions for a better data position for the farmers. This downloadable report contains an English management summary.
Important to mention is that the situation as described in The Netherlands has to do with specific Dutch farming conditions and farm types: arable farms are relatively small (average size < 100 ha) and diverse in crops and mechanization, yields are relatively high, the portion of root crops on the farm is high, and yield monitoring systems for root crops are still immature.
Text continues below image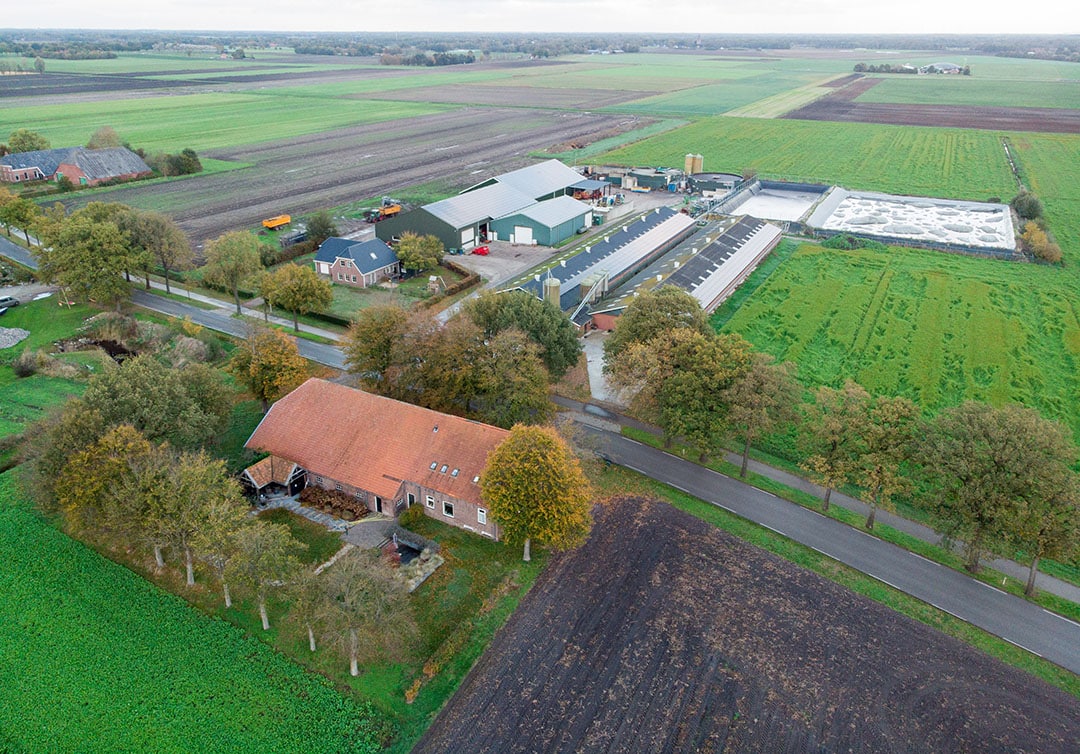 Much more farmer-centric approach in digital tools
The way ahead proposed by the PA 4.0 consortium is given in a private-public roadmap for digitalisation of the farm data space. The roadmap proposes a much more farmer-centric approach in digital tools and services that are marketed. Farmers need a data space/infrastructure in which they can control and manage all the data generated on their farms.
Key data, which is relevant for managing the farm and accounting to chain partners and authorities, should be in a safe compartment of the farm data space (the earlier mentioned safes or wallets) from which they can use and share the data.
Control over data
The farmers in the consortium set as their first and most important condition that they must have full control over data generated on their farms. Design principles for the farm data space are data sovereignty, a level playing field, decentral data storage, and FAIR principles. There are technical and organisational challenges to be addressed. Public private governance is proposed in order to get the transition going.
In order to arrive at a desired situation, several steps have to be taken by private and public cooperation. A first step proposed is an update of the Dutch Code of Conduct (CoC) agricultural data use. This CoC was established in 2019, as an initiative of the Dutch Branche Organisation Arable farming (BOA). An update is needed to better protect the data position of farmers and to improve interoperability and portability. Support for this update is coming from the EU data act. In addition, a white list of tools and systems that are compliant with the CoC will be published, so farmers can make better choices on acquisitions of tools.
Here and there some improvement on data-connections and interoperability or standardization are needed, which will be organised in plugfests or other actions. An independent data authority checking tools for their compliance of the CoC and for quality of data and advisory models is foreseen.
Agri Data Space project
Both farmers, value chains and society will benefit from these actions. It will allow better farm management and better accounting on environmental performance by farms, relevant in terms of the Farm to Fork Strategy. At EU level, a recently started project Agri Data Space also aims to develop a roadmap for digitalization of farms. Both initiatives will benefit from one another.
Although the stage of full data-driven farming has not yet been reached on Dutch farms, there are examples of good practices which can be seen as the first steps. In the figures below, we show monitoring of crops on anomalies/diseases, the use of task maps for variable rate application and yield mapping of a root crop. And the data platform farmmaps is highlighted.
Text continues below images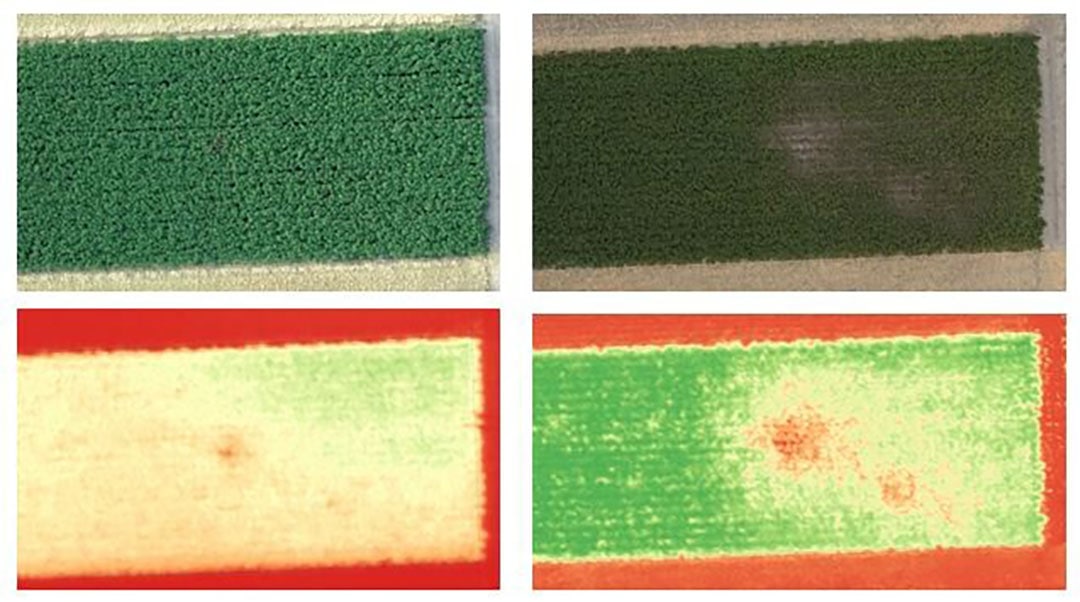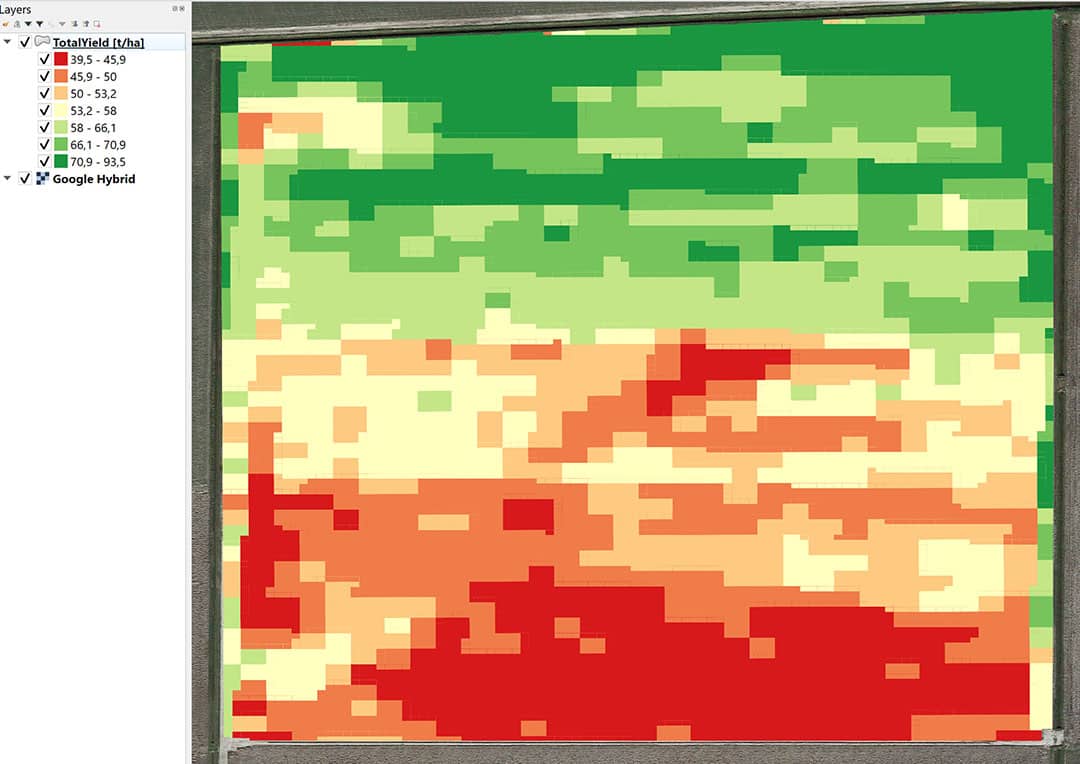 A GIS data platform is an essential component of a mature farm data space and the Farm Management Information Systems (FMIS). Farmmaps is a data platform developed by Wageningen University & Research supporting precision farming.
Text continues below image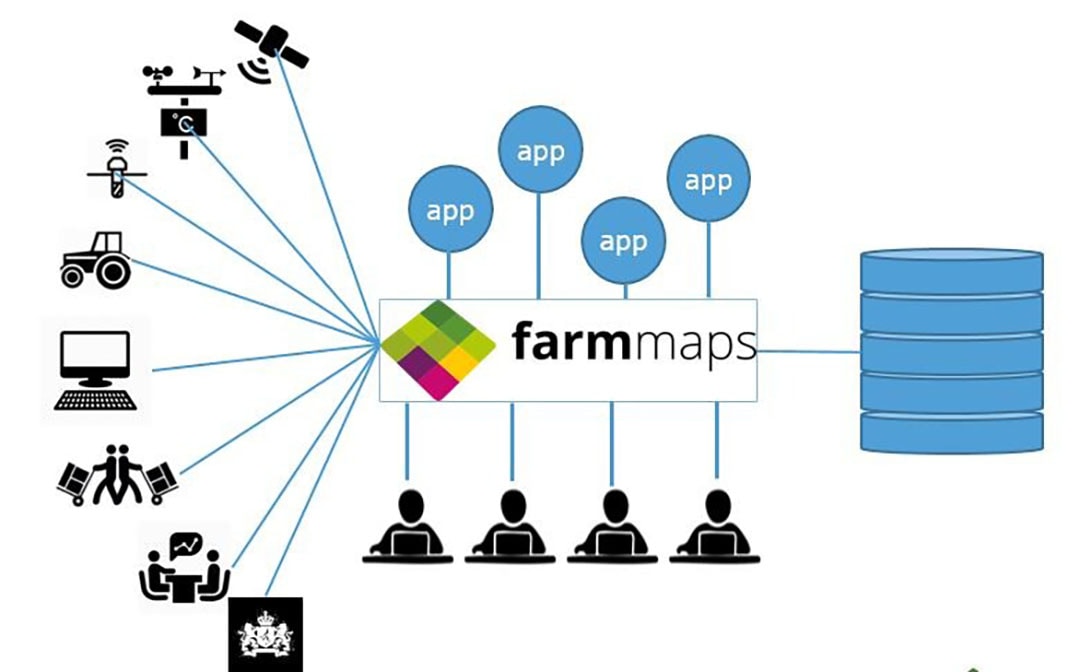 Farmmaps is compliant with the aforementioned CoC. Data is stored per account and the farmer / user decides with whom to share data and under which conditions. The platform facilitates connections to data providers and hosts applications (apps) that give decision support on precision management.
The images shown in Figure 2 are made with the Nitrogen Top Dress application on farmmaps. Besides visualizing and supporting precision agriculture decision (Figures. 1, 2 and 3), farmmaps also provides business and environmental performance indicators. The latter is relevant for accounting of farms to authorities, e.g. in the frame of Farm to Fork regulation.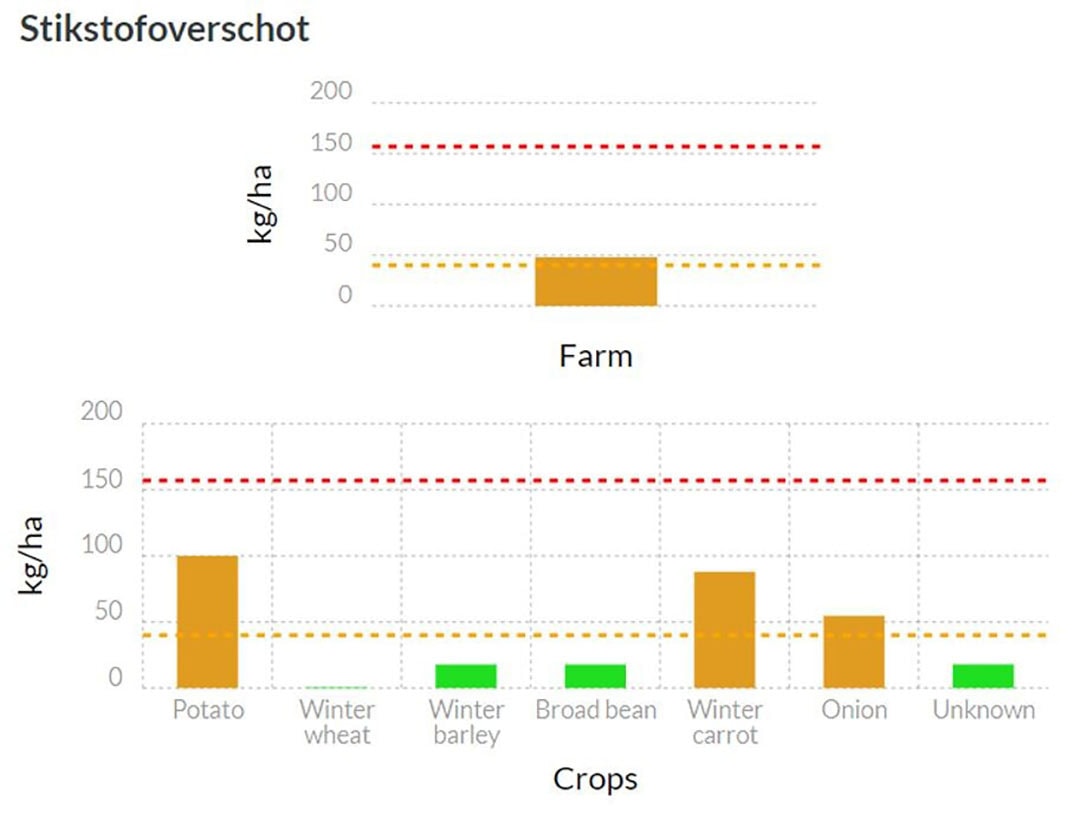 The examples presented show how data-driven farming can shape future precision farming. Savings on resources (pesticides, seeds, water and fertilisers) are already in the order of 20-30% when some precision agriculture technologies are applied on Dutch farms. This will only become more when more data-driven technologies are adopted. A mature farm data space, easy to use and under control of farmers, is a prerequisite for getting there.
Contributing authors (Wageningen University & Research): Tamme van der Wal, Koen van Boheemen, Fedde Sijbrandij