A state-of-the-art Canadian soil and moisture analysis system for optimising crop yields called SWAT MAPS is making inroads in North America, South Africa and Australia. Before two farmers, one in Montana and one in South Africa, share how they are using SWAT in combination with precision planting, fertiliser application and more, let's do a quick overview.
Soil, water and topography
SWAT (soil, water and topography) MAPS technology incorporates topography, soil electric conductivity data, water modelling and soil surveys to offer farmers unprecedented insight into field conditions in order to make the best crop management decisions. CEO Cory Willness, who co-founded Croptimistic Technology, leads an agtech team that has established partnerships with agronomy service partners around the world to offer SWAT mapping to more farmers. Creating SWAT MAPS is highly technical and requires specialised hardware and software. International partners are chosen carefully and trained fully.
In 2021, Croptimistic Technology was awarded a US and Canadian patent for their proprietary 'SWAT BOX' technology. The company also secured $ 5.2 million in investment funding for the expansion of SWAT MAPS usage. Part of that expansion was announced in September, when Croptimistic announced a partnership with Combyne Ag.
How it works
As it's moved around a field by a vehicle or equipment attachment of any type, the SWAT BOX (about $ 25,000 USD) automatically gathers data and uploads it to the SWAT server to create SWAT maps. Typically farmers pay a service partner to do this (one-time cost about $ 7.00 US/acre). The associated annual SWAT precision ag 'prescriptions' cost about $ 5.00 US/acre, and include soil sampling, zone-specific recommendations for seeding rate, fertility planning, prescription files, etc.
With soil moisture probes that are placed in fields after planting, farmers can also get 'SWAT WATER' maps that show how much plant-available soil moisture is stored in various zones in a field. Finding out there is a month's worth of plant-available moisture on the midslopes of a field, for example, will prompt the application of additional fertiliser to support the huge yield that this moisture level will enable. Willness explains that because of the extra data that soil moisture probes provide in getting top yields from a field, use of the SWAT WATER maps in connection with soil probes is growing.
Willness says that "farmers with SWAT MAPS and soil moisture data from probes have a huge advantage in terms of knowledge that enables the best in-crop decisions. This will allow them to achieve the highest yields, the best ROI on input costs and also long-term improvements in field consistency. We are extremely pleased to have created a platform of integrated technologies that makes this possible."
Text continues underneath video
Use of SWAT MAPS in North Dakota
Travis Messer and his family farm 12,000 acres in North Dakota, US, where they grow corn, canola and other field crops. Messer is also an agronomist with Plains Grain & Agronomy. The Messers started doing precision agriculture about ten years ago, applying variable rates of fertilizer according to field zones, but with limited success. In 2018, Messer looked into SWAT MAPS and mapped 1500 acres.
"It was a pretty eye-opening experience when you compare what we did after we had the maps to what we had been doing before that," he says. "Before, we were basing decisions about planting rate, fertiliser application etc. on our past knowledge of a field and satellite imagery, but it wasn't working well. We had zones mapped where on some years yield wasn't as high as it should and zones in what we had labelled as low-yielding areas with some spots that were high-yielding. We couldn't understand why. We did grid soil sampling but it didn't help much, and we were beating our heads against the wall trying to figure it out."
We got ROI easily in that first year
Once they had SWAT MAPS of a field, however, Messer says "we got a very different picture, with new zones. We saw three zones in some fields within what we had thought was one zone. We got ROI easily in that first year." Plains Grain and Agronomy became SWAT MAPS partners.
Text continues underneath image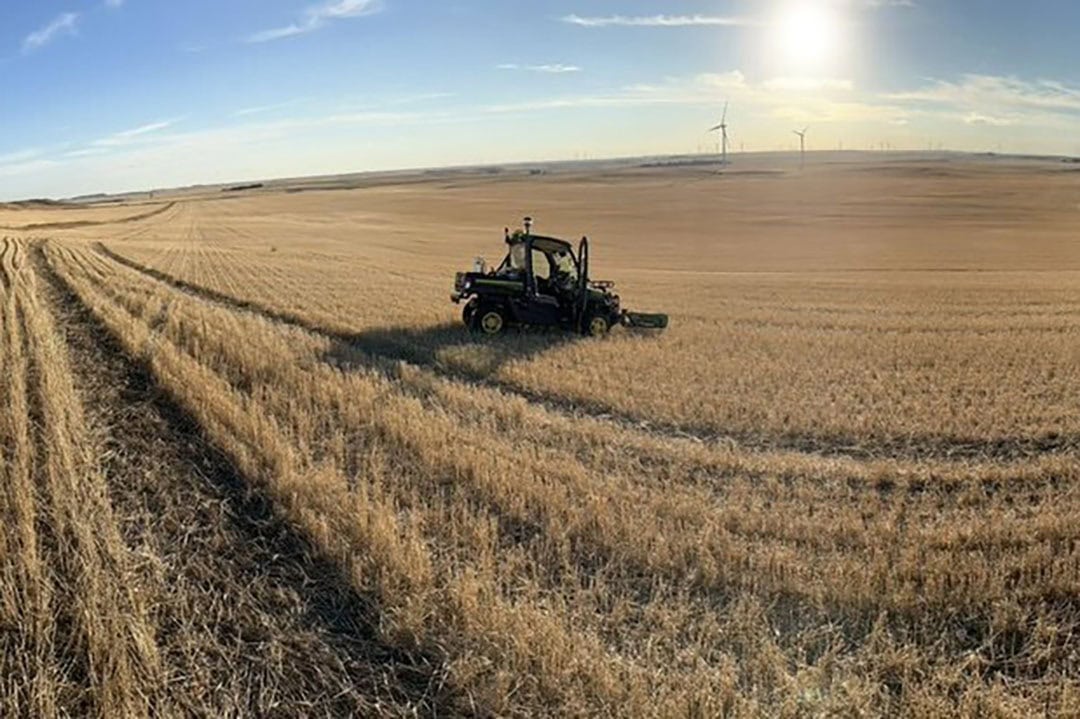 8 to 10 hybrids every year
The Messers use their SWAT MAPS and the associated yearly field prescriptions to decide on planting rates, variable rate fertiliser application and also corn hybrid selection. "With corn, the inputs are so high," Messer says. "Some farmers plant five hybrids or even less, but we plant 8 to 10 hybrids every year, all specifically chosen for the zones identified with the SWAT MAPS. We put higher-yielding hybrids, for example, in a zone where we know there is a higher soil water level and have confirmed good soil organic matter etc. We plant other hybrid with very different genetics in areas with lower moisture and we know they're going to hold their own."
We are saving $ 30 to $ 50 per acre in fertiliser without sacrificing any yield
We have confidence in planting the different hybrids where they will have the opportunity for best performance, which is a huge advantage for overall farm yield. But the SWAT MAPS are very much about enabling you to manage your fertility to save money. With the maps, recommendations and associated soil tests, we are saving $ 30 to $ 50 per acre in fertiliser without sacrificing any yield. That's about $ 400,000 a year." In 2021, Messer had 80% of the farm's acreage SWAT mapped and plan to complete mapping the rest.
Use in South Africa
At this point, about 300 acres of almost 7000 acres owned by PiDelta Farming near Greytown have been SWATMAPPED, mostly in 2021, with another 100 hectares to follow this year. Crops grown include seed corn, soybeans, commercial corn, sugar beans and sugar cane.
Similarly to Messer, Pidelta Farms Operations Director Dean Brown says they have been impressed with the way SWAT has identified and delineated soil type zones, enabling much more targeted soil sampling. This has led to soil test savings as well as savings from only applying the fertilizer needed.
Text continues underneath image
Variable rate seeding and irrigation
"SWATMAPPING has confirmed where we thought there were differences in soil types and we have a much clearer picture compared to what we had from just grid sampling," says Brown. "It's a much more scientific approach now. We've reduced our sampling points and we're treating the identified zones differently in terms of fertility and corrections to soil pH level. We already were doing some variable rate fertiliser application, but we're moving variable rate seeding and irrigation as well. You have to start slowly and take manageable bite sizes at changing your management because it's easy to get overwhelmed with all the data that SWATMAPS provide. The opportunities are endless once you have your maps."