Robot(s): Oxin
Task(s): Mow/slash, mulch, cultivate, spray, green trim, pneumatic leaf defoliation, weed spraying.
Development start: 2019
Pricing: Sale, US $220,000 + implements, service and support (€222,965 according to the exchange rate of 22-09-2022)
Manufacturer: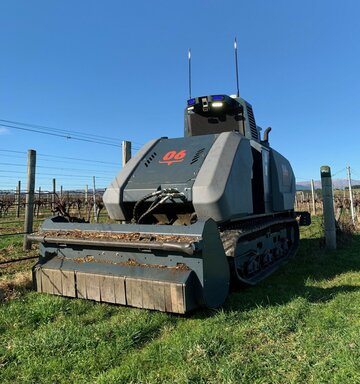 Description
Oxin is a fully autonomous multitasking robot for safe, efficient, and sustainable vineyards and orchards. Oxin utilises its implement stack to precisely control up to three implements at once. This combined with the ability to operate fleets of remote machines with a single operator provides a great value proposition for growers. Machine formats are factory configurable and available in diesel/hydraulic/electric and full electric options of varying engine size and battery capacity. A multi-tier safety stack ensures operational safety both day and night.
Drive train type
Oxin is track driven with independent left- and right-hand track drives. For minimal ground compaction and pivot steer if required.
Characteristics
Implements are modified for each use case/grower to provide adequate feedback and control without impacting navigation or safety. Hydraulic and electric implement control options are available.
Navigation system
The robots drive pre-planned missions using LiDAR and camera for real time driving adjustments and implement positioning and control. Mission and block information is logged by customers using RTK-gps logging devices to create base line drive paths and identify in orchard hazards and block boundaries. Once blocks have been logged and missions created, these are available for operators to deploy robots with selected implement configurations and operational settings suitable for the job at hand. A multi-tier safety stack ensures operational safety both day and night.
Specifications
| | |
| --- | --- |
| Name/type robot | Oxin (NZ) |
| Dimensions | Largest configuration: length 3.8 m, width 1.65 m, height 2.3 m |
| Turning radius | Able to pivot turn if necessary. 6.5 m minimum headland for conventional turns |
| Weight | 1,200 – 3,200 kg depending on configuration |
| Energy source | Fully electric or up to 125 hp diesel engine options |
| Energy stock/range | Up to 16 hours |
| Driveline | Independent left- and right-hand track drives. Electric and hydraulic motor options available |
| Navigation system | RTK-gps, LiDAR sensors and camera to detect obstacles |
| Output capacity | 6 km/h depending on task |
| Pricing | Sale, US $220,000 + implements, service and support |
| Availability (countries) | New Zealand, Australia, USA |
| Units operational (total end 2022) | 19 units end of 2022 |