Manufacturer: Stout
Implement: Smart CUltivator
Weeding tools: Mechanical, 2 blades
Pricing: Unknown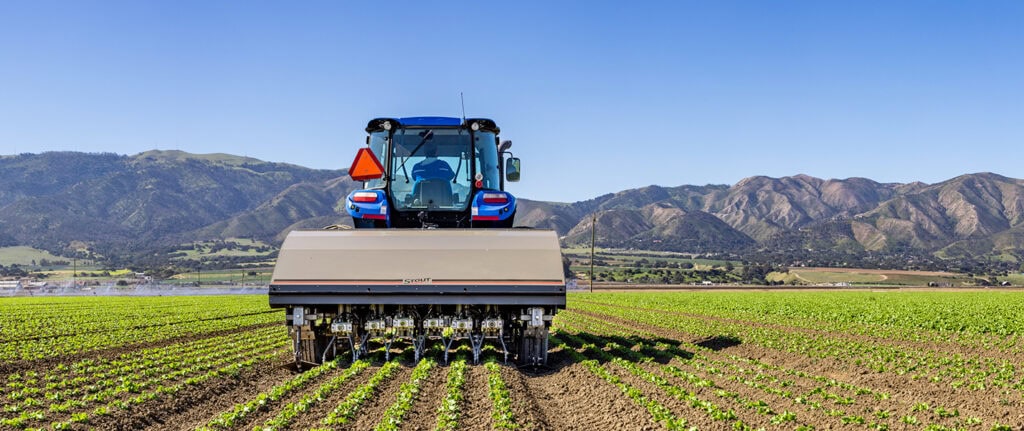 The Stout Smart Cultivator is a software-defined, tractor drawn implement that uses machine vision and artificial intelligence to cultivate and weed fields using mechanical blades. The AI model recognises each weed and each plant individually. The 2 m wide version has a capacity of 0.4-0.81 ha/h traveling at 2.5 km/h. Precision seed line tracking allows for tight machine to plant spacing. It is designed to work on 1.8-2 m beds and can cover up to eight rows in a pass.
The implement has a PTO-driven hydraulic pump and no hydraulic nor electrical connections to the tractor.
Specifications
| | |
| --- | --- |
| Manufacturer: | Stout (US) |
| Implement: | Smart Cultivator |
| Weeding tools: | Mechanical, 2 blades |
| Working width: | 2.0 m |
| Capacity (max driving speed): | 0.4-0.81 ha/h (2.5 km/h) |
| Weeds … close to plants: | Unknown |
| Energy source: | PTO |
| Energy consumption: | Unknown |
| Suitable for (crops): | Numerous |
| Suitable for (row/bed widths): | 1.8 – 2.0 m beds |
| Suitable for (weeds): | Any |
| Weed sizes it detects: | Any |
| Cameras capture weeding result: | Unknown |
| Cameras capture crop status: | Unknown |
| Usable day and night: | Yes |
| Pricing: | Unknown |
| Availability: | US, UK, and more |