It gives us a glimpse into the future. One of these drones is capable of spraying up hundreds of acres per day. When two or more AG-272s are operating together in a swarm, they can treat thousands of acres per day.
According to Hylio, two AG-272s can cover as much acreage in a day as a US $ 700,000 modern spraying tractor can, but for an all-in cost about US $ 200,000. Hylio believes the drones can also deliver a reduction of 30% to 50% in volumes of inputs. These are financial benefits, but there are also benefits from avoiding soil compaction.
An AG-272 drone kit starts at about 78,000 US dollars, but compared to traditional crop-dusting methods, that is only a fifth of the cost. The drone can stay up for about 15 minutes with a full payload currently. But the technology keeps evolving.
Hydrogen powered drone
HevenDrones also has a vision of drones with a larger payload, but the Israeli company has designed them with a longer operation window as well. HevenDrones' first drone was battery-powered version, and only had a 20-minute operating time between charges. But its latest drone is hydrogen powered, and can carry a payload for hours.
With five times greater energy efficiency than traditional lithium battery-powered drones, the new H2D55 is capable of flying for two hours with a payload capacity of 7 kgs. This drone is definitely suitable for agriculture, says Founder and CEO Bentzion Levinson of HevenDrones. "It has the ability to monitor and spray over large areas."
Text continues below picture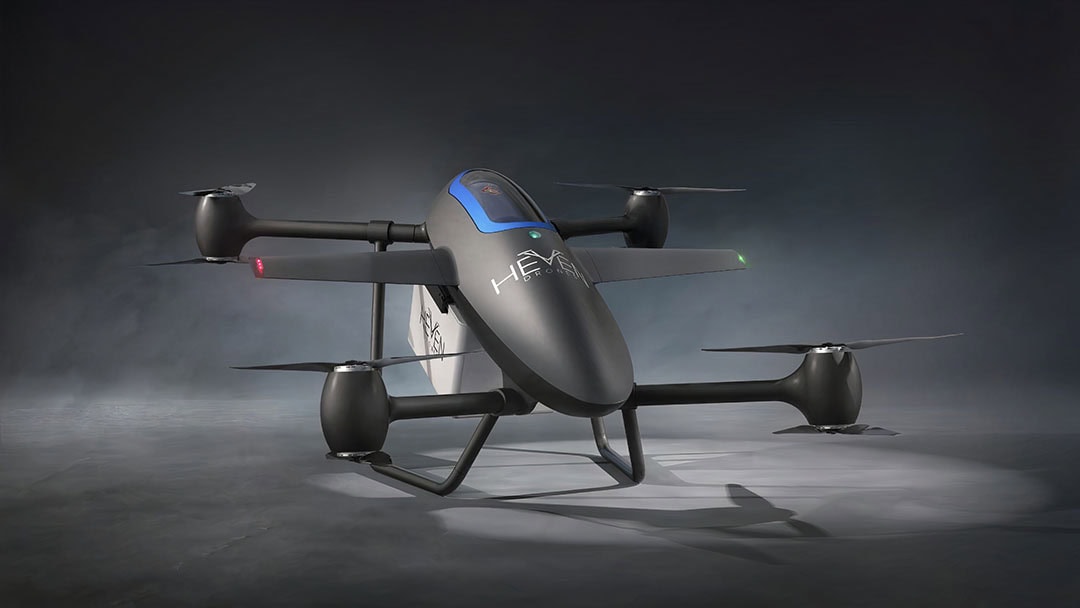 Payloads over 30 kgs
Mr Levinson explains that HevenDrones will be launching larger payloads of over 30kg in the coming months, that will still maintain the high flight times of 2 hours. "These drones will be suitable for the same agricultural applications as other drones. However, their increased payload capacity enables them to cover more ground in the same flight. And 30 kgs of pesticide or fertiliser in one flight suddenly becomes a lot more viable for large-scale farms than 7 kgs, both in terms of time and money."
The long-term plan is to integrate with larger hydrogen infrastructural projects
HevenDrones is currently working with partners on enabling its customers to have their own refueling hubs. "Even being able to operate electrolysers on-site", Mr Levinson says. "The refueling hubs will generate clean hydrogen around the clock, using electrolysis, the conversion of water and electricity into hydrogen. The long-term plan is to integrate with larger hydrogen infrastructural projects, utilising the same resources being introduced as part of the global efforts for cleaner energy."
Hydrogen lowers the need for lithium batteries, Mr Levinson emphasises. "Lithium batteries are less efficient for many commercial applications and also cause environmental damage at both the beginning and end of their product life-cycle. Lithium is a scarce resource and therefore mining this material is not sustainable."
A gradual transition to hydrogen power
"Its scarcity can lead to challenges with battery shortages and price surges which are not conducive to a stable adoption of drones. Of course, the transition to hydrogen power is gradual. Right now, lithium battery-powered drones are still a great bet for many use cases, especially where flight endurance is less crucial."
Mr Levinson says hydrogen drones can also serve as an ideal proof-of-concept for the advanced mobility world. "For example, refueling stations can be implemented for the use of drones before being scaled to larger vehicles. The result is ultimately the reduction of carbon emissions on two levels – firstly, the machinery our drones are replacing and secondly, the innovation of new hydrogen-powered mobility and energy solutions." HevenDrones is pursuing agricultural opportunities and started with a project doing pollination of palm trees in the UAE.
Less costly than aerial spraying
Another powerful drone, The SC1 drone of Guardian Agriculture, recently was the first electric Vertical Take-Off and Landing (eVTOL) aircraft of its kind to have received approval for nation-wide operation from the US Federal Aviation Administration (FAA).
The SC1 is specialised in automated spraying or seeding, operated with pre-programmed flying patterns that align with GPS field maps. It can carry up to 90.7 kgs (200 pounds) of payload and covers about 40 acres per hour (including charging and tank filling). It will roll out on farms in the US this summer.
According to Guardian Agriculture, using the SC1 is less costly than aerial spraying. Aerial spraying service can be tough to book in many US-states as the demand is high and there can be limitations from weather conditions. Currently, Guardian's main customers are custom spraying firms, but the company expects that farmers with a large acreage will also use its systems.
Guardian's first customer is Wilbur-Ellis, which provides both crop protection products as well as spraying, data and consulting services to farmers. Wilbur-Ellis has an option to buy 400 Guardian SC1s.
Text continues below picture
Precise spraying in challenging terrains
Ag-drones are also becoming increasingly important in areas where the terrain poses challenges to farmers, such as vineyards. Wine estates Heitlinger and Burg Ravensburg in Germany are currently spraying with a drone to protect their vines and grapes. The company only uses the drone, where there are steep slopes (more than 30%).
Driving down wet slopes is dangerous, according to Patrick Jacklin, third generation of the owner-family at Heitlinger & Burg Ravensburg. "And it causes compaction of the soil. Driving over wet soil, makes it as hard as concrete. Basically, you lose the drainage and the life in the soil. Last year, because we were not able drive on our slopes and spray our grapes. We had problems with fungus, and harvested only 40% of what we consider normal."