"Our MK-Vs have surpassed our expectations", says Coastal Vineyard Director Domenick Buck. "After running a rotary mower attachment for 7 hours, we still had 53% in battery life."
The MK-V sports a 'NVIDIA Jetson edge' AI platform that powers its driver-assist and driver-optional pre-programmed tasks.
Through a smartphone or other device, MK-V users receive status alerts, detailed operations reports and access to its collected data and analysis. That is, the MK-V gathers and continually crunches crop data from implements equipped with sensors and imaging. This data can be used to do real-time adjustments to implement use, crop product use, yield estimation and more.
In developing the MK-V, a lot of feedback from farmers was incorporated
"Once the MK-V arrives, our team provides a 1-day training with their tractor operators," says a Monarch spokesperson. "This includes conducting a product walk-around, reviewing smart screen controls, communicating correct charging practices, learning manual operations and training on autonomous operations through Wingspan AI. It typically takes around 2 hours to learn how to operate a tractor within the full 8-hour training session."
Orders from US and abroad
At this point, all MK-Vs in production are already sold until fourth quarter 2023.
The company's first customers are based in California, with deliveries this year focused on the West Coast and Southeast regions of the US, with the rest of the nation following in 2024.
"We also have tractor reservations from farmers outside of the US and will attend key agricultural shows in Europe such as Agritechnica in Hanover, Germany," says the spokesperson. "In addition to our regional and global expansion efforts, we are also growing beyond the vineyard market and into orchards, berries and dairy farms."
Text continues below video
Feedback
In developing the MK-V, a lot of feedback from farmers was incorporated. "Before going into production, we conducted many customer trials and demos and participated in many regional and national shows to gauge farmer feedback and needs," says the spokesperson. "When working with farmers, we intentionally looked for feedback that helps us develop a tractor that not only delivers the additional benefits of electrification, autonomy and smart technology, but also is packaged in a way that was familiar, easy to use and compatible with farmers' existing farm ecosystems."
One of the biggest concerns was cost. "This confirmed what we already knew: we had to create a clear guarantee that farmers saw a quick ROI and added value in the MK-V," says the spokesperson. "With that in mind, it was important for us to make sure farmers are making minimal investments when it comes to charging systems and to ensure that the MK-V could do anything a diesel tractor could do" "and to utilize the same implements they would have been using with their diesel tractor." The Monarch team also provided customers with help accessing eligible government subsidies.
Text continues below picture

John Deere 8R
John Deere released its first autonomous tractor for plowing, the 8R 410 paired with the 2430 Chisel Plow or 2660VT plow, in limited quantities since late 2022.
Some of the feedback Deere received is a desire among farmers for additional job quality data and reports within the John Deere Operations Center platform.
Customers who are considering adopting autonomous solutions should be considering the following steps now, says a company spokesperson.
"They need to evaluate and adopt the most current available technology for their farm, Automation 4.0 and/or G5 Advanced Licensing," says the spokesperson. "They need to create digital boundaries on all fields for autonomous machines to operate. They need to be consistent and proficient users of the John Deere Operations Center, and Operations Center mobile. They must be also using TruSet technology for their tillage operations."
Text continues below picture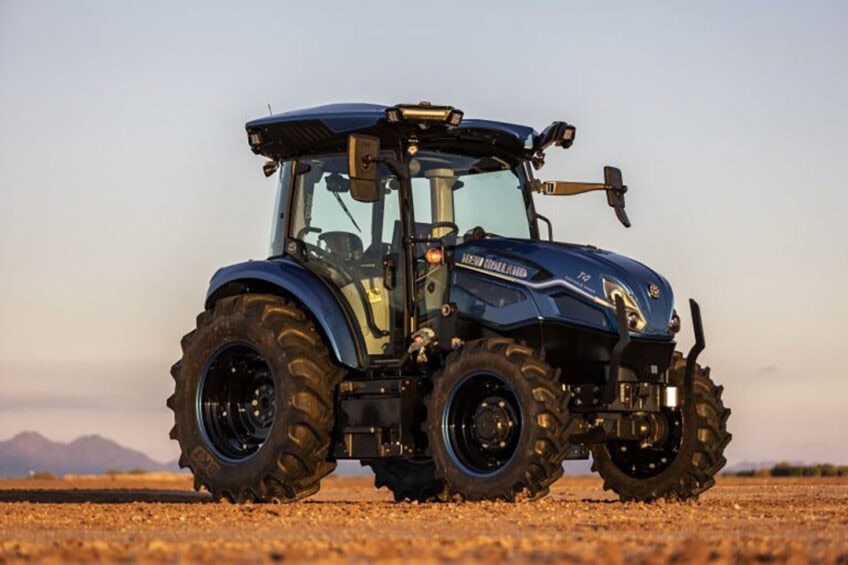 New Holland platform coming
Monarch has also worked with CNH Industrial, the parent company to Case IH and New Holland, on the New Holland T4 tractor. It was displayed during demo event in Arizona in December and is slated for market release by the end of 2023. The E-motor peaks at up to 120hp.
Similarly to what John Deere is offering, CNH also announced a new 'Driverless Tillage Solution' that will allow for control of an autonomous tractor performing tillage operations from a mobile device.
The Case IH Trident 5550 autonomous spreader has also debuted on the market. Application automation is also available in both the Case IH Patriot and New Holland Guardian sprayers.