OXE-E, an Italian company, is in the process of developing a 100% electric, self-driving tractor powered by a tethered electric cable for heavy-duty agricultural tasks.
Italian company OXE-E set out to create a fully electric tractor suitable for heavy agricultural work. Batteries were not considered a viable option due to their limited energy storage capacity and lengthy recharge times, not to mention the environmental impact of disposing of worn-out batteries. An electric tractor without batteries represents a step towards a more sustainable, circular economy.
Rotating dome with vertical spool
A three-phase power cable is guided and wound on an internal vertical spool through a rotating dome, similar to the turret of a tank. This design not only guides the cable during turns but also allows it to be neatly wound. Thanks to this cable power supply and autonomous driving capabilities, the tractor can operate with precision for 24 hours a day.
Text continues below picture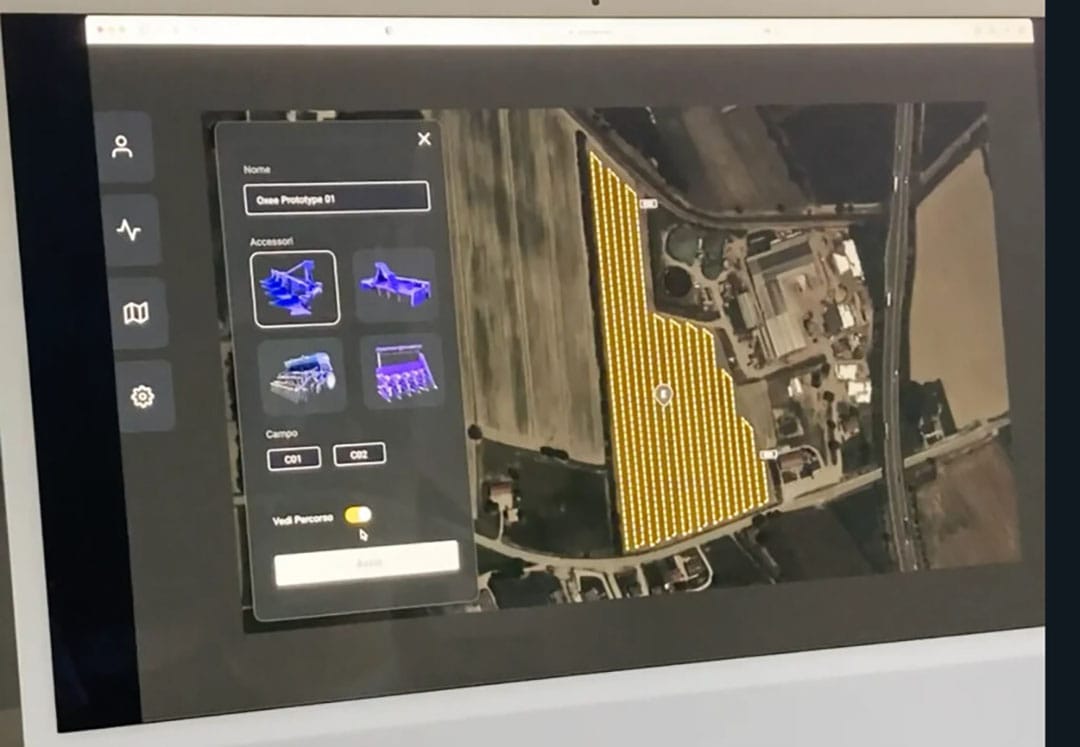 Steel tracks for enhanced traction
The Italian engineers opted for robust steel tracks, similar to those found on large excavators, rather than the rubber tracks commonly used today. For road transport, this tethered system requires separate transportation using a trailer attached to a standard tractor, for example. Additionally, steel tracks provide superior grip in slippery, wet conditions. An interesting detail: during tight turns, a hydraulic support leg positioned in the center of the machine is raised slightly to reduce friction on the tracks.
The EXE-E route planner software must primarily take into account the supply and winding up of the electric cable to ensure it is not damaged.
Text continues below video
Electrically driven implements
The electric tractor can operate fully autonomously, thanks in part to artificial intelligence for optimal route planning. The EXE-E tractor has undergone testing with a 7-furrow reversible plow, a deep subsoiler, and a combination of a seed drill at the rear and a rotary harrow in the front linkage. The EXE-E does not require a front power take-off for the latter, as the modified rotary harrow is powered by its own electric motor, drawing power from the tethered cable.
Production details and pricing
Details regarding the production timeline and pricing for the EXE-E tractor have not been disclosed. It's worth noting that the concept of an electric tractor powered by a tethered cable is not entirely new; John Deere unveiled the GRIDCON in 2019, a prototype of an electric tractor powered by a tethered cable. Whether it's entirely impossible to power large tractors with batteries can be explored further.