Last year was an exciting one for the Salin 247 crop production machine. It "performed very well" when it planted a test field near the company office in Ames, Iowa all by itself, says CEO Dave Krog.
"This year we'll be planting about eight fields of 20 to 50 acres each with corn and soybeans. We have interest for testing from groups in many US states, but we'll stay mostly in Iowa this year. In Tennessee, there's double cropping of soybeans so we may do some planting of that crop there in June this year as part of the AgLaunch365 ag tech accelerator program."
In October 2021, an agricultural fund called Ag Startup Engine, located in the Iowa State University Research Park, made an investment in Salin 247, citing the growing need for autonomous equipment to help with agriculture sector labour shortages.
Capabilities and specs
This small, light-weight, electric-powered, autonomous crop production machine has the capacity to do four-row planting but as soon as this summer, other capacities such as fertilizer application will be tested (a 'proof of concept' for in-season 'side-dress' application of liquid nitrogen, which will involve an attached spray boom and tank).
The speed is 5.5 miles per hour, which translates to planting about 5 acres per hour. The second prototype weighs about 1800 kg. The four motors' output is 20 kW (about 27 hp), powered by a 10 kWh lithium iron phosphate battery. The range is about 90 minutes of operation, with two re-charging models being considered separately or together. Drained batteries will be swapped out for fully-charged ones, or a biodiesel generator will be added that will charge the batteries continually.
The machine can plant any row crops that a standard planter row unit can plant. A 'seed drill' type planter or a broadcast planting option could be added in the future.
Text continues below video
No plans to add tillage equipment
However, there are no plans to add tillage equipment. "We want to support no-till crop farming as it's much better for soil structure and health," says Krog. "Tillage equipment and farm machinery in general is very heavy and contributes to the very serious problem of soil compaction. The weight under our tracks is only 2 psi which is very low. This makes it very attractive to farmers, not only for greatly reduced compaction, but also because the very light weight of our machine means operations like post-emerge spraying and side dressing can occur right after it rains."
We spent a lot of time finetuning navigation and figuring out the best way to turn to minimize disturbance to the soil
The machine's low compaction level of 2 psi is achieved partly through the low machine weight but also, as mentioned, its tracks. Turning with tracks is not straightforward, and Krog explains that "in 2021, we field tested our first prototype and spent a lot of time finetuning navigation and figuring out the best way to turn to minimize disturbance to the soil. You can make a wide circle turn or you can make a sharp turn with one track going forward and the other going backward, turning and operating like a skid steer."
Text continues below image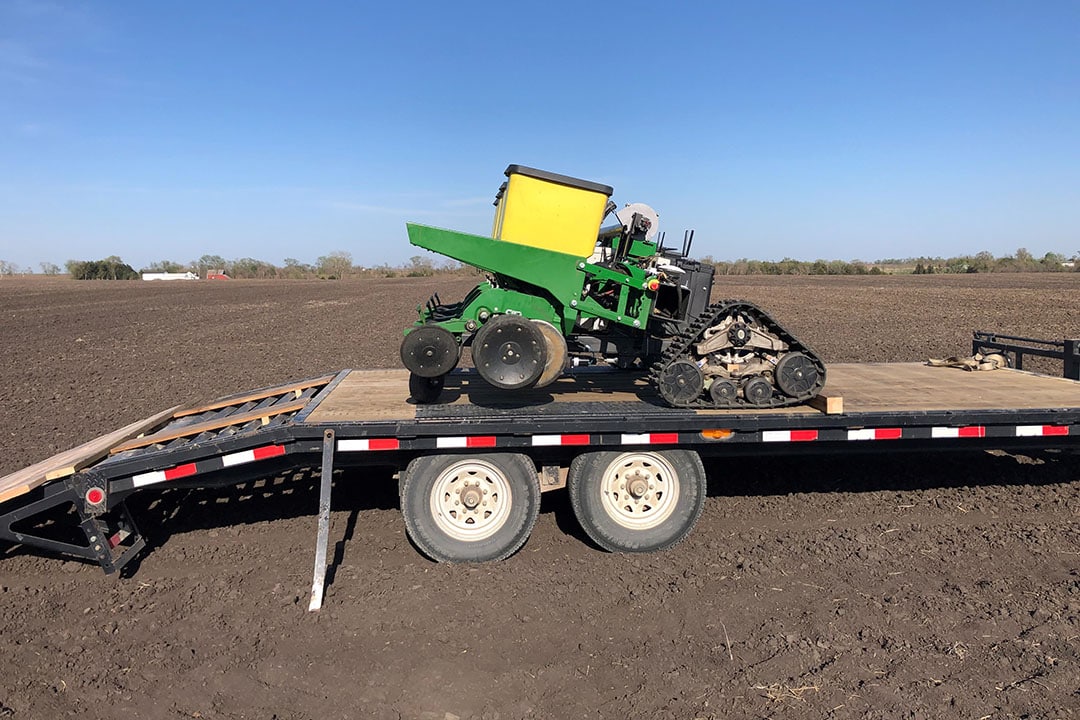 Automation of planting depth
Automation of planting depth could be added. Krog is already working with Precision Planting, which markets this technology along with real-time measurement of seed-available soil moisture. Krog also has relationships with the precision ag company Ag Leader, and a research project in the works with the Iowa Soybean Association.
How does it work?
The system's software will access digital field shape/boundary files that farmers already have on hand. Confirmation of field boundaries will be done, however, and the system field maps will also include permanent attributes of the field such as waterways, drainage intakes, etc.
Then, proprietary software created in-house will generate paths in each field, the 'A-B lines' that the machine will follow for planting, based on farmer requirements. It will integrate with 'RTK' GPS, and the machine will likely feature its own GPS 'base' station to ensure accuracy.
The automated movement of the machine is accomplished using standard ROS (robotic operating system) open-source code that's similar to that of tractor 'autosteer' systems.
Post crop-emergence applications of crop protection products or side-dressing nitrogen will also be done through GPS guidance, using system records of where the plants are located (where the seeds were planted) and probably computer vision also. Krog says this will allow the machine to 'see' the size and shape of the plants in order to fine tune applications.
Docking station for re-filling
"We also have to build a docking station where the machine will go to automatically re-fill its hoppers or tanks with seed, fertilizer and crop protection products as needed," he explains. "We also need to work on how it will move from field to field. In addition, we'll be adding machine vision, radar, and other sensors to ensure it's able to recognize people and objects that may happen to be in a field, and stop. Safety is a very important factor."
Krog and his team – including his son Ben who is a mechanical engineer – are excited to be developing automated farm equipment that will free up farmer's time, allow more precision in farming and improve soil health. "There are systems being developed that will automate tractors but we wanted to power the actual implement," he says. "We'd like to do away with use of the crop farming model that is limited by relying on traditional, heavy tractors and other heavy field implements."