Last December, Raven Autonomy dove into the aftermarket product trade with it's AutoCart system – a tool designed to turn non-autonomous crop-hauling tractors into self-driving machines.
After many months of rollout, acquisition by a large equipment corporation, and not insignificant challenges in electrical component supply, the company says they are staying on track with its limited initial release plan.
AutoCart now called "OMNiDRIVE"
In June 2021, CNH Industrial acquired 100 per cent of the capital stock of Raven Industries, building upon what the companies referred to as a longstanding partnership. This came some time after Raven Industries itself made acquisitions in the ag-tech space.
The AutoCart system has since been renamed "OMNiDRIVE" under CNH's line of OMNi-brand technologies. At the time of it's 2020 release, Raven was taking pre-orders for what is now the OMNiDRIVE implement, with the intention of delivering it to buyers for harvest 2021.
Text continues underneath image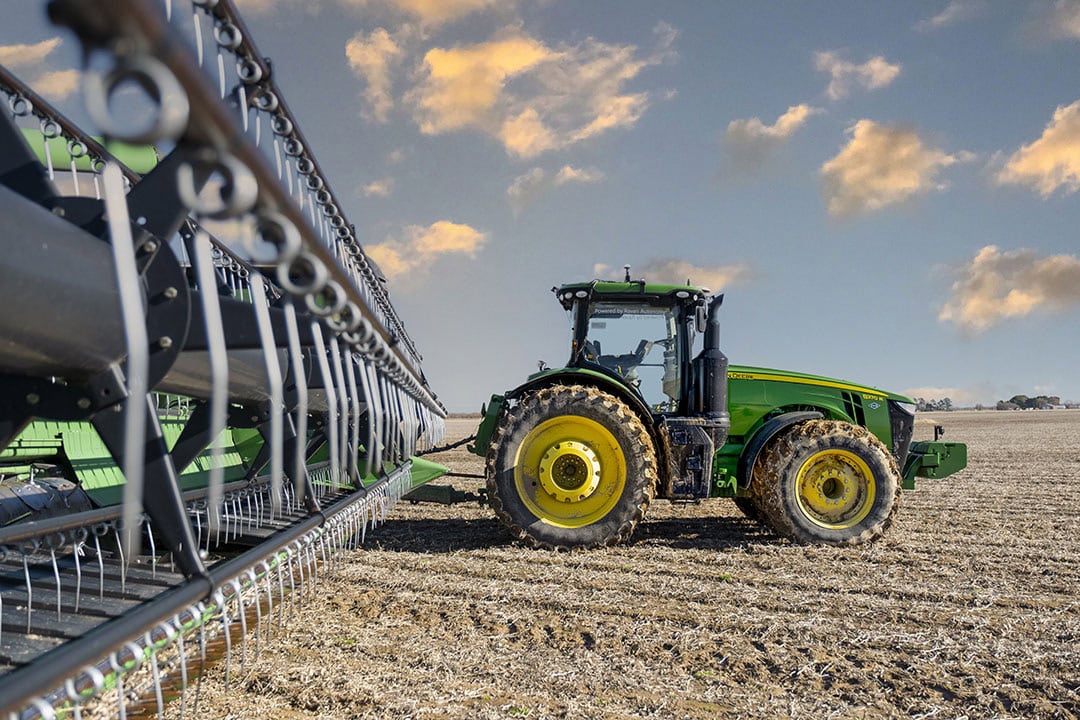 Nick Langerock, director of strategic marketing for Raven, says the company is on pace to meet its limited release commercial plan of 75 units sold via dealer channels as both demo and retail units.
"We chose to limit the release quantity in year one to ensure we educate and consult our dealers and customers on their path to autonomy," says Langerock.
"We understand it can be an exciting yet intimidating investment, but knowing that you have professional teams walking you through it on an intimate level with our early adopters is very important to us. The success of our early adopters integrating autonomous technology into their operations is our first priority."
Operating without an operator
The OMNiDRIVE system allows growers to remotely set a field plan, establish staging locations, adjust speeds, monitor location activity, and command the tractor pulling a grain cart to sync with the harvester. The harvester can offload in the field while on-the-go, then return the tractor to a predetermined unloading area without the need for a second driver.
It works using a combination of radar mounted on the tractor's front end, and a five-camera perception system. The radar notices where things are, while AI programming in the latter determines what things are. Operations are performed through a smartphone, tablet, or desktop interface linked to an OMNiDRIVE-specific portal accessed through Raven.
Text continues underneath image
"From the combine the operator can actually call the cart, tell it to come over, find the combine, match its speed, and go exactly side-by-side with the combine, and unload into it on the go," says Tim Norris, business development manager of autonomy, in a video published by Raven in July.
Not only can it tell what it's seeing, but it can look at the path that obstacle is taking across the field.
"It can detect several different obstacles, from humans to pets, to farm animals and combines. Not only can it tell what it's seeing, but it can look at the path that obstacle is taking across the field. So, if the path of the tractor and the path of the obstacle are going to intercept, its going to slow the tractor down and make it come to a stop. Once that's clear, the operator in the combine can hit a button and proceed with the path or mission."
Text continues underneath video
OMNiDRIVE a solution for time and labour shortages
Reflective of other aftermarket autonomous systems – such as that being used by custom harvest company Sabanto in the American Midwest – OMNiDRIVE has been marketed as a solution for endemic time and labour shortages.
"Harvest is exhausting, and anyone who works on a farm knows the feeling of being shorthanded while trying to beat the weather and bring in their crop at the point that it will yield the maximum economic value," says Brian Meyer, vice president of applied technology for Raven in a press release from December 2, 2020.
"A single grain cart driver can cover 340 hours in the tractor cab during harvest. By incorporating an autonomous grain cart tractor into their operation, a farmer can use those hours to complete other fall maintenance and tillage tasks and improve their bottom-line efficiency."
Similar sentiments were previously reflected by Norris. "One of the most difficult things during harvest is finding enough labour. A lot of people are able to increase the capacity of their combine by about 32 per cent if they're able to run a grain cart right beside the combine."
Different tractors, different farms
When asked about the type or size of farms purchasing OMNiDRIVE systems, Langerock replied by describing customers as coming from a variety of commodities – small grains (wheat), row crops (corn and soybeans), and specialty crops (potatoes) specifically.
Corporate merger aside, the technology remains compatible – or will be compatible – with a variety of equipment makes and models. These include:
Case IH Magnum CVT, 2014-2020 models: M250 / 280 / 310 / 340 / 380 (available in October 2021)
New Holland CVT, 2014-2020 models): T8.320 / 350 / 380 / 410 / 435 (available in October 2021)
John Deere 8Rs Powershift and IVT, 2010 to current models.
Supply of electronic components
As with many tech-developers, the supply of electronic components throughout 2021 has been challenging.
"Electronics are a critical element to precision agriculture solutions, and sourcing components such as microchips has been a daily priority for our supply chain teams. Beyond procuring volumes to support sales demand, it is also adding significant component and logistical cost," says Langerock.
"Being transparent and providing constant communications with our customers is the biggest challenge, as every day a new supply chain issue arises and voids previous conversations [and] commitments."
Growers opting for an OMNiDRIVE system can expect a price tag of $ 55,000 USD per unit. An additional $ 5,000 annual subscription fee also applies.