The major tractor and implement makers have focused their vision on high-tech companies and start-ups of autonomous systems and field robots, according to the many acquisitions in the first half of 2021.
CNH acquired Raven
At the end of June, tractor manufacturer Case New Holland (CNH) announced the acquisition of tech company Raven. With this acquisition, CNH aims to enhance its precision agriculture capabilities. Only in 2019, Raven acquired the autonomous field robot DOT, and it developed the autonomous agriculture solutions company Smart Ag.
Also, at the beginning of this year, Raven purchased all of the intellectual property and patents of Jaybridge Robotics, an early developer of automated agriculture technology.
Furthermore, in June the company Ideanomics fully acquired Solectrac Inc., the California-based manufacturer and distributor of premium zero-emission electric tractors.
According to Ideanomics, which specialises in renewable energy and electric vehicles, the agricultural tractor market is a US$ 75 billion market globally with the under 40 hp segment accounting for more than 60 percent of the demand. Ideanomics states it will "support Solectrac across various business functions providing operational confidence to scale and become established as a global leader and supplier of clean agricultural equipment."
According to Ideanomics, Solectrac has a significant head start in the electric tractor market in North America with limited competition.
Text continues underneath image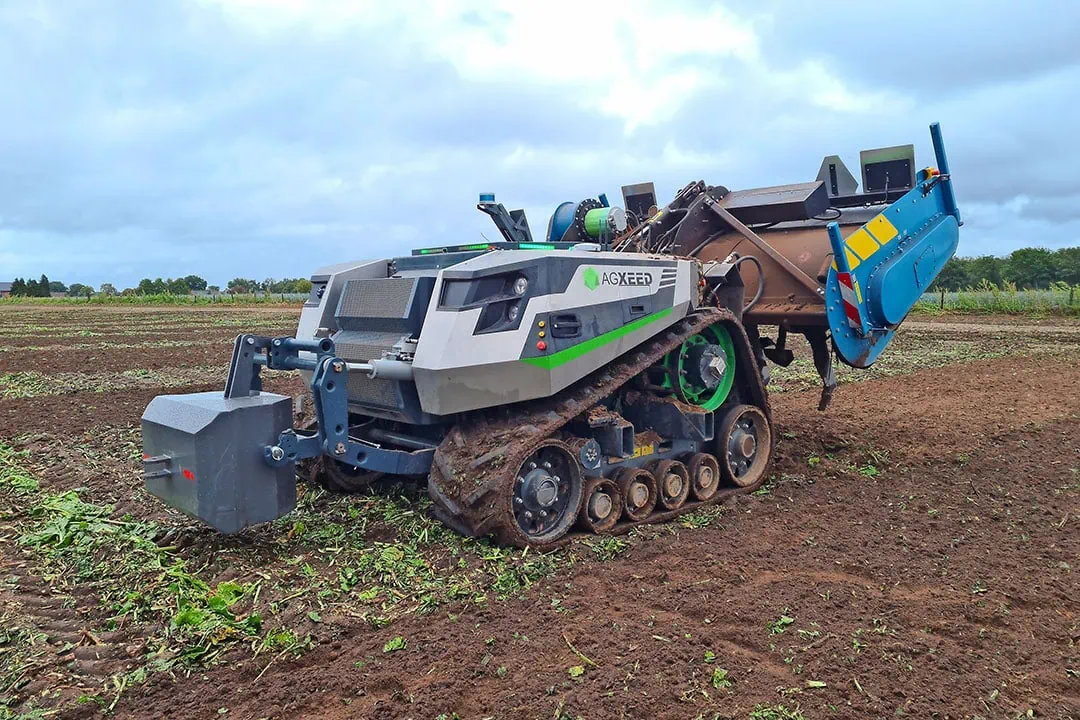 In May, German machinery maker Claas and Dutch start-up AgXeed entered into a partnership in which the former holds a minority stake. The aim is to further develop and market autonomous agricultural machinery.
Autonomous field robot with a diesel-electric drive
The Netherlands-based company AgXeed offers an autonomous field robot with a diesel-electric drive, wheeled or fully tracked undercarriage, up to 156 hp, and standard three-point linkages to support farmers in a wide range of applications in the future. "This commitment offers Claas access to innovative technologies in a familiar market segment and complements our own expertise in the field of autonomy and robotics," said Thomas Böck, CEO of Claas Group.
Trimble and Horsch join forces
In April tech company Trimble and the German equipment manufacturer Horsch joined forces to create autonomy solutions. The collaboration is to extend beyond autonomously controlling machines, such as the self-propelled crop protection sprayers, to complete work-flow automation from the office to the field.
Meanwhile, Horsch have already released their first version of an autonomous seed drill. In addition, Horsch reports that they will put two more autonomous concepts into operation this year.
In March Monarch tech start-up Zimeno Inc, the company behind the electrically-powered Monarch tractor and its autonomous and data gathering capabilities, attracted new partners and investors, including CNH Industrial, the manufacturer of Case IH, and New Holland agricultural equipment.
The California-based company's expertise in the integration of autonomous control and electric drives is the principal motivation for CNH agreeing on a strategic partnership and buying a minority stake in the business, which ultimately could see the technology rolling out in CNH's agricultural and construction vehicles.
Autonomous flying robots for fruit picking
In February, the Japanese tractor manufacturer Kubota participated in a 'Series B' venture funding investment round totalling US$ 20 million for Tevel, a developer of flying autonomous fruit-picking robots. Tevel Aerobotics Technologies, founded in 2017 in Israel, is developing autonomous flying robots for fruit picking. It is combining AI with computer vision, advanced robotics, aeronautical engineering, state-of-the-art flight control, and data fusion and perception.
Text continues underneath image
Many more acquisitons to come
That is just a summary of the most important acquisitions in the first half of 2021. This much is certain: the agtech market is in full swing and there will be many more acquisitions to come. This year and beyond.