Paris Cockinos is the CEO of Sphere Drones, a company that specialises in leveraging the power of drones to transform traditional farming practices.
Drones offer farmers opportunities left, right and centre within the spraying and seeding space, he says. "There is enormous potential for drones to conduct aerial application. Farmers traditionally use fixed wing crop dusters at quite a large expense, so we have a willing and engaged natural audience looking for this solution."
There is enormous potential for drones to conduct aerial application
While challenges remain, specifically surrounding a drone's holding capacity and power, technology is improving at a rapid pace. "In 2014 a drone could fly for around 8 minutes. Today, a drone can fly 40 to 50 minutes. By 2030, they will fly for three to four hours, still using batteries."
Technology will also allow us to fly heavier loads. "A fixed wing crop duster can hold roughly 1,800 litres, whereby a drone can hold 40 litres", Mr Cockinos explains. "Yet considering just recently, a drone could only hold five litres. The progress is staggering, and will only get bigger and better."
Text continues below picture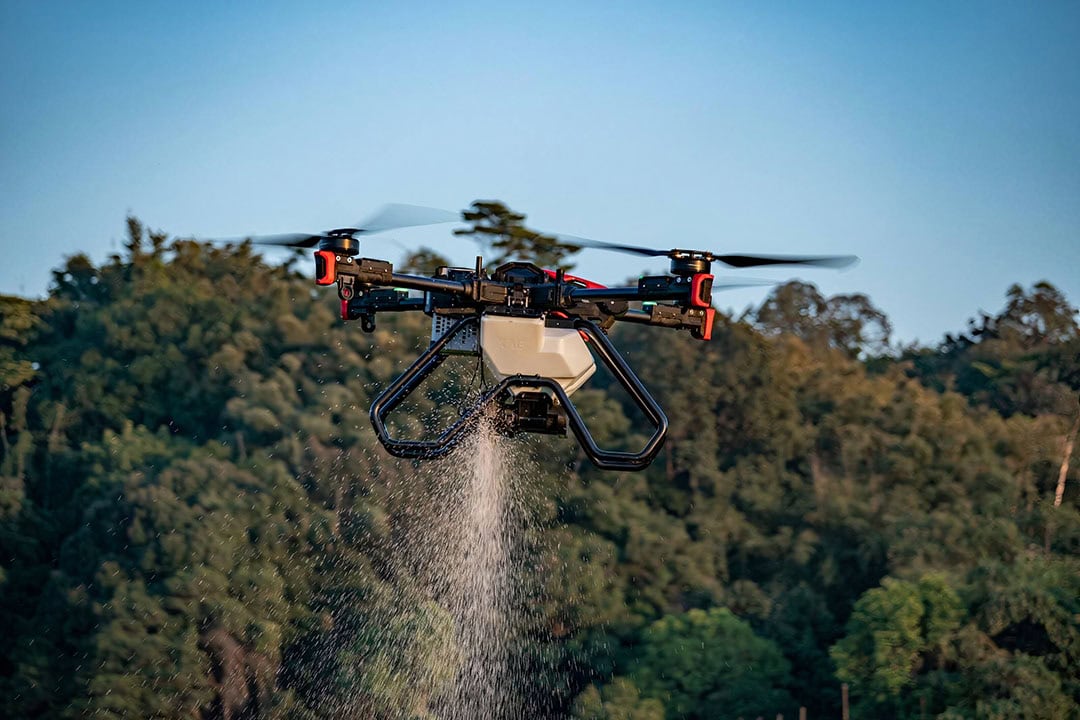 The appetite for drone technology
Mr Cockinos – who recently also presented his vision for the future at Rabobank's Farm2Fork Summit – expects that drones will get to 30% of a crop duster's capacity in the next five years. For many countries, this will offer farmers new and improved options.
"Considering this advancement, and the fact that in Australia, for example, the agricultural land mass is 55 per cent, there's a lot of land to cover. We think drones are an affordable and practical solution. And we notice that the appetite for drone technology is accelerating harder and further than ever before."
Drones are able to create efficiencies across a farm, Mr Cockinos emphasises. "It is driving cost saving, but also operational efficiencies, and improvements in sustainability practises that need to be adopted. ESG-targets will require the farmer to adopt the technology."
Spraying with drones can create big savings for farmers, with a reduction of up to 40% of the costs
"Soon enough, the average farmer will have to disclose how much herbicides and pesticides he is using on his farm, and report back to supermarket-chains for example. And banks will have to disclose if their clients are supporting sustainable practices. The Global Biodiversity Framework is mandating a 50% reduction in pesticides and fertilisers."
The Australian drone-expert says that drones are capable of identifying weeds, and proactively – almost in a cognitive state – will be able to spot spray that location, reducing overall costs, and load requirements. "Blanket spraying is a thing of the past. Why do you need to dust at scale if you've got isolated issues?"
An alternative to fixed wing application
Spraying with drones can create big savings for farmers, Mr Cockinos points out, with a reduction of up to 40% of the costs. Sphere Drones currently has four drones being used as an alternative to fixed wing application on a property in the Coonamble region, with the technology continually evolving.
"Our average drone is currently spraying 21 hectares an hour, but there are so many supplementary tasks that are also of immediate interest to farmers."
The introduction of AI into the system advances the capacity of drones significantly, with the technology progressively improving in time as the AI learns, Mr Cockinos says. From plant health mapping and pest detection to cattle head counts and perimeter surveys, drones leveraging AI are providing invaluable data and insights that are helping farmers make informed decisions and optimise their operations.
Text continues below picture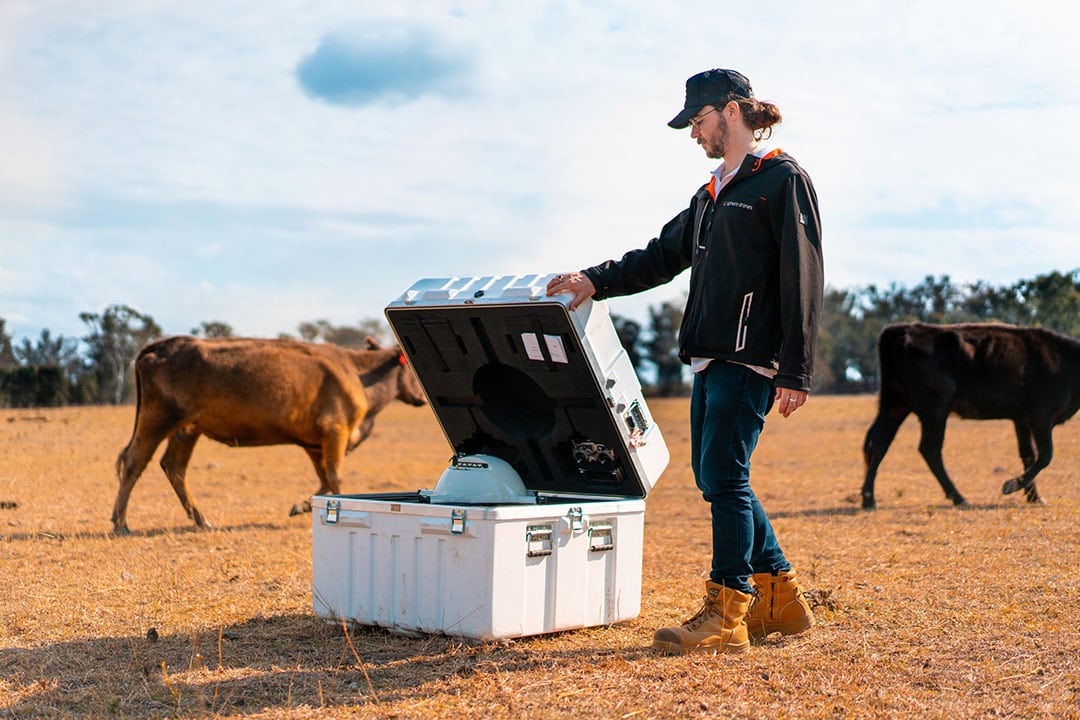 More data than ever
"The potential for fully integrated AI smart farms means we'll have more data than ever in regards to knowing how land works and responds, making farms more intelligent through drone observations over many years, which is a very exciting prospect."
Automated aerial observation via drones will ease physical workloads significantly, mundane paddock tasks can be outsourced through drone technology. "There's a wish list of things farmers want to unlock. We're able to design a drone to think like a farmer and carry out these tasks autonomously, flagging any issues immediately."
Multiple drones doing work on a farm
"We have recently developed a technology that helps to count cattle. A drone can count how many cattle are sitting in a paddock at any one point in time. And if any are missing. That will save a farmhand a lot of time."
At a Wagga Wagga property in New South Wales, Sphere Drones has been trialling autonomous drones for this project, mustering 500 head of beef cattle at a time. The company is launching a drone-in-a-box system to fly on its own. The system is transported on a trailer, which the farmer can then set up and leave in a paddock, and is programmed with a timer and calendar, to check fences, water and muster.
The impact of drones on agriculture will be huge, It means you can remove the person completely
"You can have multiple drones doing work on a farm", Mr Cockinos says. "Automated monitoring of pre-surveyed fences and paddocks, and e-tagged cattle for any calving or nutritional red flags will all be at a farmer's fingertip without leaving home. You're also surveying and analysing the land, so the spraying process can be set in motion appropriately."
The impact of drones on agriculture will be huge, Mr Cockinos predicts. "It means you can remove the person completely, and provides the opportunity to save a farmer, who has a really unique skillset, time. It's a substantial cultural shift and I find that really exciting because it's a bit of a challenge for our organisation to demonstrate how these technologies can change so much."