It is a wonderful combination of technologies with a perfect outcome. A drone first maps the fields, finds the rocks and use this information to create special maps for an app. Farmers can then travel from rock to rock to pick them with TerraClear's rock picker.
The Idaho company has been known for its rock-picking equipment for years. TerraClear was recently awarded with the 2023 Davidson Prize – given to the three most innovative products – for the TC80 Rock Picker. This efficient precision machine can pick rocks between 4 inch (10.2cm) and 26 inch (66.1cm), pull up buried rock, and can cover huge fields with a picking at a rate of 400 rocks per hour.
600 rocks per hour
TerraClear also offers farmers the C100 Rock Picker. This machine can pick rocks between 4 inch and 26 inch, and can cover giant fields with a picking rate of 600 rocks per hour. It has a 100-inch (2.54m) rock bucket, and a tipping load of 5600 lbs (2,540kgs).
The TC80 and the TC100 both have universal mounting plates and are widely compatible with farm equipment, most models of tractors, compact track loaders, or skid steers. The system is operated using a joystick. The Rock Pickers are able to dump in scab patches, over fences, in trailers, and in trucks.
Text continues below picture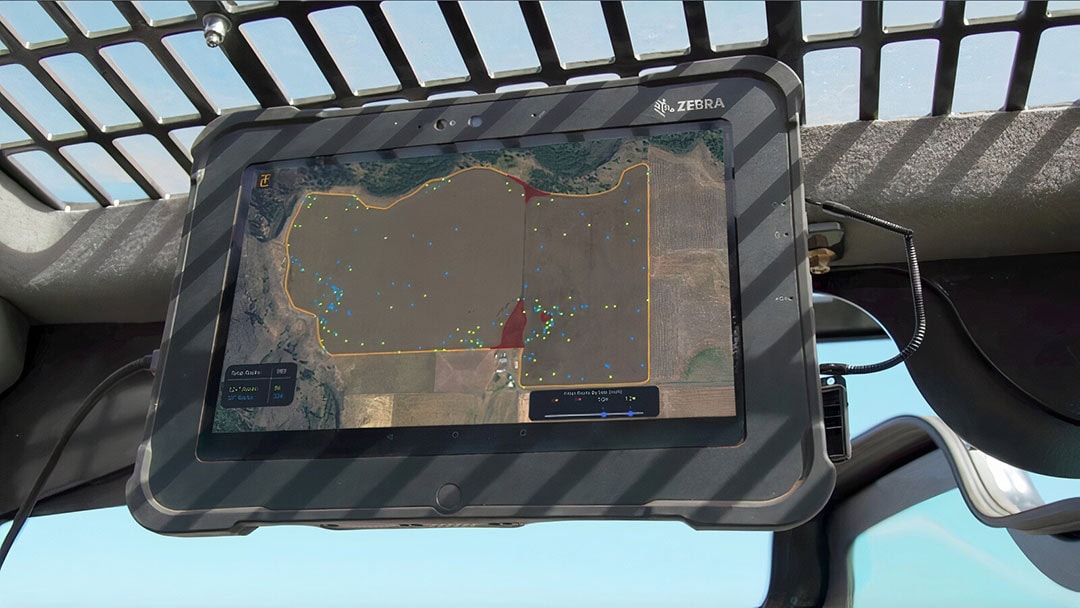 Aerial survey
TerraClear uses drones to get an aerial survey that charts the precise location of rocks on farms. A rock map shows farmers rocks in two categories, usually rocks from six inch (15.2cm) to 12 inch (30.4cm) , and rocks from 12 inch to 24 inch (60.8cm) , but these parameters can be adjusted. By grouping rocks according to size, the operator can prioritize rocks, and take into account potential damage to combines. It erases a rock from the map once it's been picked.
TerraClear offers a special rock map service, with a minimum size of 500 acres. The mapping cost depends on the conditions and location. The company produces most of the rock maps using imagery provided by its drone partners. In some cases, the company will fly fields with its own drone and pilot, but typically a certified drone partner will fly the field. The drone identifies the rock spots, and then classifies and colour codes them according to size and number.
Text continues below picture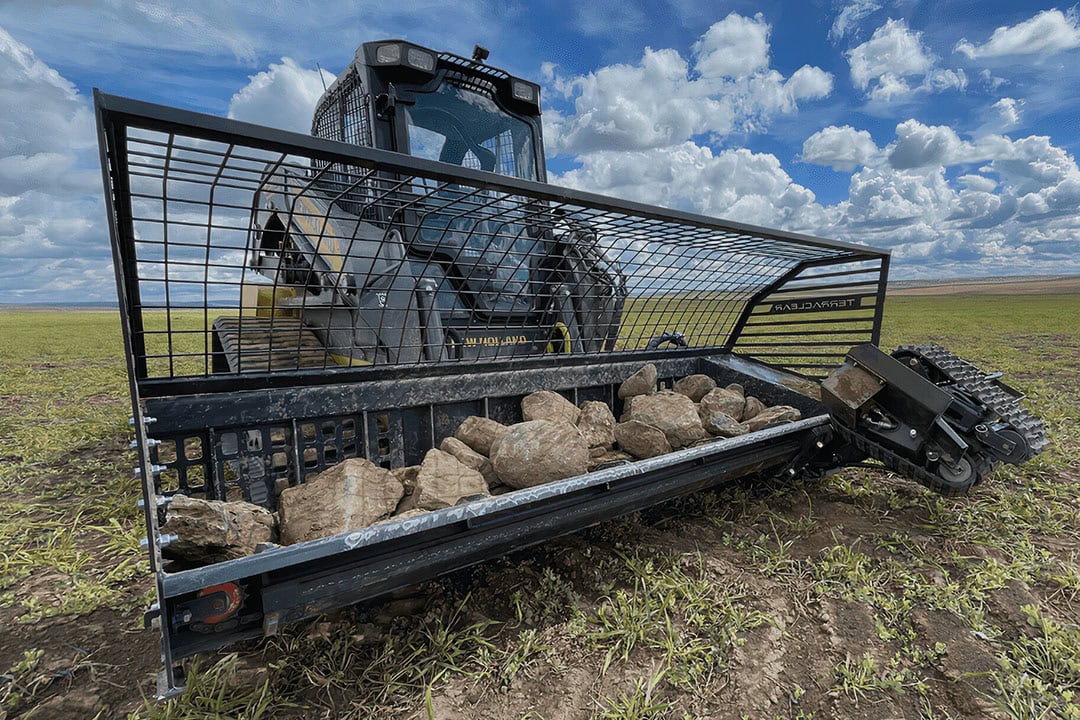 A fully autonomous rock picker platform
TerraClear delivers every rock map through a mobile app. Once the map has been processed, the farmer is notified and the company will provide instructions on how to access it. When the rock map is downloaded to the TerraClear Mobile app, farmers will know exactly where the troublesome rocks are.
By enabling GPS and activating pick mode in the app, the path through the field will be tracked. All rocks within the path will be automatically marked as picked as farmers travel from rock to rock to pick. Currently, TerraClear Rock Maps are available in the US and Canada in select regions.
TerraClear's product roadmap includes further integrating AI and computer vision with a fully autonomous rock picker platform. This autonomous solution for rock picking is a multi-year project.