Looking at statements of the major Chinese manufacturers DJI and XAG, we can understand the optimism. The results are impressive in the Chinese agricultural market alone. Justin Gong, co-founder of XAG, said at the Fortune Global Tech Forum that XAG has 42,000 drones flying over 1.2 million flights every day in China. DJI recently said that in 2021, DJI pilots have completed agricultural missions in China, covering a total of 66.7 million hectares of farmland. The company emphasised that this has reduced carbon emissions by 3.43 million tonnes.
At present, the two account for 80% of the Chinese market. Their market share worldwide is also significant. Chen Tao, global marketing and sales director of DJI's agricultural equipment department is optimistic about the prospects for drones. Tao expects that eventually overseas revenues from agricultural drones are expected to be more than double the value of the domestic Chinese market.
Collaboration between Chinese government and industry
Why is the agricultural application drone market in China growing so fast and achieving such striking results? Paul Voutier, Senior Advisor Innovation at Grow Asia in Singapore, said at the international agricultural robot event FIRA in Toulouse that collaboration between government and industry contributes to the success of drones in China's agriculture. "The Chinese government really saw an opportunity for aerial drones to reduce the cost of labour for farmers and to develop an industry that could supply global markets. It worked very well thanks to grants and government funded research," Mr Voutier said. He emphasised that drones in China are mainly owned by service providers. "So, they are amortising each drone over many farms. They are actually moving the drones around as they are needed in different parts of the country."
Text continues below image
Labour shortage driving popularity of agricultural drones
Internationally there is a growing problem which explains the increasing popularity of agricultural drones. As Justin Gong made clear, a shortage of agricultural labour has become a major long-term problem for many countries. "That's making demand for autonomous drones and robots stronger," he said. Gong expects agricultural drones to be used on a larger scale in Southeast Asia, Eastern Europe and South America in the next few years. He said that XAG especially wants to capitalise on opportunities in Southeast Asia and in Japan and South Korea.
DJI's Chen Tao confirmed that with rising per capita income and a shrinking agricultural labour force, demand for modern agricultural machinery has grown significantly, especially in Southeast Asia. DJI has announced the Agras T30 to be its new flagship for agriculture. The company confirmed it sold over 50,000 Agras drones worldwide. The T30 and T10 are available in over 100 countries worldwide, including in North America and Europe.
Fixed-wing UAVs spraying large farms
For spraying fixed-wing UAVs are proving increasingly popular on large farms. Canadian company Forward Robotics says demand for their U7AG for large farms exceeds supply. According to CEO Meng Wei there is a lot of interest from both Canadian and international customers. Forward Robotics is planning on exporting outside Canada. "We're working on the regulations and logistics of Australia and the US right now," Mr Wei says. "But there are also interested parties from South America, Middle East and Asia. I can't comment on dates, but it will be Australia and the US first, since they are the simplest in term of regulations."
Prices haven't been advertised yet and are subject to change, Mr Wei explains. "But right now, the price of the U7AG generally starts from US$ 50,000 for the base aircraft and increases, depending on the system configuration and capability. Early customers who we've been in contact with from 2019, as well as volume orders, have discounts, and it will also vary by location due to logistics." Forward Robotics is able to produce, and has clients for customised designs, using U7AG as the baseline. "But with different performance specs, payload geometries and mission profiles."
Text continues below image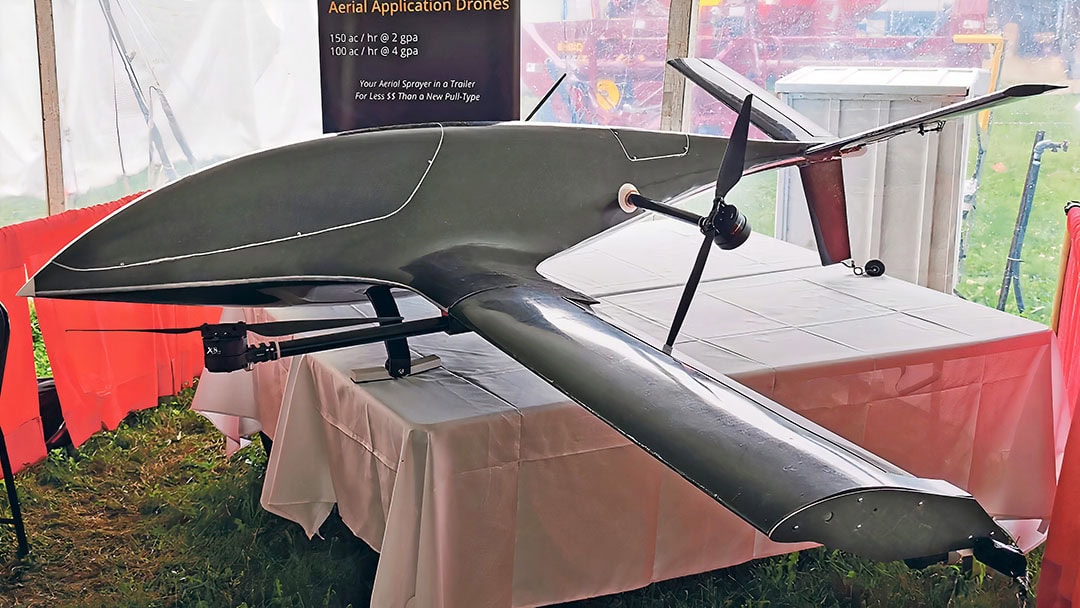 Autonomous crop spraying aircraft Pelican
US startup Pyka says it expects to launch its autonomous crop-spraying aircraft Pelican in the US soon. It has successfully completed the final stage of flight demonstration for commercial approval in the US. Pyka is focusing on fungicide application in banana and other crops in Latin America. Pelicans have now completed over 3,000 missions, including research and development flights. Pyka will ramp up production and anticipates to build one airplane a month until the end of the year. In 2023 its wants to increase production to 25 to 30 airplanes.
Seeding drones gaining ground
More and more spraying drones are also capable of seeding. Drone manufacturers offer attachments that provide an efficient and cost-effective new way of seeding, without any soil compaction. XAG has this year launched its new agricultural drones V50 and P100. Both are crafted in a structure that can fully separate their flying platform from task systems. This means that they can switch flexibly between crop spraying, granule spreading and field surveying. Transportation and maintenance are also made much easier to increase operation efficiency. With the advanced SuperX 4 Pro flight control system, the XAG P100 and V50 can remain steady, providing high-accuracy operations around farms even with weak internet infrastructure. It gives farmers the new possibility to operate in a 'networkless' area.
XAG is actively promoting the seeding capabilities of its drones in several countries. Initially XAG used its JetSeed system to demonstrate drone seeding in China. JetSeed is an intelligent granule spreading system mounted on the bottom of XAG agricultural UAVs, that enables direct seeding into the targeted topsoil.
Many farms in China face the problem of labour dependence, which has increased their vulnerability to the aging farming population. Unlike large-scale agriculture economies, most Asian countries with rice as their staple crop, cannot resort to large automated machinery such as driverless tractors, because of complex terrain, the small size of many farms and high costs.
The newer XAG drones can now be used to spray crops, and also to distribute rice seeds directly into the paddy fields without seedling transplant. Chinese growers have also started embracing night-time drone seeding to resolve a severe labour shortfall during the busy planting season. There are two major advantages. First, aerial spreading is more precise, even after sunset, because then it is usually less windy than during the daytime. And second, by extending the operational period, farmers are less likely to miss the planting season.
Vietnam adopting drones
XAG has recently started to actively scale up the use of its agricultural drones in Vietnam for rice production. Their popularity is increasing among rural youth, who are keen to earn a decent salary as a drone pilot. Vietnam is the world's second largest exporter of rice, which is also the staple food consumed by 90% of the population and the main source of income for millions of small-scale farmers. Across the rice fields of the Mekong delta, XAG has been working with local service teams to help rice farmers use resources more effectively. Farmers in Vietnam are used to working all day, ankle deep in the mud to transplant seedlings. With drones, rice seeds can be sown directly into flooded fields.
XAG used the P40 to show that its drones can fly autonomously on a pre-programmed route, and can distribute rice seeds uniformly into the designated area. The performance of drone seeding was as smooth as manual operation which helps farmers to achieve optimal plant density. One hectare was sown in two hours with 160 kilograms of seeds, resulting in nearly 100% germination. As the winter-spring season came to an end in April, this rice paddy had reaped an actual harvest of eight metric tonnes per hectare while saving 35% on seeds.
Text continues below image
First harvesting drone
Israeli startup Tevel Aerobotics Technologies will launch a commercial picking service with its Flying Autonomous Robots next year. Initially Tevel will provide the drones to customers in Italy and Spain. The robots are commercially available as a picking service on a multi-year plan. From the third quarter of 2023, the flying drones will be available for purchase. They will be deployed in harvesting platforms of four to eight drones (one drone can do the work of one human being during one shift). The drones are currently connected to a power cord. The company is now also looking into the possibility of a battery-powered system. The new system, which can be operational 24 hours a day, will significantly reduce picking time.
Text continues below image