Prices in our buyers guide range from US$ 8,200 for the T630 of Titan Flying to US$ 35,390 for the PrecisionVision/PV40X of Leading Edge Aerial Technologies. But capabilities and specifications differ as well. What is the payload? How efficiently does the drone spray or seed? How many operations can a drone carry out without servicing or replacement?
Drone tank capacities
In our 2022 drone buying guide there are six drones with a tank capacity of 16 litres. The Brouav D52L-8 has the highest capacity (52 litres). But the payload does not give the overall picture of a drone. The fixed wing U7AG of Forward Robotics, with a slightly smaller tank (45 litres) has an impressive maximum spraying rate of 61 hectares per hour, delivering performance that is comparable to self-propelled sprayers.
Some drones are multifunctional. The XAG P40, for example, is capable of spraying, seeding and mapping. This high-capacity drone has the portability usually seen on smaller drones, spraying 15 hectares per hour with industry-best rotary atomisation nozzles and peristaltic pumps. The XAG V40 is also suitable for spraying, seeding and mapping with a single system. It includes a generator and the battery can recharge in 11 minutes regardless of local power voltages. It offers quick-swap tanks, a broadcast seeder and a mapping/crop health sensor. Its precision technology includes RTK centimetre accuracy.
Text continues below image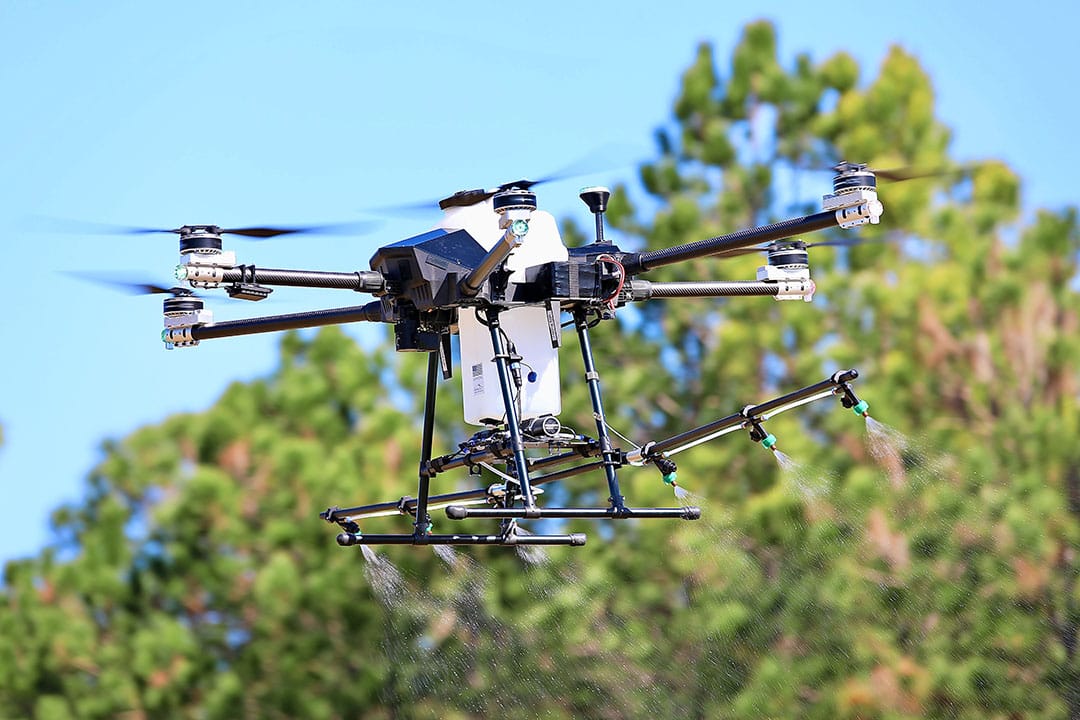 True swarm control
Leading Edge Aerial Technologies offers multiple payload systems with its PrecisionVision-PV40X, which is swappable in 10 minutes. It says the granular application system of the drone surpasses any system in terms of area treated per unit of time. Users can treat more than 100 hectares per day. Hylio says its AG-122 is leading the industry in automation, with true swarm control from a single, central ground station device (laptop or tablet) and a wide variety of precision application modes. The drones, which are made in the USA, have high-quality hardware and software.
Chinese drone manufacturer EAVision says binocular visual perception and AI autonomous control are its core technologies. It has developed its spraying drones and software for many fields and scenarios. EAVision recently introduced its drones on farms in Brazil and Turkey. The HBR T30, built by Haojing Electromechanical in Shanghai, has a spraying capacity of 18 hectares per hour. The obstacle avoidance radar can scan obstacles that are 15 metres ahead, making fast, accurate braking possible.
Fully automated drone
The Aeroseeder AS30 from the USA has been very successful as a fully automated drone which was specifically designed for seeding cover crops. The drone is well suited for farmers that have hard-to-reach land for crop dusters and tractors. It runs with GPS pre-mapped routes, making drone operation easy. It can carry up to 40 lbs (18 kg) of seeds. Guided by GPS and altitude-holding terrain-following sensors, it autonomously flies along a preprogrammed flight path at up to 22 mph (35 km per hour). The seeding rate is adjustable. It is capable of seeding up to 100 acres (40.5 hectares) within one eight-hour period.