Farms in Europe, and worldwide, are suffering from a continuous and worsening shortage of workers. In the UK, this problem has been exacerbated by Covid-19, Brexit, the war in Ukraine and high employment levels in competing sectors, with the National Farmers' Union suggesting that as much as £60m of food will be left to rot on farms this year due to labour shortages.
AI-supporting harvest robots
Initially focusing on soft fruits, such as raspberries, Fieldwork Robotics has developed advanced, AI-supported harvesting robots to help solve the problem of worker shortages, increase farm efficiency and reduce food wastage in the UK and beyond. Raspberry producers in particular face several issues including chronic labour shortages and dwindling net margins. Picking raspberries alone accounts for over 50% of total production costs.
Spun out of the University of Plymouth and now based in Cambridge, Fieldwork benefits from a highly experienced team with backgrounds in applied sciences, electronics, engineering, software and manufacturing. This experience allowed the Fieldwork team to develop the first autonomous raspberry harvesting robot, in collaboration with Bosch. The robot, named Alpha, analyses the crop, decides when to harvest the raspberries, and places them in punnets ready for delivery to supermarkets.
The robot, named Alpha, analyses the crop, decides when to harvest the raspberries, and places them in punnets ready for delivery to supermarkets
Alpha gives growers the ability to extend operations to 24 hours a day, increasing harvesting time threefold. With farmers struggling to recruit farm workers, Alpha can provide assurance that farmers' capability to harvest will not be impacted by seasonal or policy-led variations in available labour supply. Fieldwork's technology therefore allows growers to significantly increase their harvesting efficiency and reduce the food wastage caused by human labour shortages.
Text continues below picture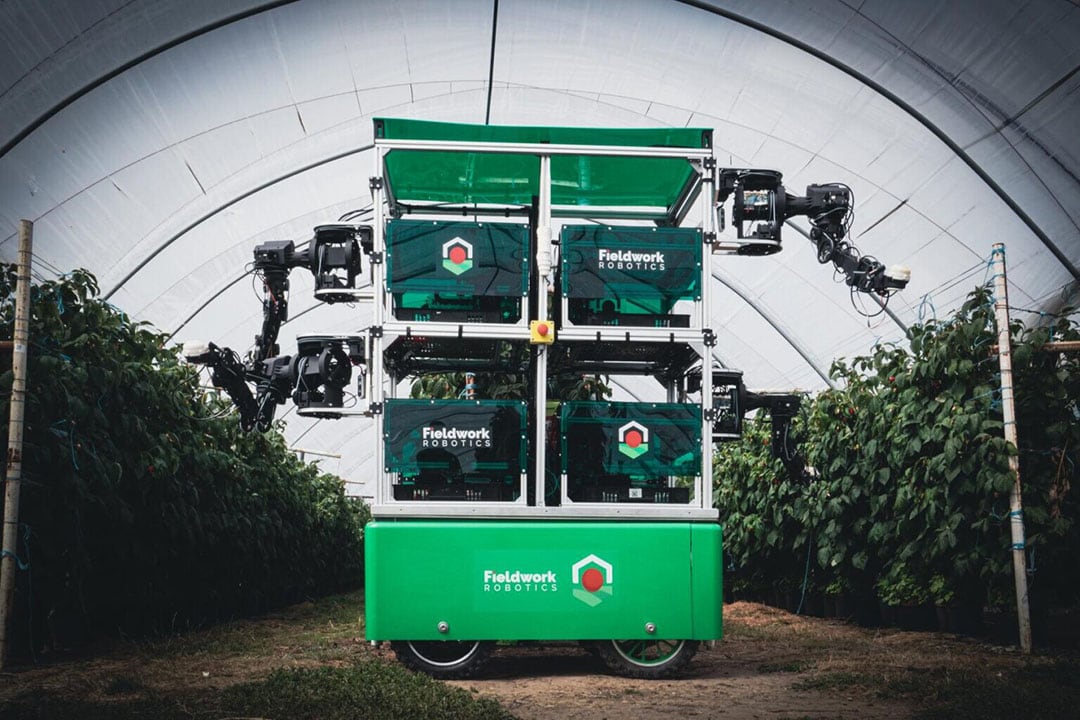 Alpha in Portugal
Working in collaboration with the Summer Berry Company, Fieldwork has deployed Alpha to farms in Portugal, and the fruit it harvests is currently being sold in the UK's top supermarkets including M&S, Sainsbury's and Waitrose.
Prior to this round, Fieldwork received over £700,000 in backing from Innovate UK and support from EIT Food, giving the company access to a network of entrepreneurs, agricultural leaders and academics. Fieldwork will use the proceeds of this round to grow its team, begin outsourcing the manufacture of its robots and onboard more farmers to its harvesting-as-a-service offering. The company aims to have over 100 robots available for harvesting-as-a-service by 2025 and treble the harvesting speed of its robots.
Fieldwork benefits from an existing commercial partnership signed with the Summer Berry Company.The immediate focus of Fieldwork is to address the pressing issue of unharvested soft fruit, particularly focusing on raspberries, which represent a $ 2bn global market opportunity. Global demand for raspberries continues unabated with an impressive c.22% annual export growth.