Amos Power has partnered with the engineering and prototyping teams at One3 Design and Redshield Electronics. The partnership released the two newest builds of their fully electric autonomous power unit, dubbed Amos.
"Amos offers not only electric power but also full autonomy, a combination currently not available on the market", said Clay Martin, Director of Business Development for One3 Design.
AMOS started as a design-build project that aims to solve a common engineering challenge: fitting tractor-quality power and capabilities onto a relatively small tractor frame. According to Founder and CEO, Tom Boe, "due to its modular design, Amos can be customized to fit the landscape of any field and meet any operation's needs."
Two models
The Amos Power team engineered two models of Amos, A3 and A4. The A3 model is capable of autonomously inter-seeding cover crop, mowing, spraying, and tilling vineyards. The A4 model is larger, with tracks that can be configured to width settings between 54" and 120". A4 has a width substantially wider than the A3 model with a track width of 42"; this detail makes the A4 model ideal for row crop applications.
Text continues below image
4–8-hour runtimes
Both units offer 4–8-hour runtimes with an recharge time of two hours or less. The vehicles make 75-85 horsepower and are capable of detecting obstacles. They are fully autonomous, including trailer auto-load, field mapping, and implement engagement. Advanced machine learning algorithms, and state of the art stereo cameras, enable Amos to see, interpret, and react to what is happening around the vehicle.
According to Tom Boe, Amos is not currently available commercially. "We are still in the development phase of Amos. Our team will soon begin testing feasibility B prototypes with the goal to start a durability build in late 2022. Initially, we plan to distribute within the US and put a primary focus on the California market. Our long-term plans would include Europe, Australia, and New Zealand. The projected timeline for full distribution would be the spring of 2025."
Projected sale price is $ 185,000
Boe said he and his team are working to license dealers long-term, but their current sales plan will be direct to consumers. "We will soon have an updated web page to provide a method of ordering. The projected sale price is $ 185,000. We have not fully developed pricing for options as we are still determining the potential configuration we will provide."
Internally the company is prepared to build 100 units per year without adjustments to current facilities. "We are planning for growth to exceed 500 units per year; by the year 2026," Boe said.
Service and maintenance will be through partnerships. The vehicle will output diagnostical information to assist with service. "Nearly, every working component is connected to our central vehicle controller via CAN messages. Through WiFi connectivity, an operator will have detailed diagnostical reports on their tablet," Boe said.
The current battery capacity is 44 KWh. Tom Boe: "We are working with our battery supplier to continue to evaluate increasing this with the latest technology. The vehicle's battery is easily removed in less than 30 seconds, and this will provide an opportunity for future upgrades of batteries for existing owners."
According to Boe, Amos is being built very modular. "Current track modules will produce 75hp when working in tandem. We have multiple configurations and size can be outlined by the client."
Text continues below image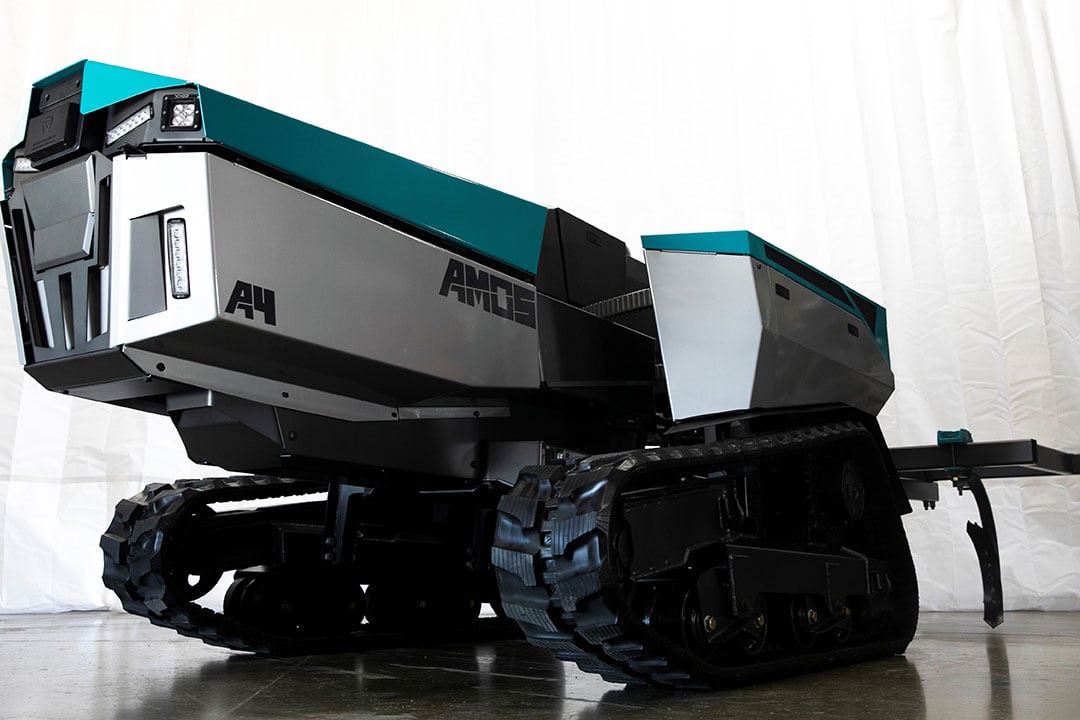 CAT II hitch
The mass of the current platform is 3000 kg. Amos is approximately 1.85M Wide, 2M tall, 2.25M long. A 300mm wide track is being used. Amos has a CAT II hitch on the larger platform. the lift capacity is 1000 kgs. "We are evaluating improved actuators to increase this lift capacity in the future. We also provide a 540 PTO with roughly 35 hp. The motor to drive the PTO is independent of the drive motors", Boe said.
According to the Founder and CEO, they do plan for operators to utilize existing implements; most brands will work seamlessly with Amos. "Our team is evaluating the actual horsepower requirements for many implements. Many manufacturers have specified horsepower requirements utilizing vehicle size versus a true torque necessary to operate their equipment."