Biggest FIRA ever confirms rising interest in ag robotics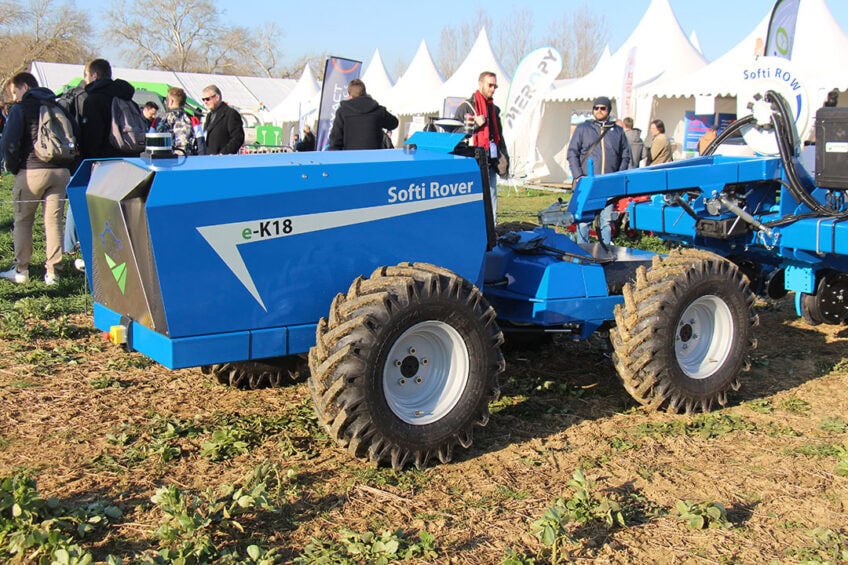 The 7th edition of World FIRA attracted record numbers of field robot manufacturers and participants from across the world. The high level of interest and quality of the event is clearly confirming the increasing uptake of ag robotics.
Although some exhibitors and participants wondered why the major tractor manufacturers were not showcasing their autonomous and robotic solutions at World FIRA, the event attracted a record number of exhibitors and participants. The 7th edition of the event that took place from 7 until 9 February in Toulouse/Auzeville-Tolosane, attracted around 1.300 participants and in addition 500 French students.
Outdoor robot demos
The new element of the event, outdoor robot demos, was highly appreciated by the audience. The indoor section of the event hosted a few robot manufacturers, technology providers as well as national pavilions from Italy and the Netherlands.
Interesting robot premieres
A couple of (young) field robot manufacturers chose World FIRA to premiere their robot and/or demo it. Ant Robotics showcased the first prototype of the Valera cobot for transporting manually harvested fruits like strawberries. Fellow German company Digitial Workbench introduced its Tipard 350 carrier platform.
A third initiative from Germany is E-Terry. E-Terry has been working on their concept since 2019 when it first appeared at the Agritechnica exhibition. During the 2021 edition of World FIRA, the startup won the best innovative ag robotics startup award.
During World FIRA the InsightTRAC Rover won the Ag Robot of the Year award 2023
Hydrogen fuel cell powered Traxx field robot
Although not a new appearance from a vehicle point of view, French Exxact Robotics, revealed a prototype of its hydrogen fuel cell powered Traxx field robot. HariTech from Hungary presented two 25 hp diesel engine powered robotic carrier vehicles called Haribot designed for tree nurseries and plantations.
Léger, a French manufacturer specialised in machinery for mainly French hazelnut growers, launched its RoboCut 360 field robot equipped with its EcoCut 360 pruner head to prune suckers/spurs at the hazelnut tree basis.
Pixelfarming Robotics: CO2-lasers for weeding
Dutch Pixelfarming Robotics premiered the latest version of their Robot One. The technology under the new bonnets and covers is the same as before but the vehicle is lower and has an increased wheel base. New is the possibility to attach CO2-lasers for weeding to one or more of the 10 arms.
French Softivert introduced a prototype of their 30 hp SoftiRover e-K18 electric articulated tractor. Teyme from Spain did a demo with their WETA spraying robot for vineyards. This robot is being developed by several partners who joined forces in the European Scorpion project funded by Horizon 2020.
Stay tuned to the Future Farming website for more in-depth stories and videos of the new field robots who premiered at World FIRA next week and the week after.