Cristiano Pontelli, manager for OTMIS, Jacto's brand for precision agriculture, says that there are currently four Arbus 4000 units operating on big citrus farms in Brazil. "With this rental model, we want to break down the barrier to serve the entire domestic market", Pontelli says.
Focus on citrus market
The launch of the Arbus 4000 JAV robot sprayer was announced in 2020​. Jacto initially focused on the citrus market because these crops require many applications per season. However, according to Pontelli the Arbus 4000 JAV is also ideally suited for use in crops such as coffee, apples and so on.
"Our current clients are orange producers, these are large companies in Brazil. We rented the first Arbus 4000 JAV out last October, a second one in January and two more last May. We accomplished a 30% higher operational efficiency on those areas", he says.
Faster application with spraying robot
Two large Brazilian companies are applying the robot sprayer to cover 1 hectare per hour to combat citrus leprosis disease. Whereas conventional spraying techniques can only spray one row at a time at a speed of 2 kilometres per hour, the Arbus 4000 JAV can treat two rows at a time at a speed of 3.5 kilometres per hour.
The greatest benefit, however, comes from spraying against greening, which requires up to 12 treatments per year. The Arbus 4000 JAV does this at a speed of 8 to 9 kilometres per hour, whereas 6 kilometres per hour is common with conventional spraying techniques.
When you buy equipment, your money is tied up in it. However, when you can rent a machine, the cost per hectare is quickly recouped
"Together with our customers, we have calculated what the rental model means for the cost per hectare. In fact, the cost per hectare dropped. When you buy equipment, your money is tied up in it. However, when you can rent a machine, the cost per hectare is quickly recouped," Pontelli says.
Text continues below image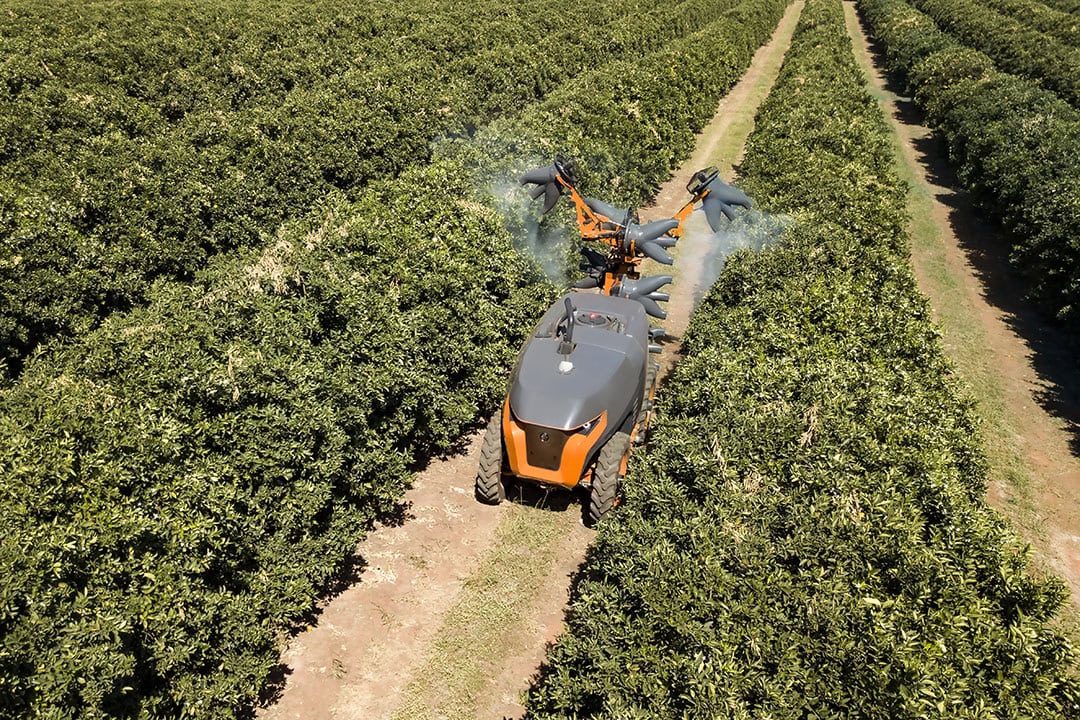 15 spraying robots operational by 2023
According to Pontelli, the total rental cost amounts to USD 5 to 6 per hectare, with the price varying slightly depending on local working conditions. Jacto plans to accelerate the production of the spraying robot. The company wants to have 15 units operational by 2023.
At present, the demand for the Arbus 4000 JAV is mainly from Argentina (for lemon growing), Peru (avocado), Paraguay and Australia. "Within a few years the spraying robot will be available worldwide," says Pontelli.
3-month training
Buyers of the robot will receive a 3-month training to be able to work with the Arbus 4000 JAV. A spraying schedule is made with the help of a drone. With mapping and georeferencing, the prescription map is made. The route is planned with a 2.5 centimetres accuracy.
The operator only has to monitor the machine. With level 3 autonomy, the robot is able to independently follow the chosen route and it can detect obstacles, after which it will stop automatically. However, the machine is not able to make decisions on its own that deviate from the task. The operator must therefore take action when an unforeseen obstacle occurs, or when other problems arise and the machine has stopped.
"Robotised farming therefore requires particularly well-trained staff, who can programme machines, monitor them and intervene when necessary. At the same time, robotisation makes the work much safer, because personnel no longer have to come into contact with chemicals," says Pontelli.
In addition, all activities can be monitored and are traceable using telemetry. The robots are connected to Jacto's ECOS platform on which all data gathered by the machines during operation is collected.