The goal remains unchanged: removing weeds in the early stages within crop rows. The robot arm should ultimately be able to remove weeds that are (very) close to the crop without causing damage. Carrots continue to be the primary crop, but other ridge-grown crops like onions are also being considered. The demonstrated version features two delta arms (one per ridge) with grippers attached.
Demonstration proofs some difficulties
According to Odd.Bot, this technology has been further refined and is now ready for practical use. The system can handle variations in ridge height, and depending on the amount of weeds, the vehicle's driving speed varies. Navigation is primarily vision-based to follow the ridges. After detecting the end of a ridge, the vehicle autonomously makes a 180-degree turn to tackle the next two ridges. During the demo on the experimental Farm of The Future in the Netherlands, the powered front wheel had some difficulty turning on uneven headlands due to wheel slippage.
Text continues below picture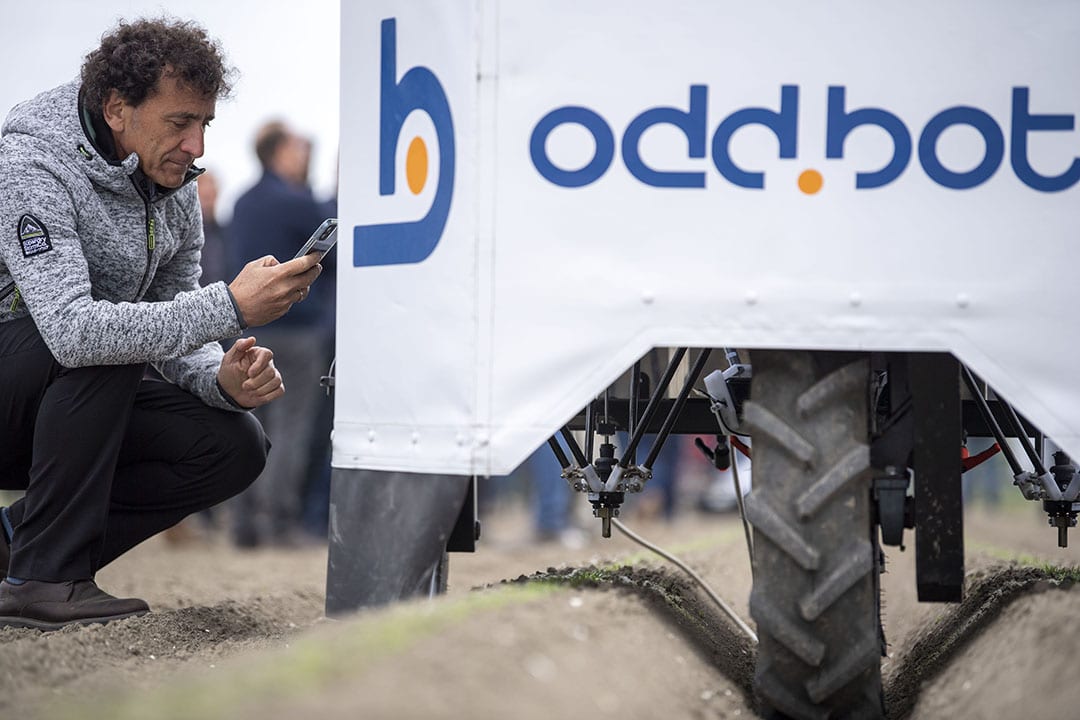 Assessing Weed Removal Results
The grippers employ two methods for weed removal. Smaller weeds are punched or pushed down into the ridge, while larger weeds that can be grasped are pulled out by the gripper. Both techniques are used in combination, as shown in the video. Although there is no constant monitoring of the work performed, the vehicle reverses every 100 m to assess the weed removal results using the cameras that detect the weeds.
Growers pay a fee per hectare
A co-creation program for validating the Weeding as a Service (WaaS) program is currently underway with the participation of five Dutch growers. Odd.Bot's capacity is estimated at 1 ha per 16 hours. Growers pay a fee per hectare and an hourly rate for the weeding service. The total amount is benchmarked against the costs of manual weeding. Odd.Bot claims to be ready for mass production and aims to commercially offer their concept starting from the summer of 2024. The robot will also be available for purchase at a price below € 100,000.