The radish harvesting robot can bunch radish fully automatic and will deliver the same quality result as hand-bunched radish. The harvester takes the radishes out of the ground, counts and bunches them. Small, unsuitable radishes are removed. According to Koppert Machines, the harvester saves 50% of the cost of bunching radishes.
Koppert Machines has been making such machines for greenhouses since 2000. In recent years, however, the company has also started to focus on outdoor cultivation. Koppert Machines has now built 4 of these outdoor harvesting and radish bunching machines.
Grimmway Farms
American company Grimmway Farms is one of the users of the outdoor radish harvesting robot. It sells its radishes under the name Cal-Organic. "They are big in the production of carrots, but they also have an organic production line for radishes", explains Paul Koppert, Co-owner of Koppert Machines. "That part of their business has grown enormously in recent years."
However, it proved increasingly difficult for Grimmway Farms to find people for harvesting and bunching. Radish bunching is not exactly popular work, Mr Koppert explains. "You have to sit or do it on your knees. That's not really nice. And with fewer people available, a fully automatic harvesting and bunching machine offers a great solution for a company like Grimmway."
Text continues below image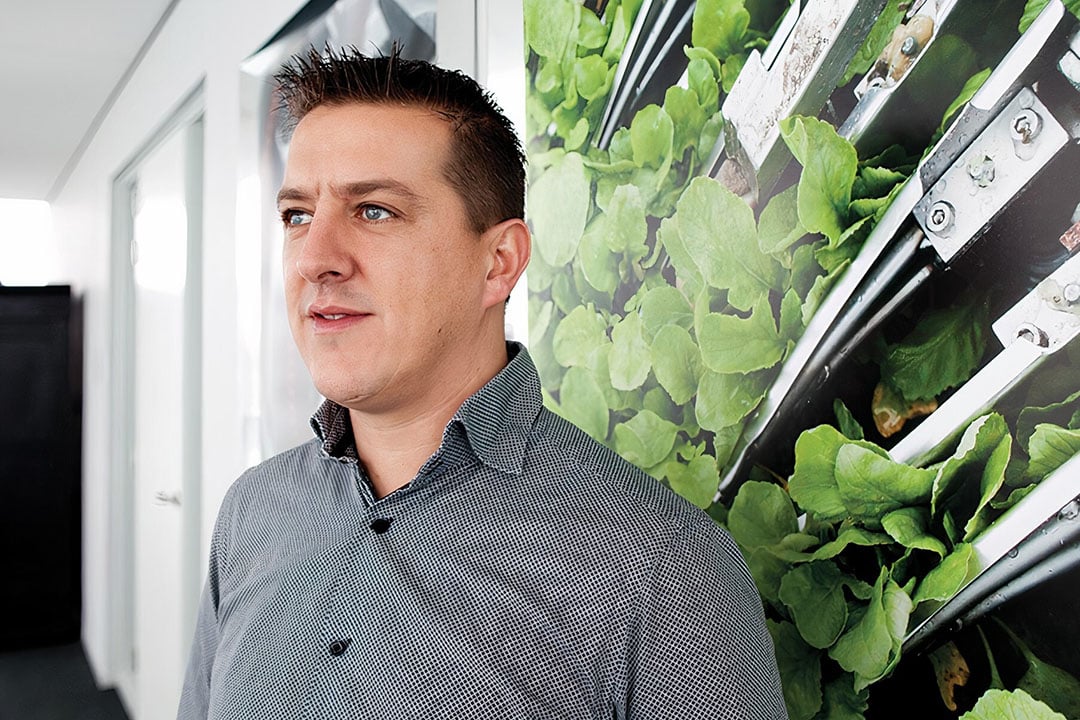 Radish harvesting robot replaces 20 people
The machine has been popular in greenhouses for several years, where at least 20 people can be replaced with one machine. Mr Koppert: "We can bundle up to 4,500 bunches per hour with a machine. A very good worker does 200 bunches of 12 radishes per hour by hand." Workers can place the bunches of radishes in crates or other packaging at the back of the machine.
The robot can operate in most weather conditions. Koppert Machines supplies a special fold-out tent for harvesting during rainfall. "A tent is not really necessary in California, but in Europe we do supply that fold-out tent. Then you won't be bothered by the rain and companies can continue to work. But if it rains heavily for a week, the machine may have a hard time."
Paul Koppert expects Grimmway Farms to purchase more harvesting and bunching machines in due course. "They are happy with the results of the machine. They have several radish growing locations in California, and Arizona. So, they are considering using multiple machines."
Koppert Machines also recently delivered an outdoor harvesting and bunching machine to a customer in Germany. "That is a first and quite an innovation for radish cultivation in Germany. They still bunch a lot by hand there."
​Text continues below image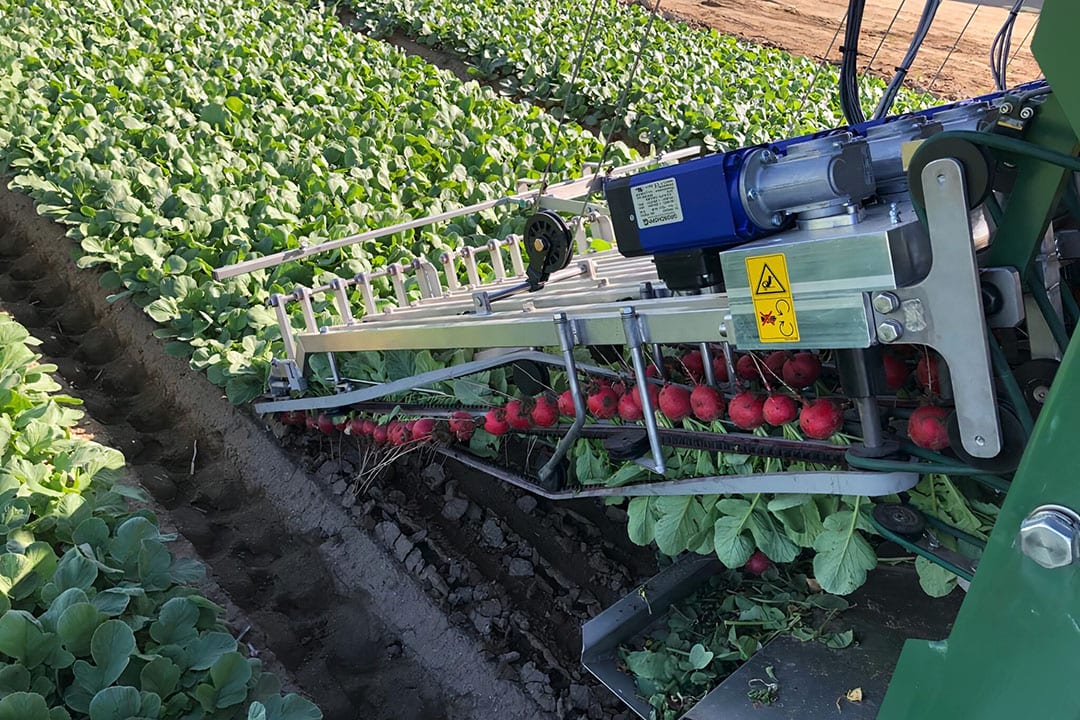 Radish harvesting robot moves autonomously
The fully automatic harvesting and radish bunching machine moves autonomously across the field. Koppert Machines has developed its own technology in which mechanical row feelers guide the robot to follow the rows of radishes. Another set of mechanical row feelers makes sure the radishes are harvested at the right height. A computer system processes the information and controls the machine.
Farmers using the harvester should use their seeder in the same configuration as the harvester. In this way the rows are made suitable for the harvesting machine. Fourteen rows can be harvested at once, but the machine can also handle 9 or 12 rows. It can also be used in greenhouses. The distance between the rows should be at least 11 cm.
Text continues below image
Electro-pneumatic drive
The harvesting and radish bunching machine uses an electro-pneumatic drive. When the robot has reached the end of the row, the controller receives a signal that it is time to turn the machine. He or she can turn the robot at the end of the rows via a remote control, with the machine turning on its axis to the next rows.
Fully electric version coming
The harvester has on-board lighting and can basically work day and night. "It is an electric machine, with an on-board generator supplying the power", explains Mr Koppert. "We are currently developing a new machine that works with batteries and will therefore be fully electric. We expect to be able to deliver this machine in mid-2023."
The machine is 4 meters long, 1.60 meters wide and weighs 1,750 kg. The harvester uses wide-beam caterpillar tracks, which minimise the pressure on the soil and prevent soil compaction. On average, the machine has a speed of 1 km per hour. The price starts at around 220,000 euros.
Text continues below image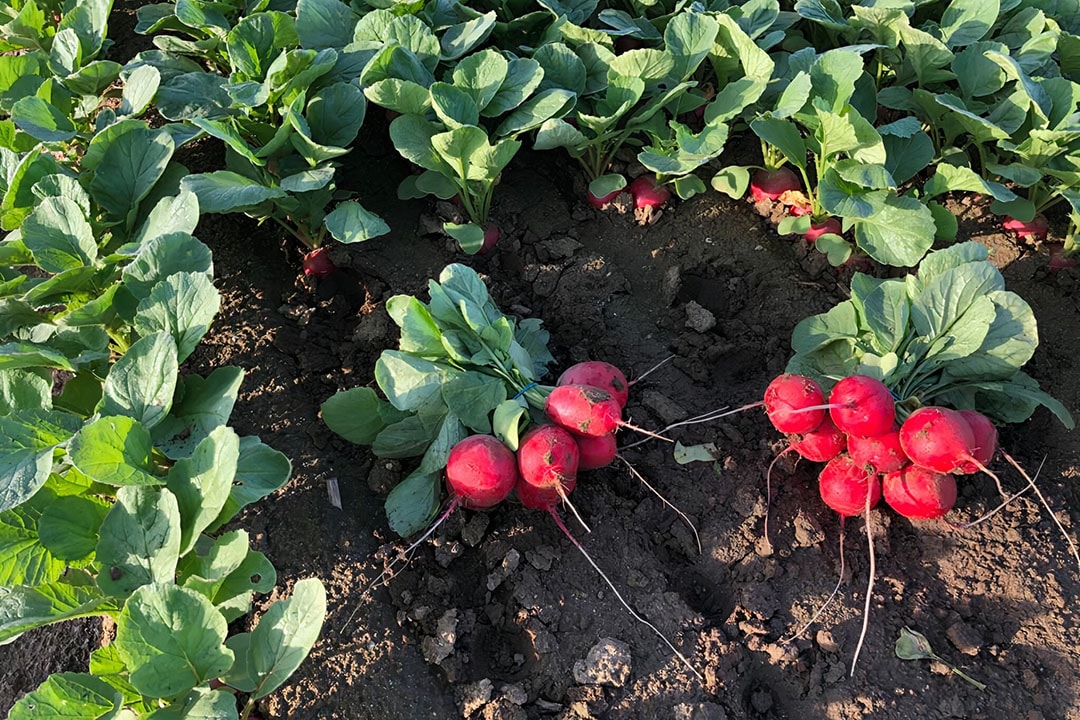 Koppert Machines makes many other machines, including an outdoor radish harvesting machine for radish without leaves and a harvester for spring onions and leek plants. The company has developed and executed various projects with respect to robotics. It has built a system for automated vine tomatoes weighing with a packing line, optical sorting in a radish bunching machine, a fully automated lamb's lettuce crop machine and a pepper pick and place system.