Mr Guitton emphasised at the international agricultural robot event FIRA in Toulouse that most agricultural robots are designed to work on crops. "We like to monitor the crops with precision and detect. SentiV can be in the field every day, to give farmers an almost real time surveillance", he said
Monitoring cereal crops
The scouting robot specialises in monitoring cereal crops, such as barley and wheat. SentiV is meant to check a crop every 5 to 10 days. It highlights variability within field crops plots and detects potential threats. The spoke wheels can step over crops, so they won't be damaged. Guitton expects farmers will be able to lease the robot for € 5,000 (US $ 5,663) a year. This includes service of the robot.
SentiV has two standard RGB cameras of 12 MPX onboard; one on the body to film above the canopy and one on the tail that stabilises the robot, to film under the canopy. "Under the leaves, there is a lot of information to be gathered and there are pests. You have to be able to go onto the ground", Mr Guitton pointed out. SentiV is able to evaluate images directly.
Text continues underneath image
Fill the gaps in remote sensing
Meropy expects that SentiV will fill the gaps currently existing in remote sensing, as one camera will create images from under the canopy, which is not possible with remote sensing. Meropy has considered to add a multispectral camera, but that would be expensive. Mr Guitton: "It worked well but the price of the sensor was as high as the price of the robot. We still have to announce our business model but we are not sure if this would be competitive."
SentiV is an autonomous robot. "You can leave it in the crop and go somewhere else", Mr Guitton said. "The robot will scan on the whole field." SentiV detects where it has been set up and moves without an operator nearby.
Text continues underneath video
Multispectral imaging sensor
Farmers can upload their fields on the interface of SentiV. Meropy has developed an algorithm to place the parameters of a field into the system. The robot has a multispectral imaging sensor. Meropy plans to add other sensors over time. When the SentiV encounters any risks, like a tree or person, the security system will stop the robot. It can adapt its planning, when this happens.
The robot also allows farmers to get macro images of their land. "We reconstruct the field by putting all the pictures together", Mr Guitton said. "That helps you to get a better diagnose of a health problem you could have for example. We then create viability maps that can be used to modulate your input."
SentiV collects data, that is analysed by AI algorithms. This allows several actions. The farmer can monitor nutrient and water requirements of crops for variable rate seeding or spraying. He can also identify the presence of biological threats: weeds, diseases, and pests (invertebrates, birds, mammals) and monitor the phenological stages for crop growth monitoring. The grower can then optimise his phenotyping.
Improve farming profitability
The information gathered is highlighted in variability maps, allowing the farmer to operate the SentiV daily. The aim of the design is to improve farming profitability (input savings, improved yields and crop quality), save farmers time, reduce input and avoid soil compaction.
The robot has an electric drive with replaceable batteries that have a maximum life of 10 hours. It can cover up to 20 hectare per day, in crops up to 50 centimetres high. Meropy is considering the possibility of higher wheels, that would allow the robot to work in higher crops. "But we need to test it first", Mr Guitton said.
Text continues underneath image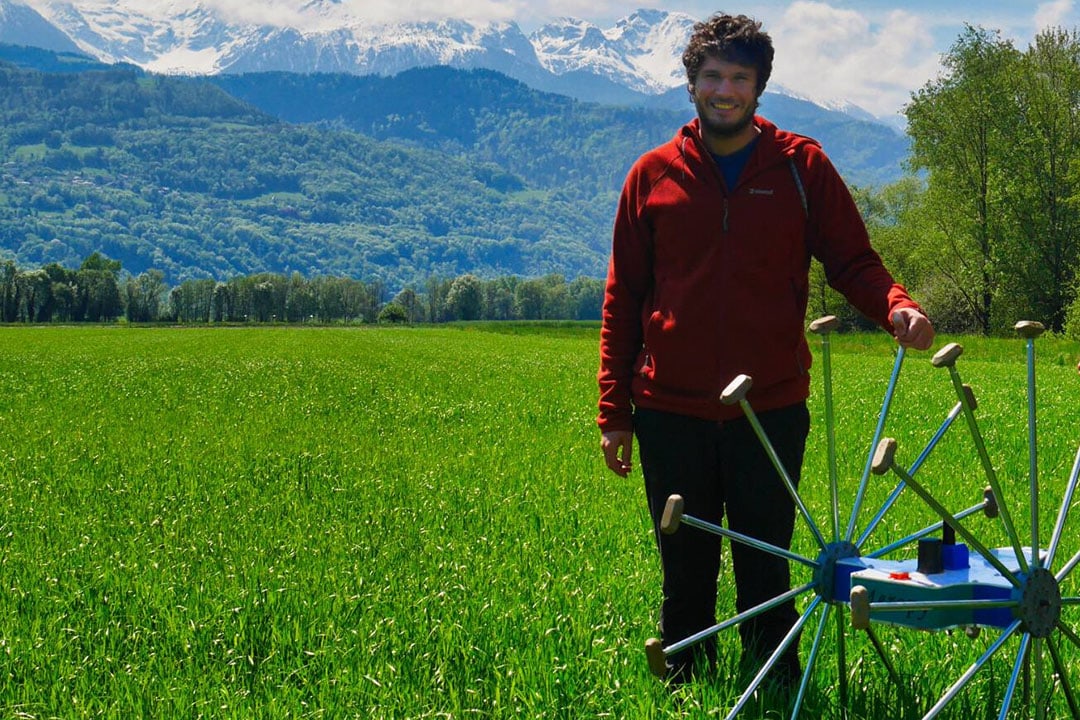 The lightweight robot weighs between 15 en 20 kgs. Two SentiV's can easily be transported – when the wheels are removed – in one car.
The GNSS NRTK pathfinding system of the SentiV does not follow rows, but that is something Meropy is working on. "That will perhaps give us the possibility to work with beets or potatoes", Mr Guitton said.
Meropy expects to deliver its first commercial SentiV robot late January/early February 2022.