The weed control robot, Swedish Ekobot WEAI, demonstrated its weed control capabilities in an onion crop during a Dutch field demonstration. The robot showcased several improvements as it progresses towards a completely new model set for release in 2025.
Notably, there was little weed presence during the demonstration. The new model incorporates two (yellow) radar sensors at the front, scanning the surroundings for people, animals, and other obstacles. The detection range during the demo was set at 1.5 meters. Another new addition is the camera positioned on top of the vehicle, allowing users to remotely observe the robot's direction of travel, providing insights into weed pressure and crop development.
News under the hood
There were also advancements "under the hood." In addition to the moving arms equipped with interchangeable tools to remove weeds, the robot now features its own hoeing elements. These elements are suspended from a parallelogram and can be used to weed between onion rows. Weed control with the arms can reach a maximum speed of 0.54 km/h, while the hoeing elements can achieve a speed of up to 1.8 km/h. A minimum headland of 2.5 meters is required for operation.
Interchangeable batteries
The Ekobot WEAI currently operates on two interchangeable standard batteries commonly found in tractors, trucks, and similar equipment. The vehicle as a whole requires 1 kW of power, and according to the manufacturer, a single battery charge allows for approximately 9 to 10 hours of work. Once depleted, both batteries can be replaced with a second set provided.
Growing waiting list of customers.
Thus far, Ekobot has built five robots, with three of them being leased in Sweden and two in the Netherlands. The current selling price is €90,000, and the robot can also be leased for €3,000 per hectare per year. One robot can maintain weed-free conditions on up to 10 hectares. In 2024, Ekobot aims to scale up production to 25 to 30 units. However, the company already has a growing waiting list of interested customers.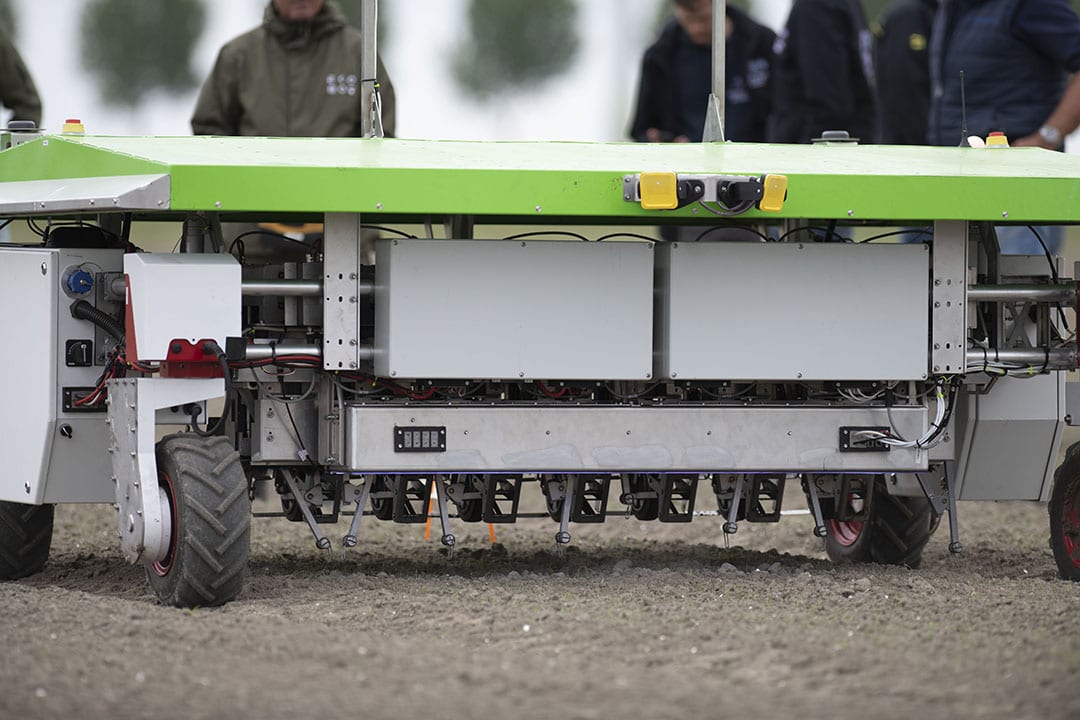 In-house frame development
The version showcased in Lelystad still employs a chassis from Norwegian robot manufacturer Saga Robotics. However, Ekobot plans to develop its own new chassis with variable ground clearance of up to 50-60 cm. The current design with 25 cm ground clearance encounters limitations when driving through deep tracks. The upcoming model will also feature solar panels. Starting from 2025, the WEAI robot aims to be deployable in crops beyond onions, such as carrots and sugar beets.