Traxx Concept H2 prototype
Making its debut at the FIRA event, the Traxx Concept H2 prototype is fuelled by hydrogen, which says its maker Exxact Robotics, further enhances the autonomous, straddle carrier vehicle's sustainability credentials.
"With Traxx Concept H2, the challenge is to demonstrate, test and experiment with the integration of a hydrogen fuel cell in an autonomous vineyard high-clearance tractor" says Exxact Robotics. "But also safety, usability and recharging solutions"
In place of the engine is a hydrogen powered fuel cell, which is fed by two on-board pressurised cylinders. This generates electricity to power the vehicle's hydrostatic transmission. It also charges a small battery, which provides back-up to add extra power for when its needed, for example when climbing slopes.
Text continues below image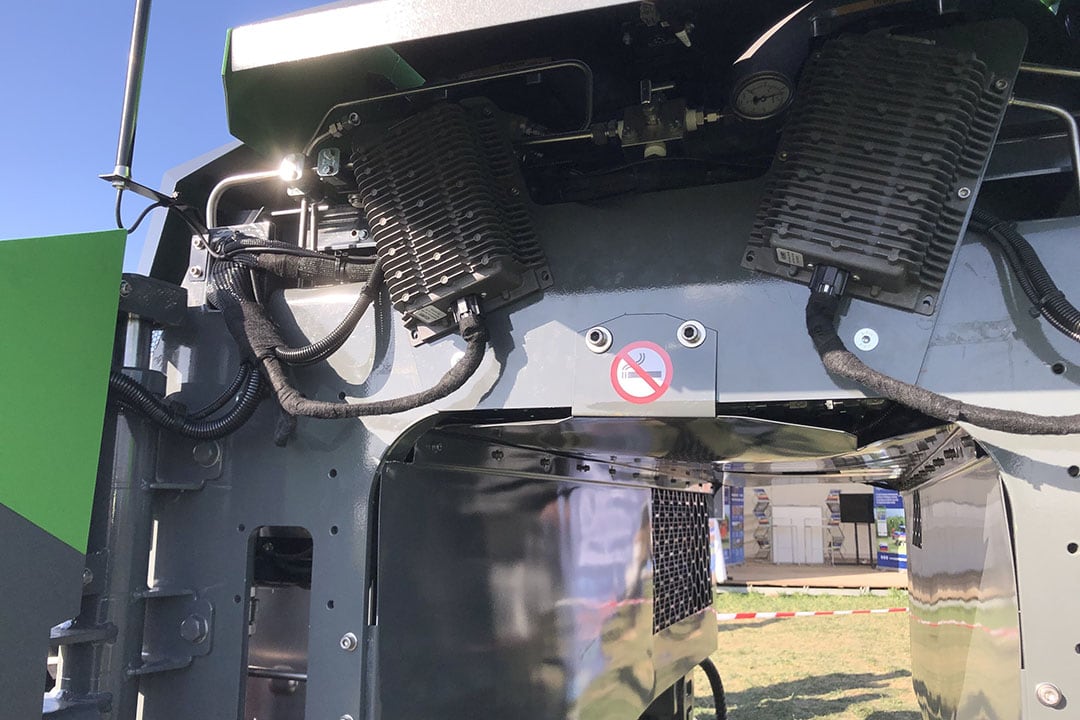 Dintec, the fuel cell manufacturer, customised one of its standard units, already in use for buses and trucks, for use in agriculture. The hydrogen tank capacity is said to enable the robot to run a 'full day' without the need for refilling.
Exxact robotics says this is the natural progression from the diesel engine, having previously never favoured electric drive for two reasons. First, it explains, the batteries required are too heavy for this type of robot, the hydrogen powered version is about 500kg lighter than an equivalent robot with batteries.
Also the 10 minute refill time, is much quicker than charging batteries, which take too long to guarantee the timeliness of operation for farming operations, it adds.
Hydrogen also enables farmers to produce their own sustainable fuel supply, by using on-farm generation from solar or wind power, to electrolyse water to create their own hydrogen.
E-Terry
FIRA saw the unveiling of the latest incarnation of the E-Terry, which won the Best Innovation Ag Robotics Start up award at the previous event in 2021.
Although it's developer is a farmer, he studied at the famous Bauhaus University in Germany. And that's clear to see in its minimalist design in which 'form follows function.'
Text continues below image
E-Terry is designed as a toolcarrier, with its tripod configuration providing flexibility for mounting a range of sensors or mechanical weeders and other implements. With its modular build, the E-Terry can be folded and disassembled for transport, enabling it to easily fit into a medium sized van.
This modular construction allows it to adapt to various working widths, by inserting extra sections, providing a range from 1.5m to 2.5m and up to 3.5m. Frame height can also be adjusted on, each wheel, from 80cm to 125cm, and there is the option to increase this range.
Text continues below image
Fully autonomous steering is delivered using RTK GPS, although the use of cameras and LIDAR are currently being investigated and tested. All three wheels steer independently to provide a range of steering modes, from rotating around the centre in its own width, to crab-steer as well as tight or wider turns.
Six batteries deliver 48V, with an intelligent system managing the power delivery, which enables it to run on any number of batteries, as well as transferring power to the motor that requires the most at any given time. Batteries can be removed for charging, which means it doesn't have to stop to recharge.
Text continues below image
Projected price will be about $90,000 and currently the main interest is from research institutes for use as toolcarrier for sensors and experimentation equipment.
SoftiRover e-K18
French precision farming software specialist Softivert is aiming to replace conventional tractors for field work with a team of small, electrically-powered SoftiRover e-K18 autonomous vehicles.
With its retro artic-steer design with equal-sized wheels, it's the closest any of the robots on show at FIRA that comes to looking anything like a familiar 'old school' tractor. Interestingly, it also doesn't stray too far away from the existing concept of the tractor trailing the implement.
It is powered by a 18kW lithium battery, which is said to last up to four hours in normal operations. Autonomous operations are guided using RTK GPS, along with Lidar, controlled by Autonome software.
Text continues below image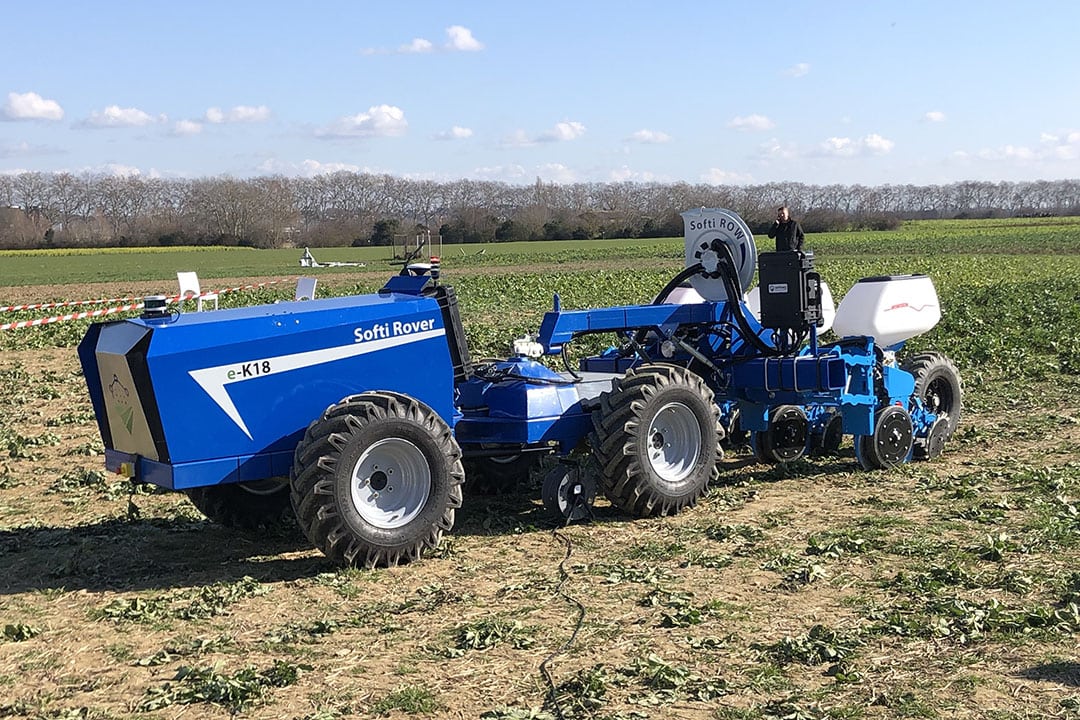 Currently under test on the firm's own farm, the e-K18 will be out drilling maize and soy beans this season. The self-funded projected, developed in house, is intended to carry out the same operations in a similar way to existing tractor/implement combinations providing work rates of about 0.7ha/hr. The final version, is likely to cost about €100,000 and is planned to go on sale in 2025.
From the outset, rather than a robot in isolation Softivert set out to develop, a full system including a dedicated trailer to transport it to the field as well a convenient charging system.
This is also reflected in its straightforward, compact design, which uses a standard ball and coupling to hitch implements to the traction unit, via a long drawbar. Along with the artic-steering this provides good manoeuvrability with good weight distribution, over the four wheels to improve traction