The RO 1 is the first concept or rather vision from German farm machinery manufacturer Horsch on autonomous field work and operations. The concept itself was awarded the Best Field Robot Concept Award in the category multipurpose by an international expert jury from the international agricultural robot event FIRA and Future Farming magazine in December last year.
Colleagues from profi had the opportunity to work with the RO 1 last Autumn and seeded winter wheat with the traction unit attached to a modified 12 m wide Serto 12 SC seed drill. Is this a modern and improved reincarnation of the Horsch Terra-Trac self-propelled seed drill from 20 years ago?
Compact yet powerful
At first glance, it's really difficult to guesstimate the true size and power of the RO 1 because it lacks the good old cab, because it looks truly compact and because a tractor or pulling vehicle seems to fail. If you take a closer look though, you'll notice that the traction unit is constructed in a very compact way thanks to missing redundant components such as a cab, a suspended front axle and other driver comfort enhancing components. They simply aren't needed anymore because of its autonomous operation.
Don't let the compact appearance fool you however as the RO 1 has a 350 hp engine with ambitions towards 450 and even 500 hp versions. Another interesting aspect is that designers and engineers don't have to take any lines of sight and overviews into account because there's no driver requiring those. The designers did however add an engine hood from a Horsch self-propelled sprayer for a fancier look.
Text continues below image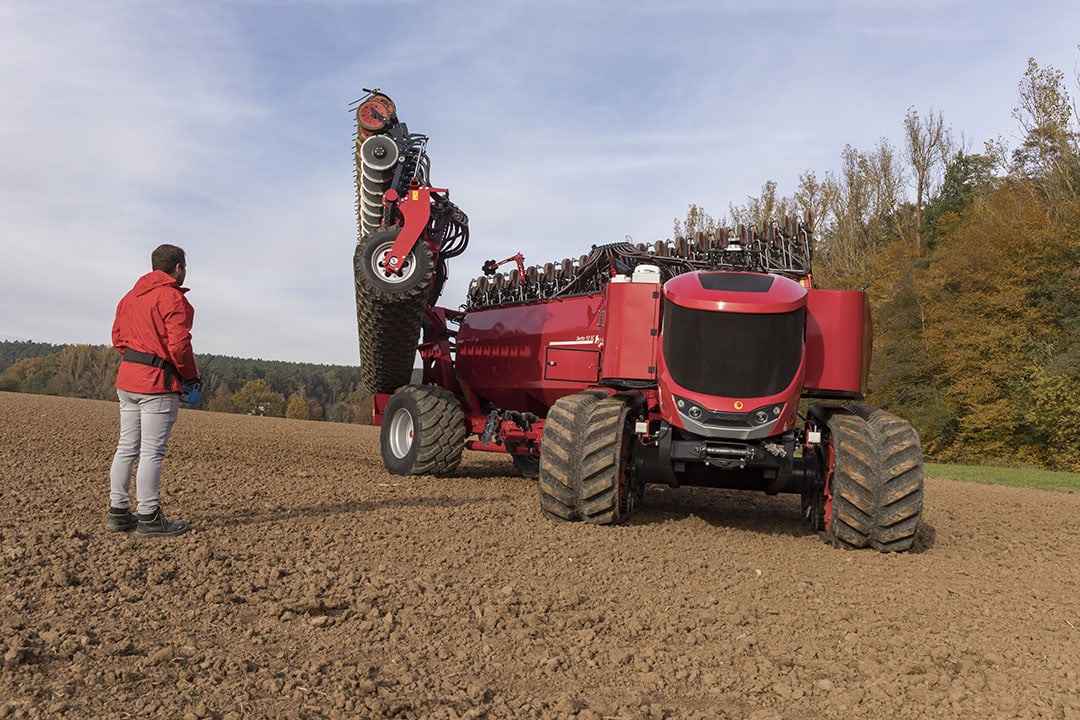 Size demonstrates vision
The chosen size (and weight) of the combination and the power of the traction unit clearly demonstrates Horsch's vision on (autonomous) seeding. While some other manufacturers demo small sized single up to multiple row seed drills, Horsch relies on powerful large-scale autonomous technology.
We don't join in the swarming of swarming
"We don't join in the swarming of swarming", says Michael Horsch. "For optimal seeding, a certain downforce is required. Small swarm robots simple can't exert such down force. That's why the seed drill connected to the RO 1 largely corresponds to our 12 m wide Serto 12 SC but it can easily be replaced by our 24 or 36-row Maestro seed drills."
The philosophy includes the possibility to also hook the Serto drill to a standard tractor without too much changes to the coupling. When pulled by the RO 1 robotic traction unit, the drill lacks a drawbar. Instead, it is connected by means of a vertical slewing ring, in future in combination with a hydraulic quick coupling. It ensures sideways adjustments to the terrain.
Text continues below image
Cvt to replace hydrostatic drive
The traction unit is equipped with two Claas tracks also seen on the Axion Terra Trac tractors. Being 1,35 m long and 89 cm wide, they offer a combined contact surface of 2.4 m2. As the unit is more or less rigidly connected to the seed drill, the traction of the short tracks should be sufficient.
The RO 1 currently has a hydrostatic driveline. In future, Horsch plans to integrate a cvt transmission that is to be developed in-house. Michael Horsch about this ambition: "The machine is purely designed for field work which leads to other, fewer requirements compared to field and transport work. We don't drive faster than 20 km/h and driver comfort isn't an issue. Because of that, we are confident in developing an own dedicated cvt transmission for it."
Text continues below image
350 hp MTU engine
The RO 1 is powered by a 350 hp MTU engine and as mentioned, Horsch wants to step up to 450 and even 500 hp in future. You can manoeuvre it with a remote control similar to operating some construction machines and all-terrain mowing robots. The remote control operation however is primarily intended for starting up and for maintenance and service purposes.
Once in a field, the entire operation is to be autonomous. At present, it's the seeding that's automated. In a next phase, the monitoring and supervising role of the driver will be replaced by technology. Both will clearly add to the efficiency and capacity of the combination and therefor, functionalities such as section control and seed tube blockage monitoring technology are already integrated in the current day seed drills.
Text continues below image
Beyond automation
At present, the attached Serto 12 SC seed drill still is a standard Isobus controlled machine where (error) messages show on the machine terminal and in the online 'connected farm' portal of development partner Trimble. The machine currently won't stop if a seed tube blockage occurs.
It's these types of aspects that show that autonomous operation is something (way) beyond the automation of individual functions. Hence the remote control trials we did. While doing so, we noticed that the compact RO 1 – Serto 12 combination requires a lot less space to manoeuvre and turn than a comparable tractor – seeder combination.
Besides the obligatory cameras, LiDAR and radar sensors, path planning plays a decisive and crucial role as seen with other field robots and autonomous tractors. An operation should be planned meticulously in advance including the direction and way of turning on headlands. Detailed field and gps data are an absolute requirement for doing so.
There will definitely be fields that will be unsuitable and uninteresting for autonomous operations
"We see that most farmers and contractors interested in autonomy were early adopters of gps and autosteer and thus are experienced users", Michael Horsch explains. "On the other hand, there will definitely be fields that will be unsuitable and uninteresting for autonomous operations."
Text continues below image
A clever logistical concept
Other careful and meticulous planning concerns the logistics involved with autonomous operation. In this case: supplies of fuel, seed and fertiliser. Horsch has integrated this aspect into its path planning, as the exact refilling positions should be known in detail. According to Horsch it's an aspect that offers great potential for further optimisation of the capacity and efficiency of the entire seeding operation.
The RO 1 is not intended to drive itself from field to field on public roads. For this purpose, Horsch uses its known lorry shuttle system. The lorry not only pulls the RO 1 – Serto 12 combination like a trailer, it is also equipped with a detachable tank to supply (fluid) fertiliser. The truck driver also monitors and supervises the RO 1's operation and seeding quality.
For transport, the robot has an extendable drawbar and both the robot and the seed drill are equipped with pneumatic brakes. The compact measurements of the combination add to its compact transport dimensions.
Horsch's goal is to integrate autonomous field operations at its Czech Agrovation farm within two years. This not only includes the RO 1 but also a further three other autonomous concepts.
Text continues below box
Horsch autonomous plans
A year ago, Michael's son Philipp Horsch announced that more autonomous concepts would follow soon. One of these is the recently introduced RO 24G gantry like carrier carrying a 24 m wide seed drill between the front and rear wheels. Further considerations include adding lateral outriggers to extend the working width to 36 m.
Also on the roll for this year is a small solar energy powered electrical crop care robot with 3 m working width. The engineers are also developing an autonomous self-propelled sprayer based on the existing PT-model due for next year.
Meanwhile, the company is also working on using the RO 1 for shallow soil cultivation in combination with implements such as the Finer cultivator and the Joker disc harrow, and for autonomous chaser bin operation.
Text continues below image
Co-author: Lucas Colsman