Burro, formerly known as Augean Robotics, is an autonomy company providing solutions for the agriculture industry. It recently raised a $ 10.9 million Series A funding. The company builds collaborative farm robots and focuses on the carrying/transporting aspect of cropping/farming. That is a quite unique approach until now as many start-ups and robot manufacturers focus on one or more specific operations such as weed removal, harvesting, replacing a common tractor, et cetera.
The carry/transport aspect isn't that complicated compared to aforementioned operations and we've heard many growers/farmers say that they'd rather automate work that involves multiple employees. Why do you think robotization of (field) transport is that interesting?
"People, especially those building and commercializing technology, are often remarkably good at predicting where the world is going but struggle to predict how to start/win in the immediate future. We believe that in 20 years there will be many robots running around doing various tasks, and that this will be especially true in areas that are labor intensive today, especially where the skills of people (perception, dexterity, navigation in cluttered/complex environments) have been hard to mechanize or automate historically.
We also see that the path towards automation of the work people do outdoors is one best pursued in a stepped, or phased approach, beginning with a product that does a ubiquitous job alongside people, runs extensively to absorb data out of its environment, and then modularly expands.
With this in mind, we've focused on mobility, first, rather than picking, weeding, or making an existing large, mechanized device like a tractor drive itself, because we can sell a product relatively quickly and widely, that creates value, while laying the groundwork for more comprehensive automation over time. At the same time, the notion that driving autonomously is less complicated than something like weed removal or harvesting is something we aren't sure about. Navigating reliably in weedy/cluttered settings next to people, from dawn to dusk under canopies where you can't rely on GPS and must instead use vision (e.g., the transport aspect), is an incredibly underestimated challenge in our view, and is something you have do incredibly well to do everything else."
What are currently the main barriers to large-scale adoption of field robots? And how are those barriers to be taken away?
"To us, the main barriers to large-scale adoption of field robots are threefold:
Limited reliability. Reliability in an autonomous system means something different than in traditional machinery. A reliable autonomous system not only always works, but also drives the same way consistently while facing highly variable conditions.
Single purposed use. Since autonomous systems are hard to get working, many try to build single purpose systems (e.g., platforms that can only pick strawberries in raised beds) that automate one task comprehensively. This tends to mean that they have a very small addressable market and can only be used at one time of year.
Difficulty in scaling a Robotics as a Service (RaaS) distribution model. It's hard to get autonomous technology working. We find the RaaS model difficult to scale widely.
We believe these barriers are shrinking as companies get many machines into the marketplace with a lot of runtime, thereby driving reliable autonomy that can handle more and more uses, and designing platforms in a way that end users can operate them. Today, we've done around 25,000 autonomous miles over 60,000 autonomous hours of operation, drive 25+ miles per fault, and are building an autonomous platform that can go into a variety of environments and uses while anyone can own/operate it."
Text continues underneath image
Globally, we're witnessing a 'consolidation' in agtech, where large manufacturers are acquiring start-ups and smaller companies. In our Field Robots buyer's guide, we present dozens of different manufacturers. How many will remain in say, 5-10 years time in your view? And why?
"To us, very few if any autonomous product companies have been consolidated. Although, we see the large OEMs starting to get more interested in investing in autonomous products (e.g., Deere with Blue River and BearFlag acquisitions, CNHi working with Monarch, Kubota investing in Advanced.Farm, etc.). In short, we think everyone is trying to figure out autonomy as a market force, and no one knows who will win or how to win yet.
In our view, in 5-10 years, the space will likely evolve similarly to personal computers, where initially companies pursuing the technology built everything including chips, enclosures, operating systems, and applications as time evolved, companies shifted towards building layers – e.g., Intel builds chips, Dell builds computers, Microsoft builds an operating system, and Adobe builds applications.
In farm robotics, as the space evolves, we think that companies will specialize in layers – so one or a few companies will emerge with the best people-scale autonomous platform that can navigate anywhere people are working (we would like this to be Burro), while others may emerge with the best dexterity, which may be placed on this platform (e.g. ,if you want to autonomously pick raspberries in raised tunnels, you'll work on the dexterity bit but base it on an off-the-shelf mobile base like ours), and various companies with different applications will grow around data from these platforms (e.g., if you want to do crop data with AI trained imagery, you'll build an application on top of a mobile base that is already running and pay to pull data from these and then sell the processed data back to customers).
In all of this, we think there will be a smaller number of winners in some of the foundational areas that run across all spaces, and large ecosystems that grow around them."
What (more) technology could field robot developers 'borrow' from car manufacturers when it comes to autonomy?
There is surprisingly little on the hardware front. We use 12 to 18 cameras on each of our robots, each of which is fairly low cost. We can do this, and then build a lot of software and autonomous behavior around these, because we are going 2-3 mph with a 400-pound robot. Cars on the other hand are going 70 mph and have the challenge of safety at those speeds. Cars are loaded with high-cost sensors that we don't need in our use case where we can solve those problems with software."
In terms of sustainability: will field robots in the future be equipped with only electric drivetrains? Would hydrogen fuel cells be a solution?
Electric drivetrains are extremely compatible with autonomous systems for a variety of control reasons. While they do create some challenges, at the scale we operate, low-cost SLAs, mid-tier LFPs, or higher cost Lithium Ion batteries are all proving to be adequate depending on the use while able to handle the rugged realities of the field quite well."
In addition, will developments of smaller robots/autonomous vehicles focus on battery powered drivetrains? Many growers/farmers like to have their equipment run continuously for multiple hours. Fruit (apple, pear, et cetera) growers for instance require operation for up to 12 hours and so far, prefer hybrid or diesel powered robots for that reason. How do you see this?
"We believe that robots in our scale and size range will consistently feature electric drivetrains like ours. Our robots have around 5HP, which is at least 5-8 times the power of a person, and even when equipped with attachments like mowers, or when towing a lot of weight, can be sized up with batteries that give full day run time.
Given that people work 8-10 hours a day, and don't generally work at night, we haven't seen a need yet for 24/7 operation exclusively running off of batteries in our core use case. We have, however, seen some growers run our machines at night after a day's worth of work. When they do this, they either swap batteries (our batteries can be changed in under 2 minutes) or power the machines from a generator."
Text continues underneath image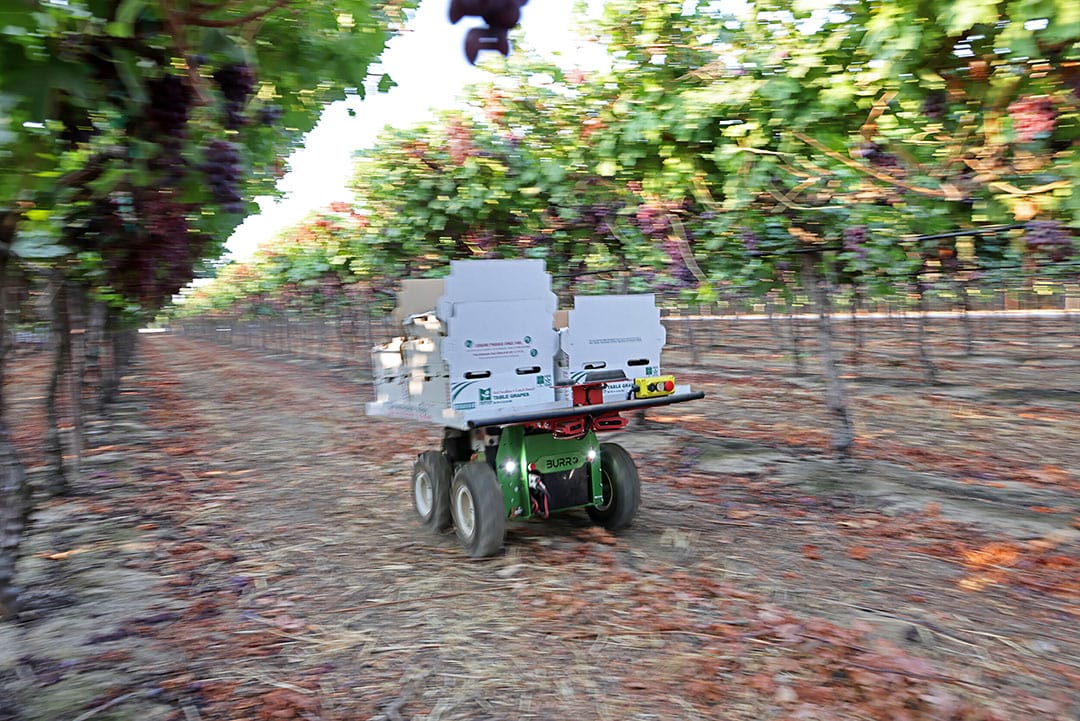 What should a field robot on average cost, in order for it to more economically viable for the majority of growers worldwide?
"The answer really depends on the use. Ideally, a machine should pay for itself in 1-2 years at most to make adoption widespread – outside of early adopters – possible and be priced to have enough margin for distribution and channel partners to sell and service."
What is according to you a preferred business model (sell, lease, as a service, …) to make robots break through and to make growers/farmers trust and rely on the technology?
"There is no single preferred model, although each approach has its advantages and disadvantages for the company selling and customer purchasing. To us, a SAAS model where growers own the robots but pay for continuously updated software and access to/control of their robots online has been most successful thus far, and we think is the most scalable."
What parts of the world show the greatest potential for field robots? And in which crops?
"The United States has great potential for field robots, as they have faced challenges such as crop workers having a diverse set of hard-to-mechanize tasks and the rapidly shrinking workforce. For example, California, where the bulk of specialty crops in the U.S. are grown, has seen a 40 percent decline in the number of farmworkers over the past decade, driven by the strenuous nature of farm labor, increasing regulations and rising wages.
Labor-intensive specialty crops such as table grapes, berries, and nursery crops are largely un-mechanized and therefore show great potential for field robots. Growers, specifically of these crops, are searching for autonomous systems that can reduce their labor needs, but virtually nothing is available commercially today."
Should/could field robots be 'connected', like for instance cars, so they could be operated and updated by the manufacturer?
"Every robot we build is updated every week or two, and also pushes updated data to us every minute of operation. All field robots should be connected. That's the only way to get the technology to scale rapidly – because each time one robot encounters an edge case, all machines learn about that case."